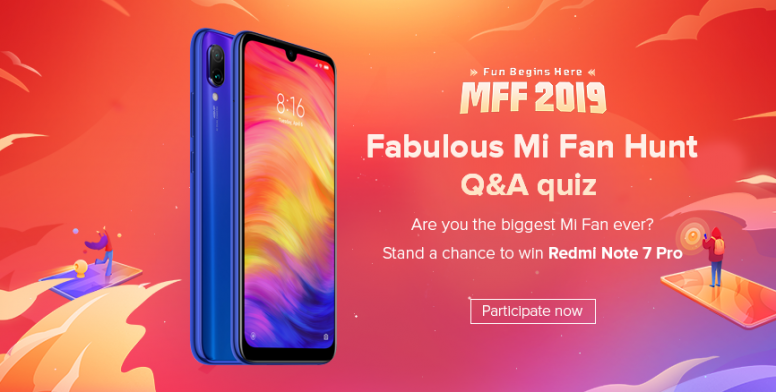 [8th April] Winner Announcement
Zip Password: __@MFFComm-2019@__



Congratulations to all the winner! You will get the prize as a prize coupon in your mi.com account in 15 working days which can be redeemed on mi.com or mi store app. Thanks to everyone who participated.

----------


Mi Fans!

The most awaited grand festival of the year - MFF 2019 is here! To mark the celebration, we are bringing you the Fabulous Mi Fan Hunt - A Q&A Quiz! If you are the biggest Mi Fan ever, come play a simple Q&A quiz to win the all-new Redmi Note 7 Pro for FREE.




How to participate




Day 6 - Apr 6th

Question 1. What is the price of Mi Band HRX Edition during MFF 2019?

Question 2. What is the Minimum transaction value to get a 5% discount on HDFC cards and EMI?



Find the right answer of the above questions in the form of a screenshot from the above webpage, post that screenshots in the comments below every day.
We will change the questions every day and you have to provide the answers for that day only.

Prizes
Contest duration
Today onwards till 6th April 2019, 23:59:59 Hrs (IST)
Winner selection method
The lucky winner is encrypted in the .zip file below (we will reveal the password on 7th April by 15:00 Hrs (IST)).

Zip attachment -

winner.zip (287 Bytes, Downloads: 54370)



T&C's
The lucky winner needs to have the questions answered right as asked in the form of the screenshot from the mentioned MFF event page, if not the next entry with the valid answer will be considered as a winner.

We will change the questions in a random manner.

Replies are hidden and can only be seen by admin.

Each user can reply up to 5 times each day, replies after that will not be considered valid.

To participate, please log in to Mi Community with your Mi account. Once you have logged in, you can start answering the questions on Mi Community as asked above.

Winners will be announced by 15:00 Hrs, 7th April 2019.

Mi Community, India reserves all the rights to make any changes to the contest, at any point of time, without any prior notice.



Are you the biggest Mi Fan Ever?
Rate