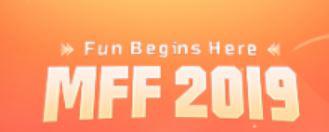 Type: Fan meetup
Time: 2019-04-06 01:30:00&nbsp ~ &nbsp2019-04-06 03:30:00
Venue: MI HOME, INDIRANAGAR
Deadline: 2019-04-06 00:30:00
Applied: 202 users
Activity has expired!
Please click "JOIN" to register yourself for the meet
Rewind 9 years ago - Xiaomi was founded on 6th April 2010 and since 2011, every year we've been celebrating Mi Fan Festival with our Mi Fans on 6th April. This event has always grown exponentially with more MI FANS joining in from different parts of the world to say:
Happy Birthday, Xiaomi!
Are you ready for MFF 2019?
The celebrations started from Mainland China & Hong Kong spread across India & with the more global expansion, we have a lot more countries on board with many more Xiaominions or Mi Fans. As a part of our celebration, we intend to do so on 6th April 2019 For this, we're arranging a special Mi Fan Meet at the Mi Homes in various cities across India. Namma Bengaluru being one of them
We need to make this big & make sure our screams are heard till mainland China from BENGALURU.
So my dear MI FANS can we have ALL HANDS ON DECK?
Of course, there are surprises!!!!
As part of our MFF activities, we invite you to visit our online game "Fun and Furious" where you not only can have fun with your friends and family but also to win some cool prizes. Want to know more? Visit our thread
here
!
For more details on offers, please check out what lurks here

To join and be part of the Meetup, all you need to do is, hit that Join button on top and register yourself. All the meet details are already here. If you have any doubts, head over to our Telegram group and discuss it over there.



Meet Details:
| | |
| --- | --- |
| Date | 6th April 2019 |
| Time | 11:00 AM - 1:00 PM |
| Venue | Mi Home, Indiranagar |

If you're not part of our Official Mi FC Bengaluru Telegram group yet, join immediately. (That's where all the discussions and interactions happen)





With Love,

Mohammed Asif

President - MIFC Bengaluru