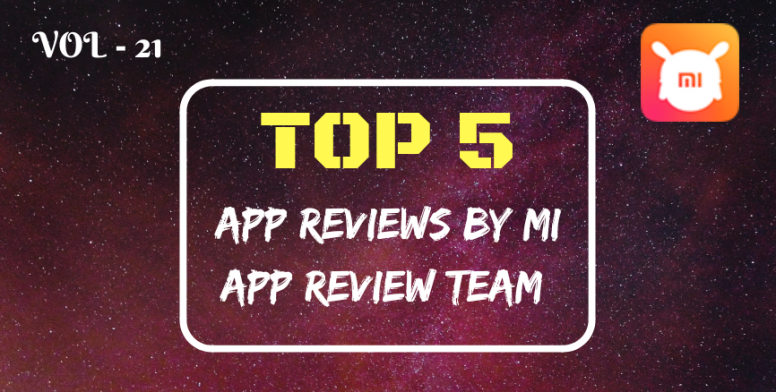 Hello, Mi Fans!!
Greetings and wishes to you all from App Review Team. Welcome to our one more App Review weekly roundup. Now we live in the smartphone era. And apps are the backbone of smartphones. From morning to night various apps help us to complete our work. We App Review Team are committed to delivering the best to you. Today, we have picked top 5 reviews this week so you can get them if you have missed it earlier. Let's get started!
[ART] Firefox Lockbox: Keep Your Mozilla Logins
Author -
Maji George



Unlike a traditional password manager, Firefox Lockbox is a simple app that gives easy access to the passwords you have already stored in your Firefox browser. No extra set-up is necessary. This makes Firefox Lockbox the perfect solution for people who want to secure their personal information but may not have time (or the recall) to choose and transfer all of their passwords into a password manager.

Read More -
[ART] Learn Magic Tricks - Best Magic Tricks and Coin Illusion
Author -
Surya Prakash Gautam



This cool magic trick learning site explains how to conjure up many excellent easy illusions, amazing coin tricks, and group levitation secrets for card magicians. Revealing simple close up trick routines where you can soon find yourself learning the art of vanishing coins and shuffling and forcing cards as you master these powerful crowd pleasures.
[ART] Evolution 2: Battle for Utopia
Author -
vivek singh polywal



Evolution continues. The long-awaited sequel of the hit iconic sci-fi game is out! It tells you a story about the universe of Utopia from another angle. The second episode reproduces the unique atmosphere of the Evolution that millions of players came to love. The gameplay of the Evolution 2 has changed drastically, turning into an intense mix of the third-person top-down shooter, action, strategy, and RPG!
[ART] DRIVING ACADEMY 2 - Learn Driving with Fun
Author -
Akash008



Think if kids play this game they get the knowledge about driving and traffic without having to go to an actual driving school! Pick your car, receive your mission and don't forget to follow the road signs. Don't take the wrong turns, follow the signals, and wear your seat belt after playing this game, there is no chance you won't become the best driver in the world!
[ART] Rap Fame by Battle Me: Rap Maker and Beats Studio
Author -
Maji George



Record raps on mobile like in a professional recording studio. Battle Me makes it easy for any rapper to create music and collaborate with other artists. You are the Rap maker! Record freestyle over beats, hold rap battles and take part in weekly contests. Get discovered with Battle Me by record labels, DJ's, promoters and radio personalities. Earn money on BattleMe Rap Tournaments. Grow your Rap Career.
Previous Volumes:
So that's all for today from App Review Team. Will come back again with one another series next week. Don't forget to vote for your favorite review from the list and help us improve! Also do share your feedback