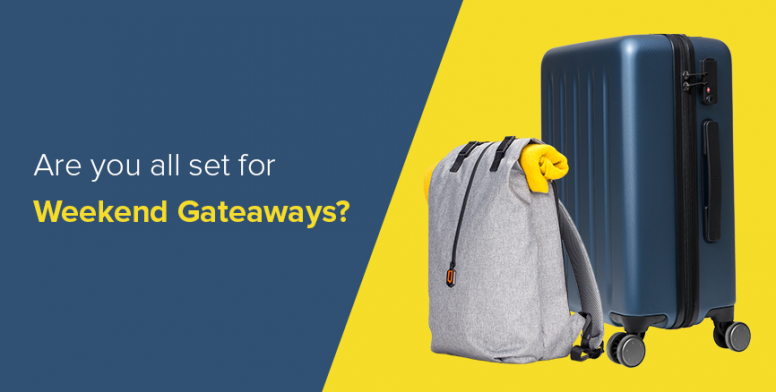 Hi, Mi Fans,

Here is a collection of product we have for you. Doesn't matter whether you are getting around the city or traveling across the country with some office/personal work. We have got you covered. Now match accessories to your outfit.
Are you a pro in travel packing? If not, no worries. You have a week time to build this amazing skill and participate in our upcoming challenge on next Friday. Till then hang on.
Mi Luggage
Mi Luggage comes in two variants – 20" and 24". The 20" luggage comes in Grey, Red and Blue colors whereas 24" comes in two different colors – Grey and Blue. Both variants feature TSA (Transportation Security Administration of US) approved combination locks that make your valuables and documents safe and secure.
Mi Luggage boasts a 3-layer composite compressive structure that significantly minimizes wear and tears making the suitcase resilient. Notably, Mi Luggage's uses sturdy Makrolon™ material for its exterior, which is produced by the acclaimed German brand, Bayer. The luggage handle comes with four adjustable heights setting and is made of reinforced aluminum alloy material. The handle has been anodized to provide a premium metallic look.
Take a look
.

Mi Travel Backpack Blue
Second in our category is Mi Travel Backpack. Yes, when we talk about traveling it's always good to have an extra bag to carry your small important stuff. Personally, whenever I go on a road trip I will always have a backpack with me to carry small and important stuff. Let's see what Mi Travel Backpack have for you.
Designed specifically for travel and adventure, Mi Travel Backpack offers you distinct looks with modern mesh styling. It comes with two compartments giving you modern trendy look, extra space as well as comfort. It uses 650D Oxford cloth and has a level 4 splash resistance treatment with waterproof coating.
Check out
.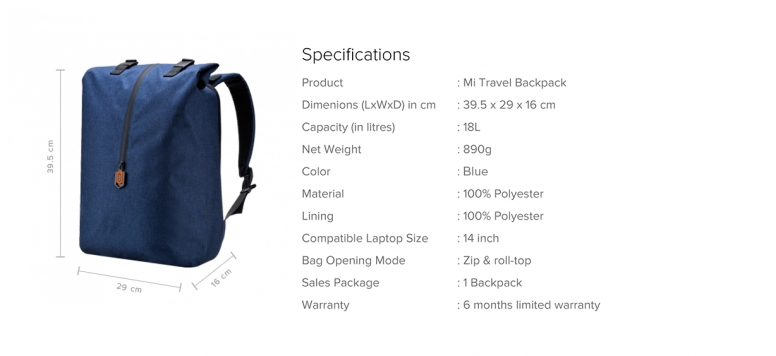 Mi Casual Backpack Black
The Mi Casual Backpack sports a hound-tooth pattern. The backpacks are made from 600D polyester used in high-end garments and have a thick, two-color jacquard texture. This backpack comes with a laptop compartment that can easily fit all tablets and laptops up to 15.6". The main compartment can easily accommodate your daily necessities. This is very lightweight and has better back support. With Mi Casual Backpack, you also get a plastic handle on the front that can be used as a holder for jackets or pullovers.
Read more
.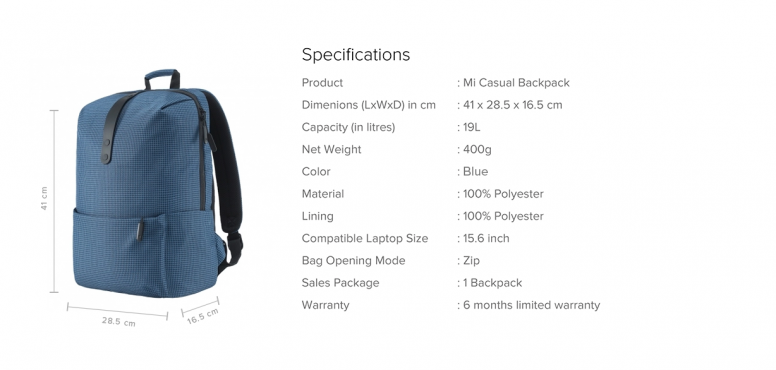 Mi City Backpack Dark Grey
Traveling around the city? Here is your best companion for every occasion – Mi City Backpack. This backpack features a classy minimalistic design that comes with a hidden zipper and grey woven material that easily match your outfits. The strap and back of the backpack come with EPE filling to maintain the stability of the bags body and the shoulders. The main storage space is big enough to carry 14" laptop and organize your daily essentials. This backpack also features three external pockets that allow you to easily reach out to smaller items.
Check it out
.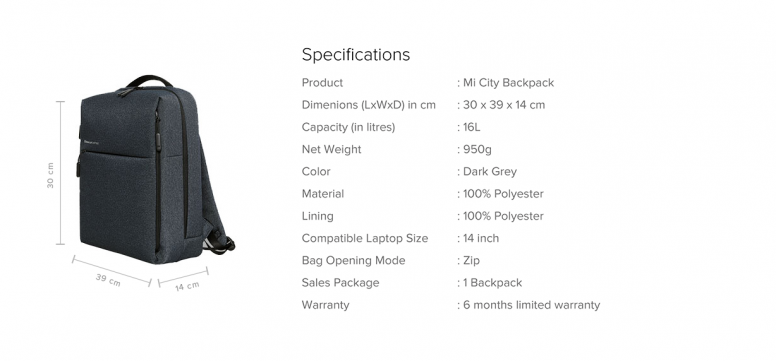 Mi Business Backpack
Whether you are traveling with business related work or just going to the office, the Mi Business Backpack never goes out of style. The main compartment secures most of your daily essentials, comes with an additional thick sleeve that keeps laptops as big as 15.6" in place. You also get the outer pocket to keep smaller item such as keys & coins. This backpack is made out of 1260D nylon oxford fabric and has a water-resistant zipper.
Have a look at this
.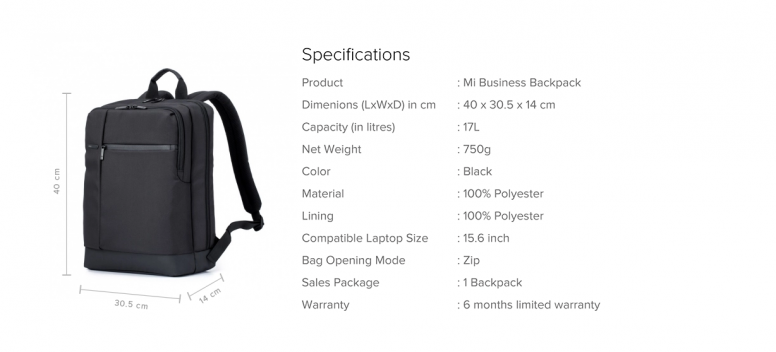 Get your own favorite luggage & backpack today!