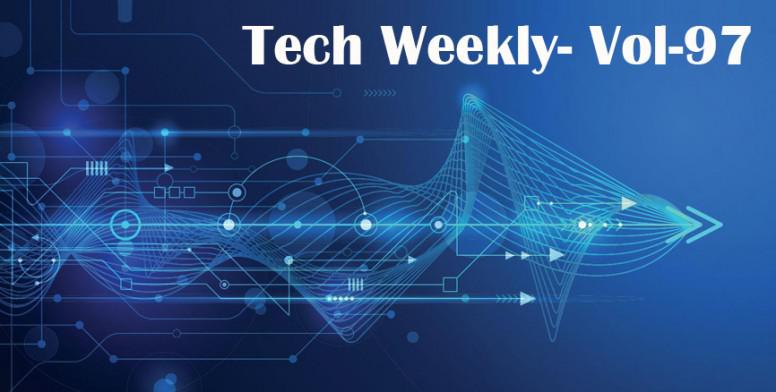 Hello Mi Fans,
Technology refers to methods, systems, and devices which are the result of scientific knowledge being used for practical purposes. The purposeful application of the information in the design, production, and utilization of goods and services, and in the organization of human activities Technology can be described in many ways. So without wasting time let's check out what we have for you this week from our Techie Team.
PlatoWork Brain Stimulator: The World's First Headset For Boosting Cognition!
By- Solver13
Hello Mi Fans!

The Brain helps us to think. When we're absorbed in a particular task we not only become efficient but also we feel very happy because our ability to think is what makes us who we are but it sometimes happens that our brain fails to collaborate due to which we can't concentrate on our work and give our 100% in thinking which may affect our work as well.

Know More- http://in.c.mi.com/thread-1828449-1-0.html
Qoobo: The Interactive Robotic Cat Tail Pillow!
By- Hari Sankar G
Hello Mi Fans!

Do you enjoy the sensation of petting a cat or dog, but hate the unconditional love and the fact that they have heads and limbs? Japanese company Yukai Engineering has unveiled the solution to this classic conundrum with Qoobo: A soft, round cushion with a robotic tail that reacts to strokes, just as a loving pet would. The Qoobo Therapeutic Robot Pillow isn't your average pillow. It has a fur coat and tail that mimics a real animal's tail.

Know More- https://in.c.mi.com/thread-1829830-1-0.html
SPIN: Just A Spinning Flame In A Glass Tube!
By- BHARATKUMAR BHAGAT




Hello Mi Fans!




Fire, nothing is more soothing and mesmerizing. That's why we love it so much. Watching fire relaxes the muscles, lowers blood pressure, and make you happy and sociable. The fire has captivated people since the beginning of mankind's existence, nothing has provided a more soothing or mesmerizing feeling than a fresh, glowing fire. Captivating people with its cozy crackle and dance of the flames, a fire has brought people together while giving a pleasant warmth. SPIN gives everyone their own personal fire tornado offering a stunning array of flames in a decorative glass cylinder. So, without wasting time let's talk about the Spinning Flame in a Glass Tube now. Know More-

http://in.c.mi.com/thread-1813680-1-0.html
Narwal: World's First Self Cleaning Robot Mop & Vaccum!
By- A.Akbar




Hello Mi Fans,

Artificial Intelligence is one of the most promising technologies which has made our life so easy. Most of the hard-working jobs are now done by Robots and automated systems. So why not cleaning? A company named Narwal Robotics has created a next-gen robotic floor cleaner in the form of a self-cleaning robot mop and vacuum system. This system introduces consumers to "Floor Cleaning 4.0" and an experience that goes above and beyond traditional and handheld mops and brooms, as well as semi-automatic floor-cleaning systems. With Narwal, you could have all the floor cleaning done for you without having to lift a finger. The robot can wash, rinse, and dry the mops automatically. It has a two-bucket system to separate wastewater from clean water.

Know More-https://in.c.mi.com/thread-1834963-1-0.html
Caia: A Robot That Fills Your Home With Sunshine!
By- Solver13





Hello Mi Fans!

Everyone loves natural light because it's very important for our environment but we can't get the natural light of sun anywhere inside our home and it's been also found that over 90% of people used to live inside than outside so those people who used to live inside even if they want to enjoy the natural light of sun they can't but now this thing is been made possible by Caia.

Caia is a robot that fills your home with the pure and natural light of the sun and most interestingly you can get the natural light of sun anywhere inside your room by placing the Caia robot at a position from where it can get sunlight. This robot requires no external charging as it's solar-powered and it also allows you to place it wherever you want it to be placed.

Know More- http://in.c.mi.com/thread-1833296-1-0.html
Thanks to the authors for your contribution and sharing updated technology information to Mi Fans.
Our Previous Volumes:
Please Vote and share your feedback in reply.
Rate