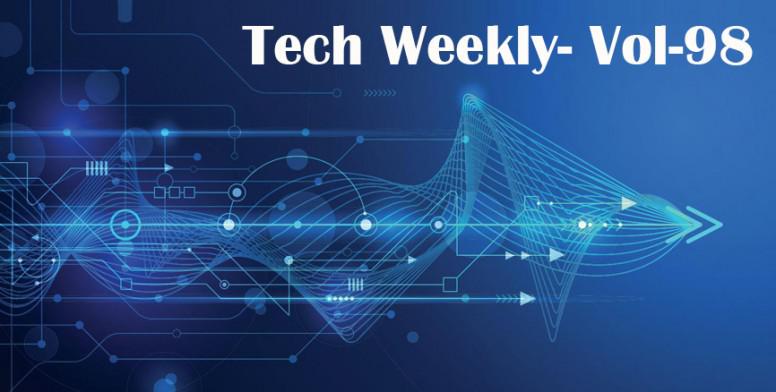 Hello Mi Fans,
Technology refers to methods, systems, and devices which are the result of scientific knowledge being used for practical purposes. The purposeful application of the information in the design, production, and utilization of goods and services, and in the organization of human activities Technology can be described in many ways. So without wasting time let's check out what we have for you this week from our Techie Team.
C-Stand: Smart Electroluminescent Cable!



Hello Mi Fans!

The Current which passes through the USB cable while charging a device is it visible to our eyes? Well, I know you all know the answer which is No, but in today's generation with the help of technology everything is possible and I hope you all know what I mean. Well, Yes, using C-Stand everything is going to change because it's a game changer USB cable.

C-Stand makes the current visible to your eyes and not only this, it also brings the solution to the problem which people generally used to face of having a broken USB cable as it's been provided with an L-shaped design which works as a stand for your device as well and because of its independent chip it helps you to save your battery from getting damaged. Know More-

http://in.c.mi.com/thread-1838426-1-0.html
U-Bolt Pro: The Smart DeadBolt That Manages & Controls Access From Anywhere!




Hello Mi Fans!

A new smart lock has been created by U-Tec in the form of the U-Bolt Pro which offers six ways to access entry either using your fingerprint, passcode smartphone application and more. Never get locked outside with 6 ways to unlock with or without your smartphone App, Fingerprint, Passcode, Proximity Unlock, MagicShake, and Mechanical Key. All communications are encrypted using secure 128-bit AES via an embedded hardware coprocessor within the lock. Watch the demonstration video below to learn more about the smart deadbolt lock for your home or apartment. So, let's talk about the U-Bolt Pro Smart DeadBolt lock now.

Know More-

http://in.c.mi.com/thread-1838393-1-0.html



Wipey: A Tiny Electric Helmet Wiper Made For Bikers!
By- Hari Sankar G




Hello Mi Fans!

Riding in the rain is not everybody's cup of tea. But there are some who like being soaked to ride towards a cuppa far away. Called Wipey, this snap-on, electric helmet wiper, is just the thing for the latter. Visibility is an important factor when riding a motorcycle and unlike a car, where the viewing area is massive and there are things like a wiper and a windshield defogger to help when it pours, a motorcyclist only has a tiny acrylic visor to see where he's going and things only get difficult when the heavens begin to leak. Know More-

https://in.c.mi.com/thread-1838768-1-0.html
Intel Unveils It's New 9th Gen Chipsets
By- Aniket Patra



Hello Mi Fans!

We all know that Intel has dominated the PC space with its wide range of microprocessors. It is known that Intel designs advanced, high-performance processors for every usage, including enterprise-scale servers, IoT devices, laptops, desktops, workstations, and mobile devices.

And now the time has arrived as Intel has officially unveiled its complete lineup of 9th gen processors called "Coffee Lake Refresh". Coffee Lake is Intel's codename for the second 14 nm process node refinement following Broadwell, Skylake, and Kaby Lake. Being another extension of Intel'sSkylake architecture, there isn't a wealth of new features. Aside from higher clocks within the same TDP envelope that comes with refined silicon, there are things like solder TIM on the K-series. One point of interest is the inclusion of Turbo Boost support for Core i3 chips. Know More-
NOVI: The Most Advanced Aluminium Smart Luggage!
By-
A.Akbar




Hello Mi Fans,
When it comes to the internet of things, most of the devices we see are in the home. But one place where we don't see as many connected devices is in the world of travel. There are connected suitcases, but they tend to cost more than a cross-world flight. The folks behind NOVI are setting out to change that with their reasonably-priced smart luggage that's packed with features. The 'NOVI' aluminum smart luggage is a competitive option for travelers to choose when looking for an advanced yet affordable way to stay prepared when hitting the road on a trip. Know More-
Thanks to the authors for your contribution and sharing updated technology information to Mi Fans.
Our Previous Volumes:
Please Vote and share your feedback in reply.
Rate