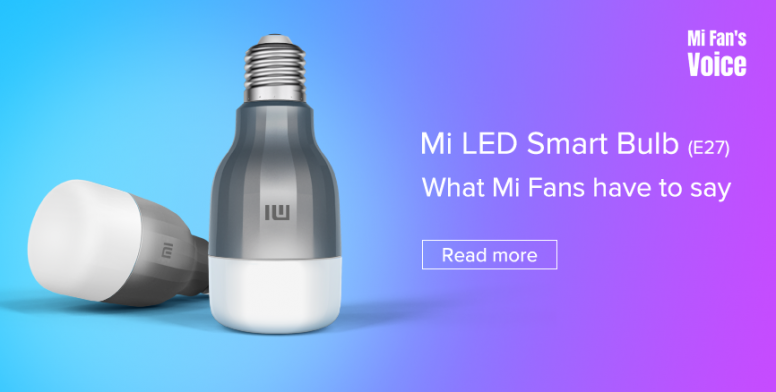 Here at Xiaomi, more than anything else, our users, our Mi Fans are our heroes. Voice of our Mi Fans holds an imperative weight for us to make any important decision. It gives us immense pleasure to hear them & to take their feedback all the time.



With love and support from our Mi Fans, we received more than 15000+ pledges forMi LED Smart Bulb in recent CrowdFunding. We asked our Mi Fans what they have to say about our Mi LED Smart Bulb, and below are their thoughts: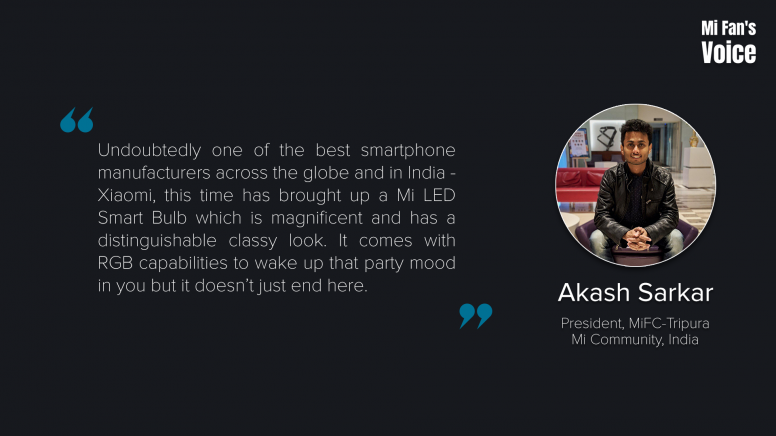 "Undoubtedly one of the best smartphone manufacturers across the globe and in India - Xiaomi, this time has brought up a Mi LED Smart Bulb which is magnificent and has a distinguishable classy look. It comes with RGB capabilities to wake up that party mood in you but it doesn't just end here. Mi Smart LED Bulb can also be used as a regular light and is surprisingly bright and for India where dads are like "Bijli ka bill tera baap bharega?" the power consumption of just 10 watts makes it the ideal smart choice. The company offers a dedicated application 'Mi Home' which enables you tons of configurations options to play with. Overall a great product from Xiaomi with the decent build quality and cool aesthetics that will please you for sure." -
Akash Sarkar - President, Mi FC Tripura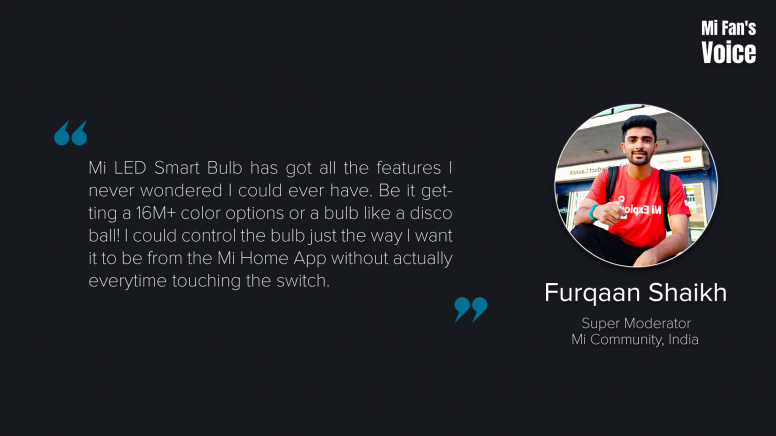 "Xiaomi's philosophy of bringing innovative products at honest pricing is what attracts me the most towards trying out Mi Products. The recently launched Mi LED Smart Bulb is one of the best examples of the same. The bulb has got all the features I never wondered I could ever have. Be it getting a 16M+ color options or a bulb like a disco ball! I could control the bulb just the way, I want it to be from the Mi Home App without actually every touching the switch, and from now, I would never forget switching off the lights before leaving, it's just a tap away or even if I do "OK Google, Turn of the lights" has got my back!
Bottom line, if you are looking for a bulb that can give you full control in your hands, Mi LED Smart Bulb is the smartest choice for you, making you even more smarter!" -
Furqaan, Super Moderator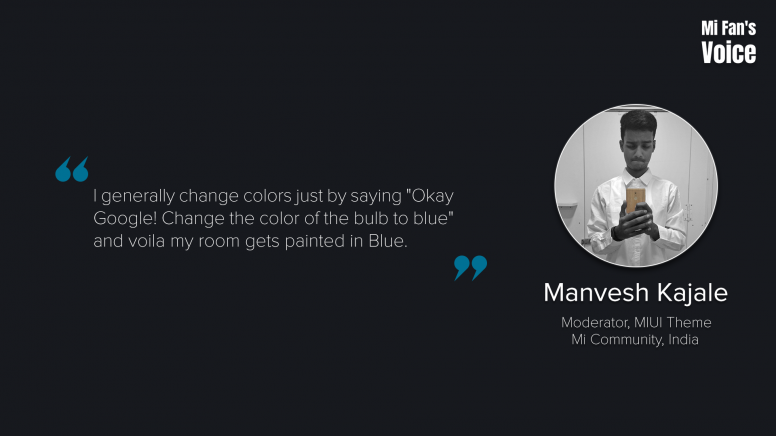 "Xiaomi being the number one smartphone brand has the best smartphones, but the ecosystem products are just too awesome. One of the best example, is the newly launched Mi LED Smart Bulb, which allows you to control the colors! I loved the 16+ Million color possibility the most. I just pick my favorite click from my past trip and select the atmosphere color I want. Controlling the bulb using a dedicated application - Mi Home is the best way. But, why to even control using your hands if you can just speak out the commands to Google Assistant or Amazon Alexa. I generally change colors just by saying "Okay Google! Change the color of the bulb to blue." and voila my room gets painted in Blue. Simply, you control what you see in your room!" -

Manvesh - Moderator


Check out his first impression here - http://in.c.mi.com/thread-1842648-1-0.html




Have something to add?

Let us know your thoughts in the comments below



Rate