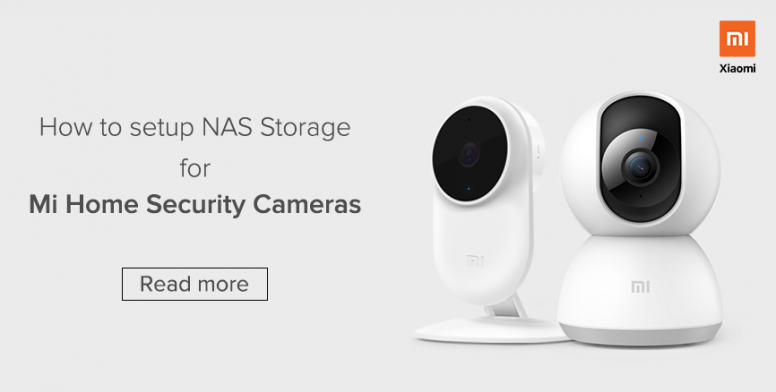 Hello Mi Fans!
Ever wanted to take your record storage up in Mi Home Security Cameras, either 360° or Basic? If you wondered how then here's the answer! All you need is a router with USB storage option, hard drive and you are good to go. Check out the simple steps below:

How to setup NAS storage on 360 and Basic Cameras

Requirements:

Mi Home Security Camera Basic 1080p or 360 Camera
Router with USB Storage option
Class 10 Memory Card (16GB – 64GB)
Pen Drive or Hard drive (To connect with Router)

Step 1
While setup, pair the security camera with the Router which has USB Storage option.
Once the setup is complete, insert the Memory card in Security camera.

Step 2
Press on settings menu and select "Manage Storage" Recording mode User preferred setting
Tap on NAS Storage
Once you have connected the camera with NAS storage compatible device, it will display your Connected Router name. Tap on it to proceed to next step

[Click on the image to view in Full size]
Step 3
On next screen, you will notice the Storage name mentioned with user name and password.
Press Done to proceed to next screen
On next screen, select your connected Pen drive/Hard Drive name from the list of available storage locations

[Click on the image to view in Full size]
Step 4
Now your data stored on Memory card will start transfer to the connected NAS storage, as shown in the below screen, it will display as "Preparing to Transmit…"
Once your data transmission is complete, it will display as "Transmission works normally"

[Click on the image to view in Full size]

NAS storage Settings:
Tap on "Video storage duration settings" to select your preferred setting from the available options. You can save your videos starting from 1 day to a max of 3 months (Make sure you have connected a bigger storage capacity device)


Tap on "Upload time interval" to select on how frequently you want to move the data to the connected NAS Storage device.
Live – Your data will be transferred to connected device once a video file is created.
1 hour – Your data will be transferred every hour.
1 day - Your data will be transferred once in 24 hours.

[Click on the image to view in Full size]