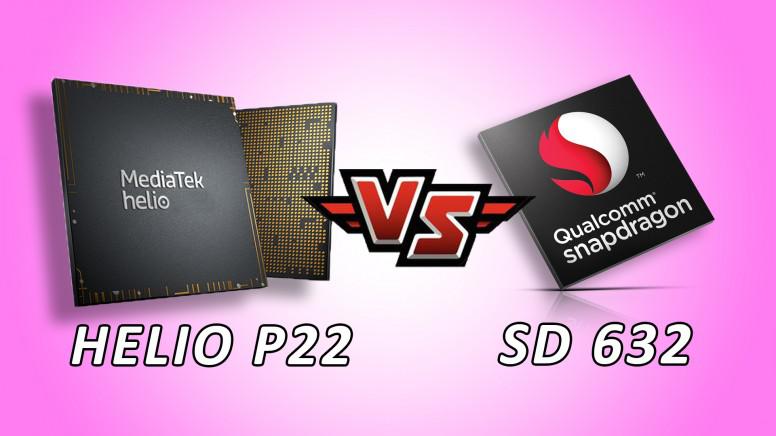 Hello Mi Fans
I hope everyone is doing great. Today i am going to compare the two famous mobile processors that is Qualcomm Snapdragon 632 and MediaTek Helio P22. So let's get started from the very Beginning
General Information
Helio P22 was the first mid-range chipset from the company's arsenal that was build using TSMC 12nm FinFET process. The chipset can support 20:9 HD+ display with a screen resolution of 1600 x 720 pixels. The processor features a 64-bit octa cores ARM Cortex-A53 clocked at 2.0GHz coupled with the latest MG PowerVR GE8320 GPU running up to a 650MHz.

While on the other hand the Snapdragon 632 mobile platform is the successor of Snapdragon 626 which takes the performance of mid range processors to a next level. With a Qualcomm Kryo 250, the Snapdragon 632 mobile platform boasts up to 40% performance improvement over its predecessor. It is designed to support advanced photography and enhanced gaming while taking advantage of power efficiencies. Snapdragon 632 also delivers fast LTE speed while upgrades the overall user experience.
CPU
Better CPU structure is really very important for a chipset. Recently mostly chipsets are 64-bit and have 8 cores than now the types of cores and their fabrication technology should be decent to make them more powerful and efficient. As we know lesser the process number better the power efficiency. Now just talk about CPU architecture of both these chipsets. The Helio P22 is an octa-core chipset composed on 12nm of FinFET process. All 8 cores (ARM-based Cortex A-53 cores) can produce 2.0GHz maximum CPU frequency. It is a 64-bit chipset. Generally, Helio P-series chipsets are designed on 12nm technology.
On the other hand, Qualcomm Snapdragon 632 is based on 14 nm of fabrication technology and it has Kryo 250 Core. Kryo 250 have 4x Cortex A-73 and 4x Cortex A-53 cores with a maximum frequency of 1.8 GHz. It is also a 64-bit chipset. The Snapdragon 632 has a broad fabrication process(14nm) and less clock speed 1.8GHz, but 4x Cortex A-73 are very capable to perform well day to day uses.
GPU
GPU of a chipset renders an image, animation, and video for the smartphone screen. The more sophisticated the GPU, the higher the resolution and the faster and smoother the motion in games and movies. For the influence gaming and browsing experience, Helio P22 is powered by IMG PowerVR GE8320, and it produces maximum GPU frequency up to 650MHz. It is a new powerful GPU graphics, which is also offered on Helio P35. This side, Qualcomm Snapdragon 632 is powered by Adreno 506 GPU which can produce maximum GPU frequency up to 725MHz. To conclude GPU graphics of Snapdragon 632 is more acceptable.
Connectivity
In the section of connectivity supports both the chipsets are very near. Both the chipset are quite equivalent and support same features like, Dual 4G VoLTE/ViLTE, LTE Category(Cat-4,Cat-7DL/ CAT-13 UL), GNSS (Beidou, Galileo, Glonass, GPS), Wi-Fi (a/b/g/n/ac), Bluetooth (5.0), and FM radio. Both the chipset easily support GSM/EDGE, WCDMA, LTE networks, so a smartphone with the either Helio P35 or Helio P22 can run on 2G, 3G, 4G LTE, and VoLTE networks.
Helio P22 has SRLTE cellular Technology, whereas Snapdragon 632 has X9 LTE modem like Snapdragon 450. Helio P22 chipset has the LTE category as Cat-4 and Cat-7DL/ Cat-13 UL. However, Snapdragon 632 has Cat-12DL/ Cat-5UL LTE category. So the maximum download speed in Snapdragon 632 is up to 300Mbps and upload speed is up to 150Mbps is same as Helio P22.
Camera
In the section of photography, Helio P22 prefer up to a 25MP single sensor or 13+8MP dual sensor at 30fps. The chipset has the features like AI Face ID (Face Unlock); AI Smart Photo Album; Single-Cam/Dual-Cam Bokeh; EIS; Rolling Shutter Compensation (RSC) engine; MEMA 3DNR; Multi-Frame Noise capability Reduction specifications. This end, Snapdragon 632 can support 24 MP Single camera or 13+13 MP Dual Camera. It has 2x Image Signal Processor (ISP) with 14-bit. The chipset features Zero Shutter Lag, Hybrid Autofocus, Optical Zoom, Real-time bokeh camera features. It has no image stabilization.
Display
To enjoy a video MediaTek, Helio P22 has the support of HD+ Resolution (up to 1600 x 720 pixel) Display panel with an aspect ratio of 20:9. Snapdragon can house an FHD+ resolution display, with maximum external display support of 1080p.
RAM & Storage


The Helio P22 chipset can support the Dual channel LPDDR3 and LPDDR4X RAM management up to 6GB, LPDDR3 only bear up to 4GB of RAM management with eMMC 5.1 storage type. Whereas Snapdragon 632 also supports LPDDR3 RAM management but up to 8 GB. It has also eMMC 5.1 storage type. Here with the 8GB RAM management.
Conclusion
We saw above, Snapdragon is designed on a 14nm broad process with less 1.8GHz maximum clock speed, whereas P22 is built over 12nm with 2.0GHz maximum CPU frequency. But Snapdragon has 4x Cortex A-73 cores for heavy tasks, that side P22 has all 8x Cortex 53 cores. So It is going to be more energetic. GPU of Snapdragon 632 is more affordable. Even Snapdragon 632 has LPDDR3 RAM management up to 8GB is slightly better than P22.
P22 has balanced and more camera features with less megapixel(MP) support. Helio P22 features only HD+ resolution display, but Snapdragon 632 has the support of FHD+ resolution panel. Connectivity option of both these chipsets is parallel. So at the same price, you should prefer Snapdragon 632 Soc. What do you think about both these chipsets? Comment below until then bye-bye.
Regards
VaSu Gupta
Subscribe to our columns to Stay updated with interesting Debates, Polls, Tutorial and more from Device Team:
Rate