Hey Guys,
As always, Here is your friend with a interesting News.
It's for you guys who are using Mi Band
Mi Fit App new update version 4.0.0 stable version has been released and here is the changelogs.
Changelog:-
Impressive and brand new UI design
Optimized the data view
We improved user experience and fixed known major bugs.
Colourful UI and Start page
Firmware update for Mi Band 3 (all new V2.3.0.28)

Glimpse of this Beautiful app:-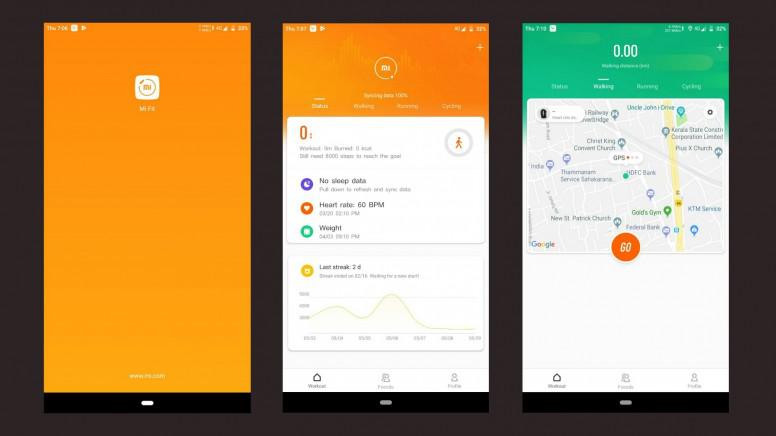 Start Up
Mi Fit App starts with new coloured start up page with new look and I personally like it

Home screen
This Section got a complete make over, more colourful and we now have a bit smaller Steps page and Sleep Tracking visible directly on the home page. The weight Graph now have a bit smaller

Step Tracking
The changes in this section are quite easily noticeable. The activity graph looks much better with the new colour effects. Scrolling down has an all new Facts section, which shows the amount of gas saved, Average daily Steps as well as Kilometers.

Sleep Tracking
You can see the change right there, we have points. As per your sleep time, you will get points of your sleep based on that. We also have the facts section here and a feedback too of your mood after each sleep. You will also get suggestions for getting sound sleep.

Weight Chart
Not much change here but now you have to click on it for chart normally it'll show in digits. You also have the Weight over time and compared to people of your age.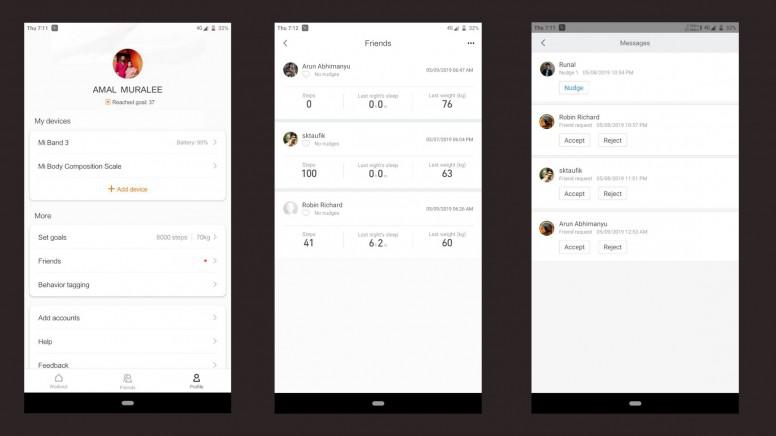 Profile Section
Some of the features have moved under this tab so don't get shocked that you lost'em. The Icons of all the elements in this section are now much more colorful and the app looks Unified with some of these features moved in this section. And friend request option also given in profile section.
Friends Section
Now you can check your friend's workout and daily activities more easily with given button at bottom.
My Devices
Pressing on your Paired devices lands you to the page where you can change the Band alerts along with settings present last time. You have the Default Battery Percentage on top and the Firmware Version, Bluetooth address below. The Find Band, Band Position, Display Settings are at the same place.

Behaviour Tagging
This section has now moved to Profile Tab and added some more but you can select normal behaviour tags by swiping left and right, some more bluish background and does look attractive.
Walking, Running and Cycling
Those three behaviour tags are added to home page with impressive colour map and animations, you can easily switch by just swiping left and right.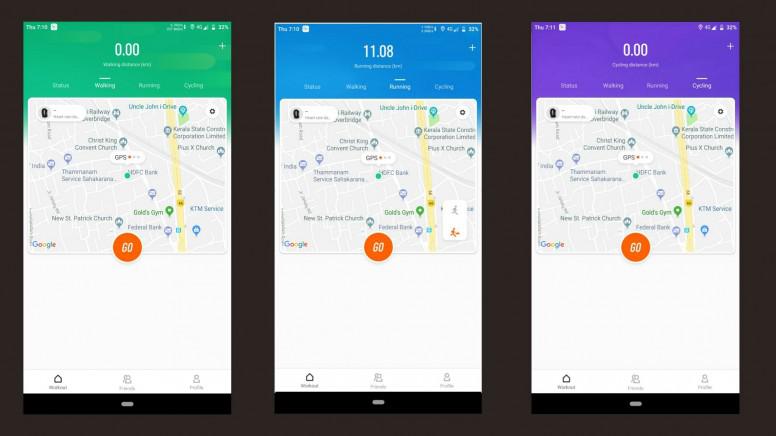 Something Advance :)
User Experience Program
We also have algorithm updated and a Feature to Enroll in User Experience program
Exercising user rights
You can exercise your right to revoke authorization, delete account, clear data and export data.
Try now and discover more!
Special thanks to
Amal Sir
for support and the awesome screenshots.