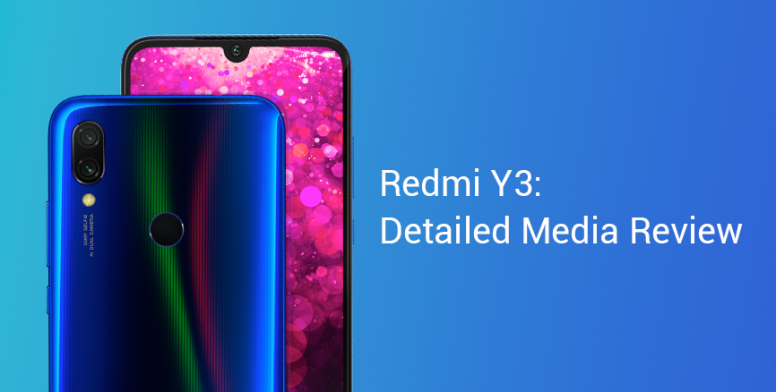 Hey Mi fans,
By now, you must have gone through different posts describing various features and functionalities of Redmi Y3. If not, I will suggest you have a look at them as it will help you understand - why Redmi Y3 is one of the best selfie-centric phones? However, the basic posts don't qualify the value of the device that's why here I have collated media review of Redmi Y3 - 32MP super selfie - so that you don't have to go through different sources.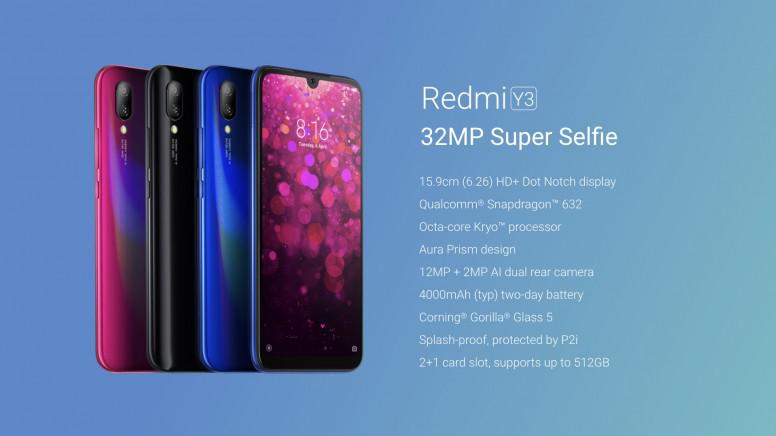 Indian Express
The display is quite vibrant and sharp for a smartphone at this price point. It looks accurate and punchy in most viewing environments.

Coming to the daily usage of the smartphone, the Redmi Y3 was able to complete all of my daily tasks like making calls, checking emails, clicking images and browsing the web with ease. It even handled multitasking and multi-browsing quite well.

Redmi Y3's USP is its 32MP front camera for taking selfies and during my testing, I found that the device was able to click good images, ready to be uploaded to social media profiles.

Redmi Y3 is a good smartphone overall, with decent looks, good performance, rear cameras, and battery.



GadgetsNow
A sturdy 'Aura Prism' design, long battery life, fluid gaming, and impressive overall camera performance are the strengths of Redmi Y3

Under Rs 10k, the phone gives you a 1.8Ghz Snapdragon 632 processor and a competent camera setup (both front and back) that shoots splendidly in the day and illuminated conditions.

It is a well-balanced device and you may consider buying this one if you are looking for a good entry-level phone.



Gadgets360
With regular activities such as using chat apps, streaming music, and using Google Maps for directions, the Redmi Y3 handled itself quite well. MIUI runs fairly smoothly and even switching between apps is often quick and painless.

Selfies shot with the Redmi Y3 were sharper and more detailed, and overall more appealing when compared to those taken by competition.



[Gadgets360]
91Mobiles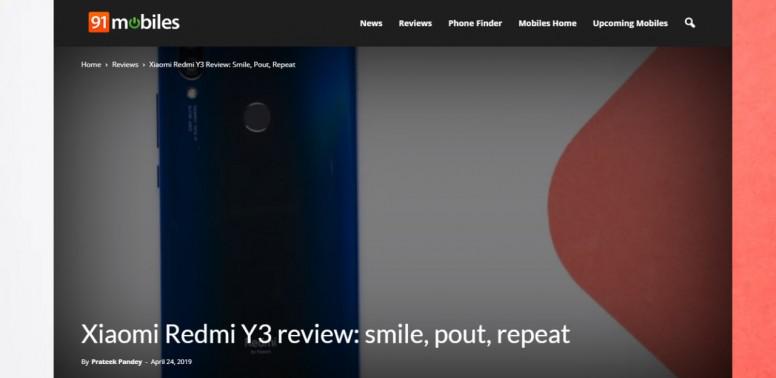 The handset offers a stunning design, good battery life, an incredible selfie camera, and decent performance.

As far as the battery life of the smartphone is concerned, the Redmi Y3 ships with a beefy 4,000mAh battery which comfortably saw me through the end of the day on heavy usage.

Provided the first thing you do when you wake up is take a selfie, you'll feel right at home with the Redmi Y3.

[91Mobiles]
Digit
The CPU scores indicate the Redmi Y3 has a big improvement as compared to the Redmi Y2 which ran on the Snapdragon 625. The CPU comprehensively indicates the Redmi Y3 is faster than the Galaxy M20.

Y3's weapon of choice is a 32MP camera on the front which while preserving facial details has the tendency to blow up the highlights.



[Digit]
BGR
The selfie camera and dual rear cameras are good for a smartphone in this price range. It also offers a good battery life.

On a weekend, with minimum internet access, barely checking my emails or chatting with friends on social media, the battery lasted for more than a day and a half.

For the price, the Redmi Y3 is a good upgrade over last year's Redmi Y2. You get a better and refreshing design, an efficient chipset, and more.



[BGR]
So what are your impressions about Redmi Y3? Do share in the comments below!