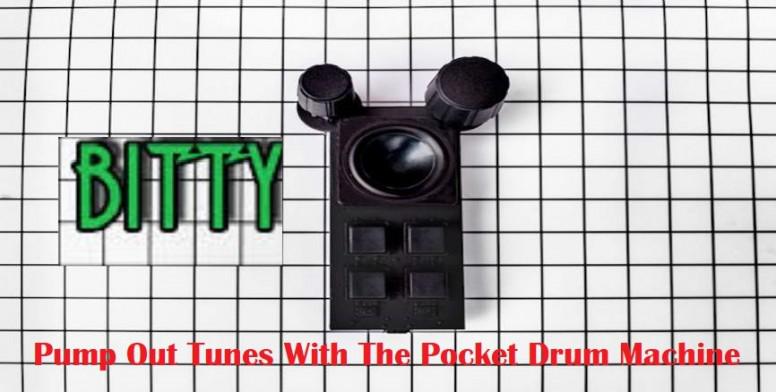 Hello Mi Fans!
From analog drum machines to polyphonic synths, there have never been so many options to bring a fully equipped studio wherever you go. Bitty is a new pocket drum machine and synthesizer that promises serious bang for your buck. Its speaker is typically used for car door panels and is made from aluminum, so you'll be able to pump up your jams loud no matter where you are. Musicians and music makers may be interested in a new pocket drum machine and synthesizer created by instrument designer Nickolas Peter Chelyapov. Every Bitty comes complete with software and samples simply plug it into your computer via a USB connection and select from a library of sound packs to upload. The sample includes therein Bitty. So, let's talk about This Bitty Pocket Drum Machine now.
Technical Specification: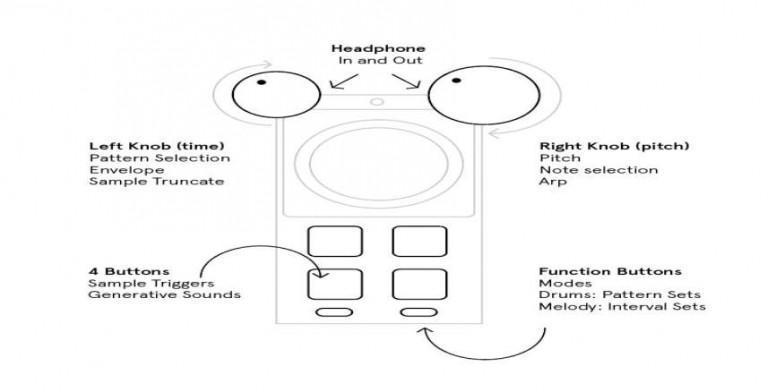 Bitty boasts 12-bit sample output, as well as sine, square, saw and triangle waves—plus a noise generator for those who like things nice and gritty. Loaded with packs including Theremin, techno, trap and lo-fi sounds, the little machine's sound packs a serious punch. With 4-voice polyphony, four different filter settings and arpeggiation, it's crazy to think the thing can run on a couple of AAA batteries. It can also be powered over USB if you're in your studio.
Highlights:
Music Making For Everyone:
Imagine a gateway drug for people wanting to get into making beats or electronic music. Imagine something deep enough for studio musicians too. You can play the drums or melodies manually (which is better for playing along with with an acoustic instrument), or you can use the left knob to select patterns and change the speed to make dance music or hip hop beats. The pros will get a kick out of the sonic character. The output is 12 bit and it sounds punchy and crunchy like the early MPC drum machines from the 80s and 90s.
Speak together:
Multiple people playing music at the same time is so unique and special. Unlike talking, which has us taking turns with each other, music allows us to speak at the same time. Like running through the forest together. Bitty had to be loud enough to play outside with friends. The speaker that comes on the Bitty is typically used as a car door panel speaker. And it's made of aluminum, not paper.
Play it for years:
Every Bitty comes with ALL of the software and samples we've made. You plug it into your computer with USB, select from a library of sound packs, hit upload and boom, new Bitty then We have sound packs like Theremin Bitty, TechnoBitty, Basement Bitty, Trap Bitty, Lofi Bitty Bitty, Beach Bitty, and more on the way. Some people suggested selling different Bitty flavors with the software locked, but that doesn't feel right. We'd rather make a thing with a growing library of sound packs so it's a lasting product that stays fresh for years.
It's a platform:
Bitty is based on the Arduino platform. So if you wanted to really get in there, you'll be able to edit the code or write your own from scratch. In fact, any sound software already written for regular Arduino will work. For teachers and parents: if I were a kid and had the choice between a stock Arduino and another one with batteries, amplifier and speaker, and the software you get.
Check out the Bitty Pocket Drum Machine here
The new Bitty from Curious Sound Objects delivers in ways most of the other options don't. For starters, it's simple–four trigger buttons for sounds, two function buttons, and two knobs. Don't let the Bitty name and the small form-factor fool you, this thing packs a pretty big punch thanks to the aluminum speaker that's typically used as a car door panel speaker. It's easy-to-learn, loud and pocket-sized which checks all the boxes for a portable drum machine and synthesizer. Bitty isn't just a musical instrument, it's a platform. Bitty comes with all of the software and samples the company has made.
Copyright Disclaimer: The data and imagery provided in this article belongs to their original creators!
Be the first to be informed: Follow us
Recommended Threads:
Big Thanks to
Thanks to Admin @R0user And Thanks to Our Beloved SMod @Furqaan Saikh And Our Mods @Harisankarg & @Patitapaban For Continuous Inspiration And Guidance And Supervision.
Thanks for Reading
So, what do you think about This Bitty Pocket Drum Machine? Please share your thought in the comment section below

Rate