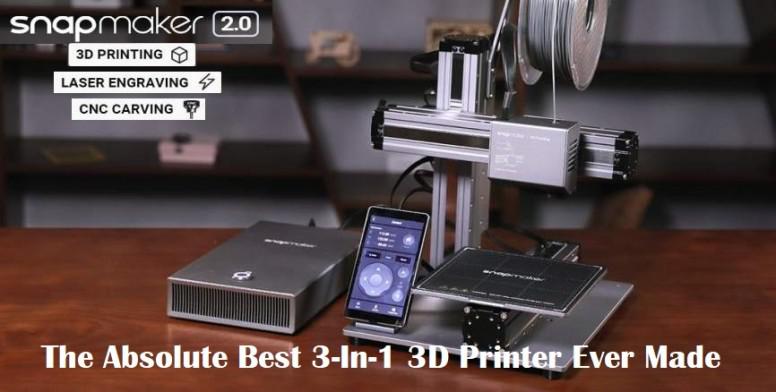 Hello Mi Fans!
If you want a 3D printer, there are dozens of fantastic options on the market. Choosing the right printer for you comes down to your requirements and budget, and that often means having to sacrifice something along the way. But the new Soapmaker 2.0 is a modular 3-in-1 3D printer that doesn't appear to have any downsides. Because it's a well-made and capable 3D printer that also works like a laser cutter/engraver and CNC mill. And it does all of that at an extremely reasonable price. U.S.-based 3D printer provider Snapmaker has launched a crowdfunding campaign for its new Snapmaker 2.0 series. With 28 days still to go, the project has already exceeded its initial target. The engineers at Snapmaker first offered their 3D printer/laser engraver / CNC carver in2016 with a wildly ambitious vision. They wanted to make to be as easy as taking photos in the next decades. Prohibitive costs of maker tools, dubious quality of machines, and a steep learning curve work against a beginning maker. After manufacturing the Snapmaker for two years they're back with the Soapmaker 2.0, the next generation of 3-in-1 3D printers. So, without wasting your time let'stalk about Soapmaker 2.0 the Absolute Best 3-In-1 3D Printer now.
Technical Specification:
Dimensions: 470 x 380 x 390 mm / 18.5 x 15.0 x 15.4 Inches
Build Volume: 160 x 160 x 145 mm / 6.3 x 6.3 x 5.7 Inches
Heated Bed: Up to 110° C
Laser Engraving and Cutting: 160 x 160 mm / 6.3 x 6.3 Inches
CNC Carving: 160 x 160 x 90 mm / 6.3 x 6.3 x 3.9 Inches
Frame Material: Aluminum Alloys
Connectivity: Wi-Fi / USB Cable / USB Flash Drive
Touch Screen: 5" Android OS,
Processor: Quad core A7 CPU @ 1.1 GHz
Software: Snapmakerjs (Other 3rd Party Software / G-Code Files)
Supported File Types: .STL / .OBJ / .SVG / .JPEG / .PNG
Supported OS: MacOS / Windows / Linux
Rated Power: 320W
Layer Resolution: 50-300 Microns
Nozzle Temperature: Up to 275° C
Supported Materials: PLA, ABS, TPU, Wood Filled PLA
Camera: Built-in-Camera
Laser Power: 1.6W
Wavelength: 450nm
Safety Class: Class 4
Supported Materials: Wood, Leather, Plastic, Fabric, Paper,Non-Transparent Acrylic,
Shank Diameter: 0.5mm-6.35mm (0.02-0.25 Inches)
Spindle Speed: 6,000-1200 RPM
Supported Materials: Wood, Acrylic, PCB, Carbon Fiber Sheet, and Jade.

Highlights:
✈3D Printing:
Soapmaker 2.0 modular 3-in-1 3D printers are ideal for beginners who are just getting started, hobbyists who prefer more customized options, as well as engineers and designers who want to print large objects or accurate parts with outstanding print quality.
✈ Laser Engraving & Cutting:
Traditional 3D printers can only 3D print. Your Snapmaker 2.0 is completely different. With interchangeable modules, Snapmaker's functionality can be changed quickly and efficiently, just like changing lenses on a camera. Now you can make many kinds of beautiful and artistic creations using laser engraving and cutting.
✈ CNC Carving:
You can even use Snapmaker 2.0 as a CNC router to create precision 2.5Dand 3D objects. It has faster working speed and a much larger workspace than the original model. It is the perfect machine to extend your interest to CNC carving.
Features:
✈ Well Made:
The aerospace-grade aluminum alloys are made into precision, reliable parts of Snapmaker modules after a series of processing steps. Each the manufacturing process is strictly controlled, and every part is meticulously made. Snapmaker 2.0 not only looks premium but also consistently delivers high performance.
✈ Wi-Fi Connectivity:
With the Wi-Fi feature and the USB port, you can connect your Snapmaker2.0 to any configuration for your convenience. You can upload designs via Wi-Fior USB flash drive and print with the touch of a button. In addition, you can update the firmware over Wi-Fi directly.
✈ Smart Touch Screen:
Traditionally, machines like 3D printers, laser cutters, and CNC routers didn't pay enough attention to HMI (Human Machine Interface). Snapmaker 2.0comes with a smart touchscreen that simplifies the workflow of your daily projects, letting you manage the most-used tasks directly from the touchscreen. Similarly to a smartphone, this 5-inch (720 x 1280 pixels) movable touchscreen is equipped with a Quad Core A7 CPU @1.1GHz, running under Android OS. Providing a smooth and fast interface.
✈ Aluminum Grid Table:
The Aluminum Grid Table is specially designed to prevent damage to the bed by defocusing the laser beam during cutting. It is removable and super firm.
✈ Power Loss Recovery:
You don't have to worry about power outages anymore. Snapmaker 2.0 can automatically detect power-loss, and then resumes exactly where it left off. You can recover any project and get perfect printing/engraving/cutting/carving results all the time.
✈ Auto Leveling:
Bed leveling is a tricky process, especially for a large heated bed and inexperienced users. To make bed leveling easier, we added an auto-leveling function. An induction sensor can probe the bed in a grid and apply mesh-based compensation that ensures you print on a level bed every time, all without the user having to go through a complicated process.
✈ Upgraded Cooling System:
With Snapmaker 2.0, you can print objects with deep overhangs and get a smoother finished surface! Cooling is just as important as heating when it comes to FDM3D printing. For Snapmaker 2.0, the cooling system is re-designed to cool the print in the most efficient way.
✈ Built-In Camera:
The built-in camera allows you to preview your design with whatever material you use. You can edit your design and precisely position it exactly where you want it to be. What you see is what you get.
✈ Dust Resistance:
Snapmaker 2.0's linear module has been upgraded for easy maintenance. The leadscrew, driver chip, and precision parts are completely enclosed in the aluminum alloys housings. It eliminates the problem of dirt accumulation, resulting in better durability.
✈ Draw, Capture, Cut:
Laser cutting can be as easy as drawing. The Snapmaker 2.0 can recognize and transform your drawing into a vector image for laser engraving or cutting. Furthermore, you can edit the converted vector image directly in the Snapmakersoftware to fit into all your creative projects!
✈ 3-In-1 Software:
This comes with 3-in-1 software, Snapmakerjs, is tailor-made for your Snapmakermachines. One single and powerful software for all your tasks. It has been iterated through 18 versions over the last one and a half years, adding features like multiple models printing/engraving/cutting/carving, SVG editing, relief carving, and multiple language support. Using rapid iterations, we've included many popular requests from our community.
✈ Easy To Assemble:
If you build a thing, you know a thing. Building a working 3D printer sounds like a terrifying prospect, let alone building a laser cutter or a CNC router. We've successfully convinced people that they could assemble our original model in 20 minutes on their first try. This time, we're super confident that you'll enjoy the process of building your own Soapmaker 2.0, and you'll find this is the best kit you've ever assembled.
Check out the Snapmaker 2.0 the Absolute Best 3-In-1 3D Printer here
The Snapmaker 2.0 range promises to be "smarter, faster, larger, and more powerful than ever before." It comes in three different sizes, the A150, A250 and A350, with build volumes ranging from 145 mm x 160 mm x 160 mm (L x W x H) to 320 x 350 x 330 mm. Each unit is completed by the modules needed for 3D printing, engraving and carving, and can be updated with other add-ons as required, such as a rotary cutter and dual nozzle extruder. Snapmaker was already popular, with a large user base and busy Community. Even before discussing the incredible slate of add-ons planned including an IP camera, emergency stop button, LED lighting, and a hand wheel.
Copyright Disclaimer: The data and imagery provided in this article belongs to their original creators!
Be the first to be informed: Follow us
Recommended Threads:
Big Thanks to
Thanks to Admin @R0user And Thanks to Our Beloved SMod @Furqaan Saikh And Our Mods @Harisankarg & @Patitapaban For Continuous Inspiration And Guidance And Supervision.
Thanks for Reading
So, what do you think about this Snapmaker 2.0 the Absolute Best 3-In-1 3D Printer? Please share your thought in the comment section below

Rate