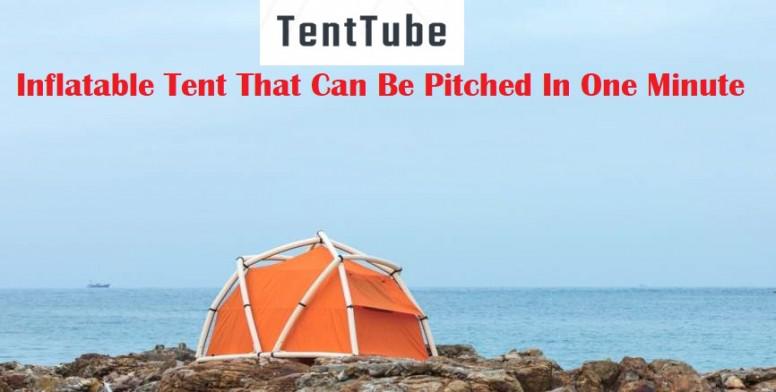 Hello Mi Fans!
We are have all been there, attempting to put together a tent with no instructions or know-how. You have no right attempting to put together a tent that will most likely be put together backward, inside-out, or you'll just snap all of the poles. This unique tent called theTentTube will allow you to assemble your tent in mere seconds, without the need for any know-how or tent knowledge at all. Its new inflatable tent that can be pitched in just one minute. Traditional tents are hard to pack, cumbersome to carry, and difficult to set up. TentTube set out to begin a revolution in the tent industry. Presuming the TentTube do what it says it does, it's an inflatable tent with similar benefits at a significantly lower price point. So, without wasting your time let's talk about TentTube Inflatable Tent now.
Technical Specification:
Outer Layer: Extra Stiff and resistant polyester
Inner Layer: Flexible thermoplastic polyurethane
Fly Sheet: 66D 210T Ripstop Polyester Flame **ant Pu coated,5000mm water column
Inner Tent: 40D 240T Ripstop Nylon Breathable, Flame **ant
Ground Sheet: 70D 210T Nylon Tafetta, PU coated, 5000mm watercolumn, Flame **ant
Ground Area: 3.6M2 (38.75ft)
Overall Height: 1500cm (61 inch)
Product Size: 225cm x 160cm x 155cm (88.6 x 63 x 61 inch)
Pack Size: 42 x 18 x 31cm (16.5 x 7.1 x 12.2 inch)
Weight: 3kg (8.8 Lbs)
Features:
●Easy Setup:
The TentTube uses a simple hand-pump that's connected to inflatable tentpoles, and as you pump it up, the poles pull up the tent. The best part is probably leaving your campsite and having to pack up your tent. Instead of taking 20 minutes to disassemble and pack up your tent, you can simply pull the plug, and the TentTube disassembles itself. TentTube is easy to set up. All it takes is 1 person, 1 air pump, and just 1 minute.
●Waterproof and Windproof:
TentTube is made of high-quality materials with industry-leading Ripstop technology making it the perfect choice for adventures all year round. It is3000mm water resistant. The high-quality material is breathable and windproof 33 mph.
●Plenty Rooms for Three People:
TentTube measures a spacious 7.4 x 5.2 x 5.1 ft. The family tent is ideal for 2-3 people. Great for family camping, picnics, backpacking and plenty of outdoor activities. Once you're inside you'll notice the walls are lined with pockets to keep your gear organized and it has a hanging lanyard which is perfect for alight.
●Airframe Technology:
Airframe makes the traditional poles a thing of the past. Additionally, AirframeTechnology provides even more stability than traditional steel poles. The tennis securely fastened by 4 included stakes to ensure stability.
●Easier to carrying:
By replacing the traditional poles with our patented inflatable Airframe, TentTube is 50% lighter and smaller, making it your perfect home on the go.
Check out the TentTube Inflatable Tent here
The tent is constructed from high quality materials with industry-leading Ripstop technology making it the perfect choice for adventures all year round. The unique tent gets securely fastened to the inflatable poles using a series of wraps, and is then staked into the ground using 4 stakes (1 on each corner) to ensure stability. The inflatable tent is 3000mm water resistant, uses high quality material that's breathable and windproof at wind speeds up to 33 mph, and the inside is lined with pockets to store your gear, and has a hanging lanyard on the ceiling to hang a light.
Copyright Disclaimer: The data and imagery provided in this article belongs to their original creators!
Be the first to be informed: Follow us
Recommended Threads:
Big Thanks to
Thanks to Admin @R0user And Thanks to Our Beloved SMod @Furqaan Saikh And Our Mods @Harisankarg & @Patitapaban For Continuous Inspiration And Guidance And Supervision.
Thanks for Reading
So, what do you think about this TentTube Inflatable Tent? Please share your thought in the comment section below

Rate