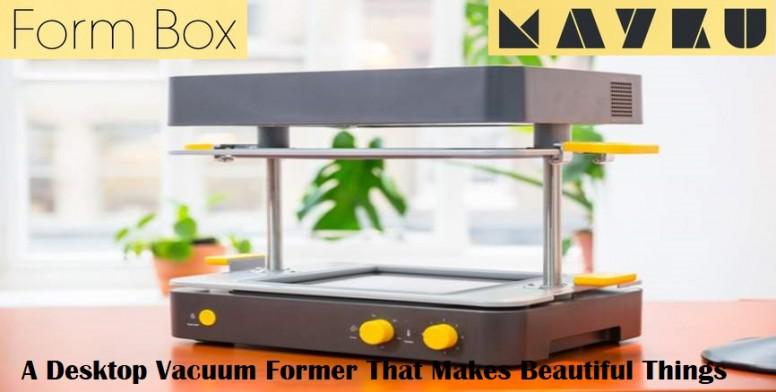 Hello Mi Fans!
3D printing is great for making your first prototypes, but 3D printers are difficult to use for mass production unless you have a 3D print farm. Vacuforming is a great way to move up from small to medium scale production. Avacuforming machine pairs perfectly with your 3D printer because you can use the printer to make the template, and then use the vacuforming machine to make dozens or hundreds of duplicates. The FormBox system can be used to make a variety of molds, for concrete and plaster casting, soap making and chocolate craft, or packaging for figurines and other handmade items. In many ways, it is the final professional touch makers need when attempting to create a business from their DIY products. So, without wasting your time let's talk about FormBoxA Desktop Vacuum Former now.
Technical Specification:
Size: Draw Depth - 130mm
Weight: 13kgs
Power: 110V and 240V
Heater: The metal can get quite hot
Handles: A tray click and handle design, with cast aluminum hinges
Adapter: A universal adaptor
Bed: A superfine mesh to increase airflow to the 3D shape
Trays: A tray Silicone seals to create a perfect seal.
●How It Works:
Vacuum forming is a simple process where you take a sheet of soft(nearly molten) plastic and use suction to conform it to the shape of a template. let's see this below picture.
●What Is Vacuum Forming?
Vacuum forming is a large industrial process traditionally found in factories. With the FormBox, we've made it simple and small enough to fit on your tabletop. From concrete plant pots to customized chocolates, the FormBoxhas a whole host of different applications. Here are some things we've been working on. It has designed an entirely new system that lets the FormBox draw suction from any vacuum cleaner. Let yours do more than gather dust.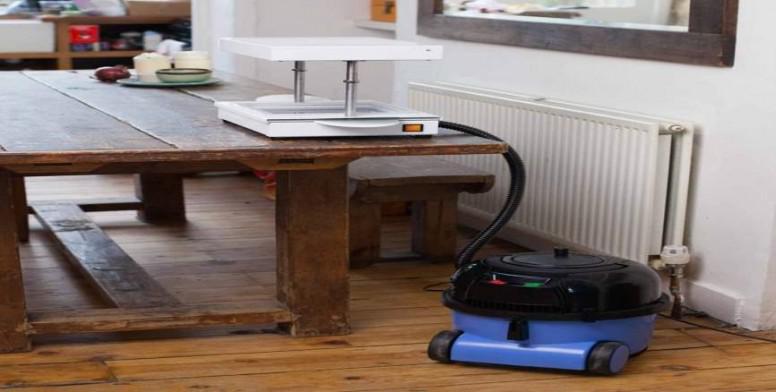 ●Who It's For:
I can believe everyone is creative. So we've designed the FormBox to be simple enough for anyone to use. Whether you're a professional creator or a weekend tinkerer, the FormBox is a powerful tool for bringing your ideas to life.
Makers:
With the FormBox, create simple forms from everyday items such as potatoes and plasticizer, or create more complex creations using another maker machines like 3D printers, laser cutters, and CNC machines.
Designers:
Use the FormBox to prototype your designs quickly, right from the studio.
Small Businesses:
Start making your own line of products at your own pace, without the need for large order quantities from factories.
Although transparent filaments are available for 3D printing, anyone who has used them knows that the results never come out clear. Because 3D printers create objects line by line and layer by layer, it is not possible for them to to make something that is completely solid, as is needed for optical clarity. Vacuforming, however, has no problem with this. You can use transparent plastic sheets to make visors, lenses, or clear covers.
Check out the FormBox A Desktop Vacuum Former here
The Mayku FormBox Desktop Vacuum Forming Machine is a desktop vacuum former that brings your ideas to life. It works with any vacuum cleaner and a whole selection of different materials. Use it to make molds in minutes with no additional software or digital model manipulation needed. Seeing those big ideas come to life never seemed so simple.
Copyright Disclaimer: The data and imagery provided in this article belongs to their original creators!
Be the first to be informed: Follow us
Recommended Threads:
Big Thanks to
Thanks to Admin @R0user And Thanks to Our Beloved SMod @Furqaan Saikh And Our Mods @Harisankarg & @Patitapaban For Continuous Inspiration And Guidance And Supervision.
Thanks for Reading
So, what do you think about this FormBox A Desktop Vacuum Former? Please share your thoughts in the comment section below

Rate