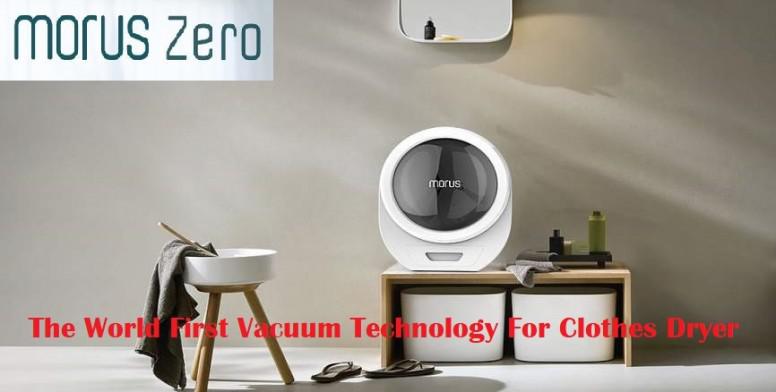 Hello Mi Fans!
Over the years, appliance efficiency has been a key area of concern for manufacturers. Dryer brands get into an endless loop when they pursue both drying speed and appliance efficiency. For conventional thermal dryers, the two essential elements are the heat and airflow. The speed of water evaporation is limited by the atmospheric pressure, as the water boils at 100°C, but this falls atmospheric pressure decreases. MORUS' new Zero vacuum clothes dryer is able to harness the pressure inside the dryer to lower the boiling point of the water. Through this method, called vacuum dehydration, it can achieve low-temperature,low-energy-consumption and high-speed clothes drying. This is a proven technology widely used in the food drying industry, and while it may sound easy enough, one of the biggest challenges was designing a vacuum pump that is compact and maintenance-free, as industrial vacuum pumps are always huge. So, without wasting your time let's talk about Morus Zero Clothes Dryer now.
Technical Specification:
Size: (W x H x D): 15 x 18 x 20" / 38 x 46 x 51cm
Loading Type: Front-load tumble
Weight: 44lb / 20kg
Drying Capacity: 3.3lb / 1.5kg
Drum Size: 11.5(D) x10.4"(H) / 29.1(D) x26.4cm (H)
Power: 900W (Average)
Voltage: 110V / 220V
Water Tank Capacity: 1.2L
Interface: 4 Buttons & 512 dots LED Matrix Display
Colors: Chalk white & Lava gray
Cable Length: 6' / 1.8m
✈ How does it work?
Standard home tumble dryers just take too long to dry even the smallest of wash loads. They take up too much home space and can rack up a fortune in energy bills and even damage fabrics, but with Morus Zero, all of those are a thing of the past. As any student of thermodynamics remember, water evaporates faster in a lower pressure environment. Morus uses this idea to introduce vacuum pressure into the drying chamber and requires less energy to dry clothes. One load of laundry will take around fifteen minutes to dry. The capacity is smaller than a conventional clothes dryer.
- Evaporation rate of water is factored by temperature, pressure, surface area and so on...
- To increase the evaporation rate of water, Morus Zero not just uses heat, but also lower the air pressure inside the dryer.
- By using the large-flow pump and adjustable inlet and outlet, MorusZero can create a chamber of lower atmospheric pressure, meanwhile allows a certain amount of warm air pass through to supplement the energy loss by water evaporation.
✈ Vacuum + Dehydration Technology:
The water has a lower boiling point at lower pressures. Morus Zero uses a compact high-performance vacuum pump to create a low-pressure environment which allows water to evaporate at a higher speed.
Morus Zero uses a custom-built, high-performance Neodymium magnet brushless motor to drive a vacuum pump that delivers multiple times the energy density compared to conventional asynchronous motors.
Highlights:
● Dry as well as fresh:
The built-in UV sterilization effectively eliminates 99.9% of bacteria during the ultrafast drying time. It's also environmentally friendly since there are no dangerous or toxic chemicals to handle. So not only does MorusZero keep your clothes dry but also keeps them clean from any nasty bacteria.
● Drying clothes just got smarter:
The moisture sensor system automatically turns off the device when MorusZero can no longer detect moisture within the clothes and the drying is finished. Just press "Start", sit back, relax and let Morus Zero do the rest. It's that simple.
● Say goodbye to wrinkles:
Unlike the single-motor design of other conventional dryers, Morus Zero has three high-performance motors inside, one of which is used to drive the drum to rotate independently. Our program can precisely control the direction, speed and even acceleration of the tumble. In this way, the clothes can be dried evenly and come out with fewer wrinkles.
● Mold problem? No problem!
Its ventless design effectively prevents mold growth in your home. Instead of disposing the water into the air by ventilation, the detachable water tank collects and stores the moisture evaporating from the clothes, and the built-in water level sensor notifies when the tank needs to be emptied.
● Plug in and go:
The compact design of the Morus Zero makes it an ideal choice for small living spaces, like starter homes, cramped city apartments and even RVs.Basically, you can place it anywhere. It is convenient to install, and there is no ventilation needed, making it easy to get started with the Morus Zero right away.
Check out the Morus Zero Clothes Dryer here
So what are the advantages of this vacuum clothes dryer? First, the drying process is much faster because the Zero allows the water in the clothes to boil at a lower temperature, so the water will evaporate more easily. Second, vacuum drying can significantly reduce energy use. Clothes dryers are a critical part of the country's energy load, using up to 4% of residential consumption in the United States. The Zero is more energy-efficient because it does not need to heat the drum to a high temperature because the boiling point of water is lowered. Last but not least, the Zero drying clothes at a low temperature protects them. Overheated tumble drying reduces the strength of textiles, and it is a main cause of fabric wear damage.
Copyright Disclaimer: The data and imagery provided in this article belongs to their original creators!
Be the first to be informed: Follow us
Recommended Threads:
Big Thanks to
Thanks to Admin @R0user And Thanks to Our Beloved SMod @Furqaan Saikh And Our Mods @Harisankarg & @Patitapaban For Continuous Inspiration And Guidance And Supervision.
Thanks for Reading
So, what do you think about this Morus Zero Clothes Dryer? Please share your thought in the comment section below

Rate