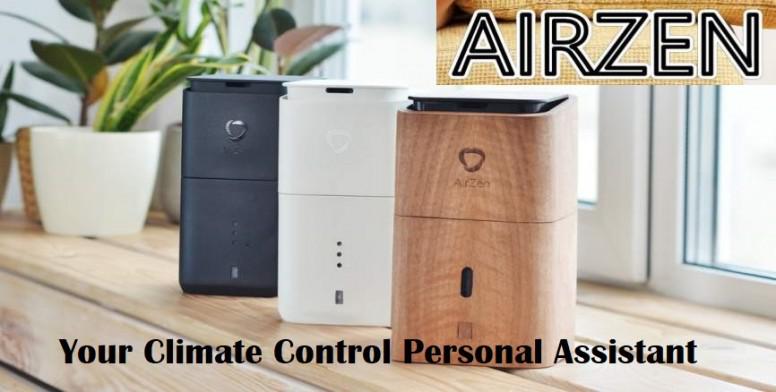 Hello Mi Fans!
If your atmosphere is perfect in your living place then you are perfect. If your place is pollution free and you feel fragrance everywhere then definitely your performance would be better. In this regard, I am introducing an amazing device which is named AirZen. It will keep the atmosphere of your place clean. AirZen is an indoor device that improves your quality of life by monitoring and adjusting your personal space air quality and fragrance. It allows you to remove air pollutants, allergens, germs, dust, smoke and unpleasant smells from your environment. With AirZen you will always have a clear mind and the ability to breathe easily. So, without wasting your time let's talk about AirZen Your Climate Control Personal Assistant now.
Technical Specification: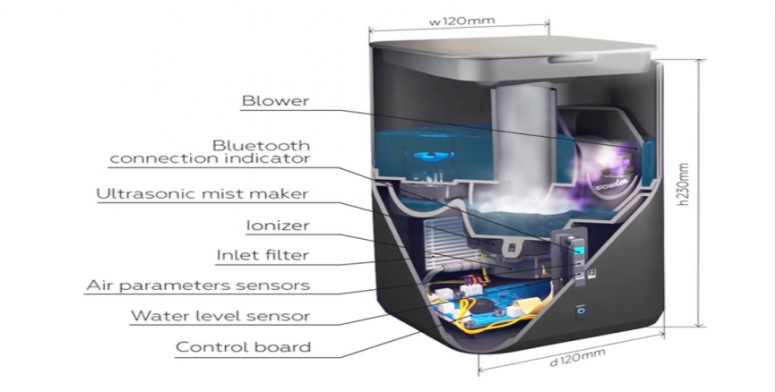 Highlights:
● Mist Humidifier:
Aizen personal air humidifier for your home and office is the best the solution to clear the air in your environment and improve your quality of life. Our warm and cool mist humidifier will make your dreams of a more pleasant environment come true and create a healthy breathing space. AirZen humidifier works within a radius that is just enough to turn your personal space into a favorable microclimate.
● Air Purifier:
Air purification is one of the fundamental ways that help us to stay positive all day long. In answer to the growing concern about a comfortable and healthy environment in a world full of airborne toxins and pollutants, it has been designed a device that incorporates all of the functions necessary to achieve a clean air environment in everyday use. Aizen HEPA filter air the purifier is ideal for users with respiratory conditions, allergy sufferers and people living in contaminated urban areas with growing environmental problems.
● True HEPA Filter:
There are 3 filters in the Air Zen: the sponge filter, carbon filter, and HEPA. Using filters that meet HEPA standards, the device will begin destroying allergens, bacteria, bad odors, toxic gases, and viruses, alleviating asthma, chronic obstructive pulmonary disease (COPD), and poor air quality for everyone. Carbon filtration also helps to reduce odors further and absorbs volatile airborne pollutants.
● Aroma Therapy:
Aizen is also an aroma diffuser for essential oils. It has specifically designed slot for organic essential oils. This allows you to experience personal aromatherapy without interfering with other people breathing space.
● Air Ionizer:
During non-working hours, the ionization mode can be turned on to improve the quality of the environment either manually or automatically. This freshens the air and significantly reduces airborne pollutants as small as 1 micron, such as allergens, pollen, mold, smoke, pet odors, lingering smells, dust, and other airborne irritants.
● Control via App:
Multifunctional AirZen device 5 in 1 is controlled via a mobile application on your phone. Choose the most desirable option from the provided presets and AirZen will begin its work. A variety of fragrances is available in our app shop section. You can check your air quality by tracking such parameters as CO2 level, temperature, and humidity. Aizen is a technologically advanced air and weather station. However you like your environment, with Aizen, you're in control
Check out the AirZen Your Climate Control Personal Assistant here
AirZen packs a purifier, humidifier, aroma diffuser, ionizer and air quality station into one compact package. Able to remove germs, dust, and unwanted odors from the air while also adding warm or cool humidity, the AirZen lets the user dial in their optimized personal climate zone. The AirZen also boasts a HEPA filter and an essential oil dispenser, as well as an air ionizer and mobile control via a companion app.
Copyright Disclaimer: The data and imagery provided in this article belongs to their original creators!
Be the first to be informed: Follow us
Recommended Threads:
Big Thanks to
Thanks to Admin @R0user And Thanks to Our Beloved SMod @Furqaan Saikh And Our Mods @Harisankarg & @Patitapaban For Continuous Inspiration And Guidance And Supervision.
Thanks for Reading
So, what do you think about this AirZen Your Climate Control Personal Assistant? Please share your thought in the comment section below.

Rate