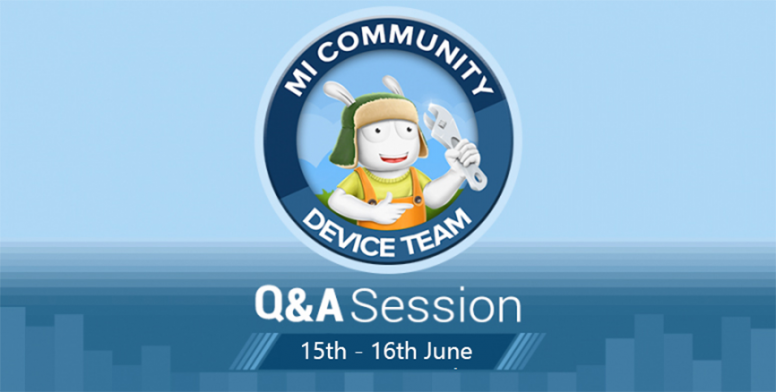 Hello Mi Fans!
Mi Community is an active platform for Mi fans. Not only we discuss Mi products and technology, but also help out each other. We have already conducted a lot of Q&A sessions earlier with the help of Device Team and Device moderators on Mi Community for device-related queries.
This Saturday i.e. 15th June starting from 00:00 AM to 00:00 AM on 16th June, you can post any questions related to all xiaomi smartphones launched in India and get answer on 16th June.



Q&A Schedule

Q&A session date: 15th of June from 00:00 AM to 00:00 AM on 16th June
Answering date: 16th of June


We will open this thread 15th June at 00:00 AM and close on 16th June at 00:00 AM. Our team will go through each and every question and the following day i.e. Sunday, the 16th, you will get a solution/suggestion for your question. We will try our best to provide further support in case some more questions arise in your mind.

Please mark your calendars to raise the questions & concerns. We will try our level best to help you out.

Procedure to join Q&A session:
1. Reply to this thread with your issue(s).
2. Our Mi Community device experts will reply to your issue(s) on the next day i.e. on Sunday, 16th June
3. If the issue is not resolved in the reply, you can follow up with the Mi Community Device experts for further support in this same thread regarding your issue.

Additional points to keep in mind for this Q&A session

Use English while replying to this thread.
Mention your issue(s) in detail.
Do not forget to mention MIUI Version. Mention if you are using Developer/Stable ROM, Global/China ROM, Rooted/Unrooted, Mi Recovery/TWRP/Other. Also, share more relevant information about your issue(s) if possible, so that we can understand your problem in a better way and solve it at the earliest possible.
If you have issue(s) like device slipped into the water, has physical damage and similar ones, we recommend you to visit the nearest Xiaomi service center and get your device checked.


Imp: This session is meant to help you out with the device issues only, and not meant to answer any MIUI feature request or Android version upgrade request. Thanks.

FAQs you should avoid

Q 1. When will I get stable MIUI 10 Update for my device?
The Miui 10 Stable ROM has been released to the supported devices. You can get more info here https://in.c.mi.com/thread-1584271-1-0.html

Q 2. I don't own a Xiaomi device, can I post my issue(s) here?
No, you should not. This thread is only for issues related to Xiaomi devices.

Q 3. I will not be available during this 'LIVE Q&A session', will I still get support?
Do not worry. You can always make a Q&A thread in a particular device section and our Community Device Team Members will assist you with the issue at the earliest.

Q 4. When can I get Android update for my Mi/Redmi Device?
There is no information regarding the Android update for any device. Once it is available for any device, it will be updated on the Mi Community.

Q 5. Where can I download the official MIUI ROMs for my Device?
You can download it from respective device sections.

Q 6. Can I post my issue(s) regarding service centers here?
For issue(s) regarding service centers, please post it in the Customer Feedback section here: https://in.c.mi.com/in/forum-74-1.html

Q 7. Is Redmi Note 6 pro having Dual Speaker Or Mono Speaker?
Redmi Note 6 is having a mono speaker. The other grill is for the microphone.

A great thanks, in advance, to all the Device mods, Device team members and Mi Community members who help us in the Q&A session.

Note: Thanks to Mi fans for sharing valuable feedback in Q&A session. This session is immensely important as it helps us raise the issue and forward to the concerned authority. A humble request, please do not post off-topic or spam in replies. Any irrelevant posts found will be deleted immediately without intimation.



Subscribe to our columns to stay updated with interesting Debates, Polls, Tutorial and more from Device Team: