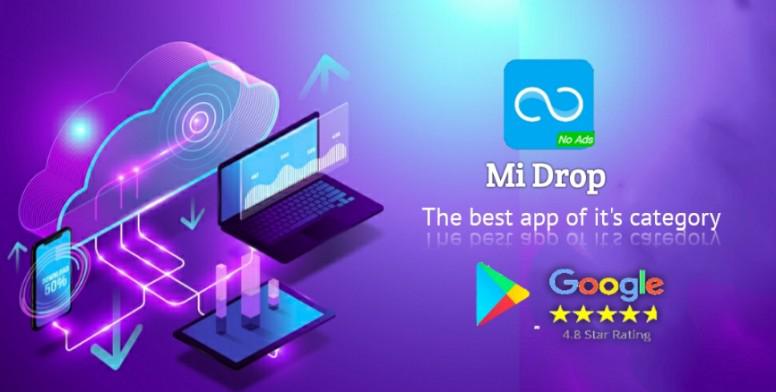 Hi Mi Fans,
Xiaomi has continually worked on hard on its native app to provide the best user experience not only to its MIUI user's but to all Android device users. The Mi Drop was introduced at Google Play Store in the month of September' 2017. Till date, it has crossed 100M+ downloads with 4.8 stars rating by 415K+ users, which probably is a thing of great achievement when compared to similar apps of this category.
We also compared Mi Drop with some other leading apps from the Google Play Store, and we received a tremendous amount of feedback and love from the users.
Mi Dop Vs ShareIt, where Mi Drop leads with 284 votes against 58.
Mi Drop Vs Xender, where Mi Drop leads with 503 votes against 137.
These results clearly show how Mi Drop is gaining trust among all Android device users and recently, A new update V.1.27.2 was pushed which changed the UI completely.

✒ Key Features of Mi Drop are:

Transfer & share all kinds of files: Quickly share images, videos, music, apps, and files between mobile devices anytime and anywhere you want.

Share files without the Internet: Transfer files without using mobile data or connecting to the network at all. Free of internet & mobile data.

Lightning fast speed: Mi Drop transfers files really fast, 200 times faster than Bluetooth.

Transfer files between all Android devices: All Android devices are supported!

Intuitive and friendly UI: Mi Drop has a simple, clean, and user-friendly transfer files interface. All files are sorted into categories(e.g., Music, Apps, Images) which makes them easy to find and share.

Resume interrupted transfers: No worries if your transfer got interrupted due to a sudden error. You can resume it with a simple tap without starting over.

The only Ad-Free file transfer tool in the market: The only Ad-Free file transfer tool in the market. Simply UI makes you feel comfortable.

Send large files without limitation: Sharing photos, music, videos, apps, documents and any other file types of unlimited file size.

Multiple languages supported: Bahasa Indonesia, Bengali, Chinese, English, Español, Português, ру́сский язы́к, українська мова, Tiếng Việt
Webshare: Easily connect with a computer/pc via webshare and connect to PC option.

✒ Download it from:


Please do share your feedback and views about MI Drop the form of comments below.
Also, do not forget to write a review of the app on the app store.