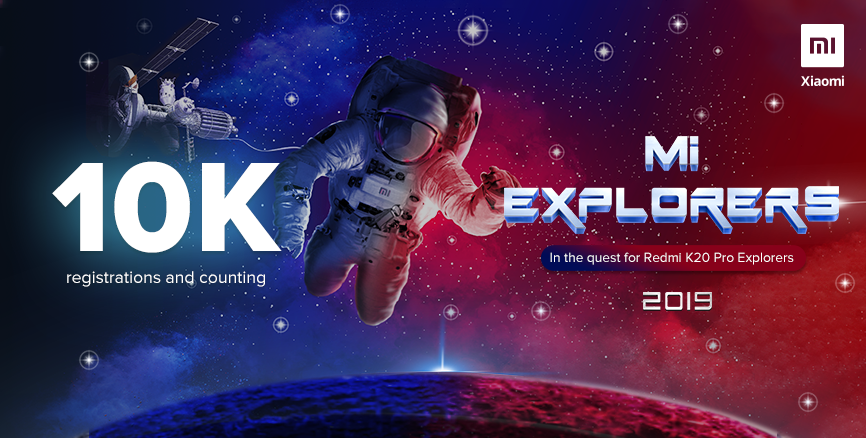 Update (25 June, 08:00 PM)
Due to the massive response, we are still shortlisting explorers. Selected candidates will be communicated via email on 26th June. We appreciate your support and patience.
Update (24 June, 11:00 AM)
Thank you for the awesome response Mi Fans we have closed the registrations now! We are going through the entries and the final candidates will be intimated by the email (the one you gave while registering). Keep checking your email and this thread for more information from time to time.
Buckle in and get ready for the exciting ride ahead!
-----------------
Mi fans,
The fun-filled, super exciting and most awaited program to explore the unexplored 'Mi Explorers 2019' is here.
Are you the one who goes beyond the limits? Breaks down the barriers to the dirt? Pushes boundaries to achieve the extraordinary feat? The one who has the vision to capture the breathtaking? If yes, apply now to become the Redmi K20 Pro Explorer and get ready to pioneer the unexplored.
Mi Explorers - Are you up for the challenge?
Registration Timeline
Mi fans, the registration process starts today i.e. 20th June and ends on 22nd June at 23:59:59 hrs (IST). So without further ado, go ahead and register now. Note that you need to furnish all the required information in order to be shortlisted.
Available Slots
Only 48 applicants will be shortlisted as Mi Explorers.
Selection Criteria
During the selection process, the applicant's Mi Community profile, as well as social media handles, will be thoroughly evaluated in order to find out their level of engagement, competency, & ability to generate quality submissions in the context of 'Mi Explorers 2019', so we would like to request you to keep all your social media handles open to public.
Announcement date:
We will send email to notify all the qualified applicants by 25th June (tentative), so don't forget to check your email inbox.
T&C's
The application is open only for Indian nationals.

Only the selected users will get a chance to be one of the Mi Explorers, and the application doesn't guarantee a selection.

Details provided by the applicants during the registration process, cannot be modified later.

We will send an email to notify all qualified applicants on 25th June. Shortlisted applicants need to follow the instructions mentioned in the email regarding Mi Explorers participation requirements and time-frame.

Following the confirmation, sudden cancellation is not allowed and the shortlisted candidate will not be eligible to register to any Xiaomi events in the future.

By signing the NDA, shortlisted candidate agree not to leak any details in regards to the product, including the product name/images/screenshots/others on any platform without Xiaomi's permission.

We support fair practices and therefore, only individuals can participate in the Mi Explorers program. Group participation, Xiaomi staff, event organizers, distributors, and Xiaomi affiliated employees are not eligible to participate.

All selected Mi Explorers need to complete a series of missions. The mission details, timelines, and the mission format will be shared on the mission thread and are subject to change. Stay tuned to Mi Community for further information.

All missions need to be submitted on/before the deadline and will be monitored closely.

Explorers acquire points by accomplishing missions, and by the number of likes received on their completed missions.

Points & likes will relate to rankings and will be the deciding factor.

The collected information will solely be used for Mi Explorers 2019.

Xiaomi has ownership to keep and use your submitted content, to change, to re-use, to reproduce without prior notice. Xiaomi has the right to collect your personal data for contact purpose and check your given social media handles.



FAQ
1. What is 'Mi Explorers' Program?

Starting with 2016 and 2017, Mi Community organized Mi Explorers program for Redmi Note 3 & Redmi Note 4, where we called out Mi fans and other Xiaomi enthusiasts to join our 'Mi Explorers' program to explore our upcoming device! And it was a huge success and we received a massive response from the Mi fans, the tech community, and others.
At Xiaomi, our fans always come first for us. 'Mi Explorers' program gives an exclusive opportunity to explore our upcoming device. Shortlisted candidates are expected to complete all the assigned missions in order to be a winner. Following which, we collect all of the feedback before our new product is officially launched.
"If it doesn't challenge you it won't change you!" - Mi Explorers are supposed to complete all missions, which is specially designed just for them.

All work/submissions will be monitored closely and collected on deadline.

As part of the Mi Explorers program, 48 applicants will be shortlisted for the program.

2. Why should I apply?

You will be the first ones to get exclusive insight into our new product & chance to get featured on our social handles.

Show Xiaomi your attributes and product evaluation skills.

Become an iconic Mi Explorer superstar!



3. How to become Mi Explorer?

Apply today on the above-given link! It's open for all.

Be an honest hardcore fan of Xiaomi and Xiaomi products.

Having a good set of skills in photography, video, product reviews will be an added bonus.



4. How can I check my application result?
Announcement Date: 25 June 2019
We will send an email to notify all qualified applicants on 25th June.
*Please make sure the email ID you have provided is correct. You will find "next step instructions" for Mi Explorers in the email, so don't forget to check your email inbox.
Rate