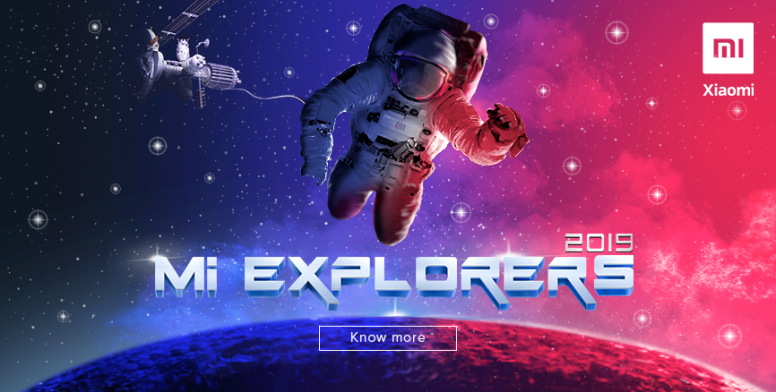 40,000+ applications, numerous hours screening each of them and finally, we have our 48 Mi Explorers who will be ahead of the curve and have accepted to challenge their boundaries. Sit tight and get ready for the ride while these 48 Redmi K20 Pro explorers push their limits, break barriers to the dirt, challenge the set boundaries to achieve the extraordinary feat, and capture the breathtaking to find their own meaning of K and what it stands for!




And while they pioneer the unexplored, you are the ultimate judge of their efforts. The challenges Mi Explorers will be given every day as a mission, need to be completed and posted in due time by them, while you hold the power to give them 'like' and take them one step closer to become the ultimate winner, day by day. Both you Mi Fan and Mi Explorers will have a chance to win BIG. Read all the details below:


Timeline
2nd July onward



Where will all action happen?

Mi Explorers 2019 will happen solely on the Mi Community app on the below-mentioned sections. All the latest announcements will be broadcasted in the 'Announcement' section, while everyday missions will be posted in the 'Missions' section to be completed by Mi Explorers and to be liked by you Mi Fans. Rest everything goes in the 'Misc' section.


- Announcement section - https://in.c.mi.com/in/forum-1268-1.html
- Missions section - https://in.c.mi.com/in/forum-1269-1.html
- Misc section - https://in.c.mi.com/in/forum-1270-1.html


(Note: Open links using Mi Community app)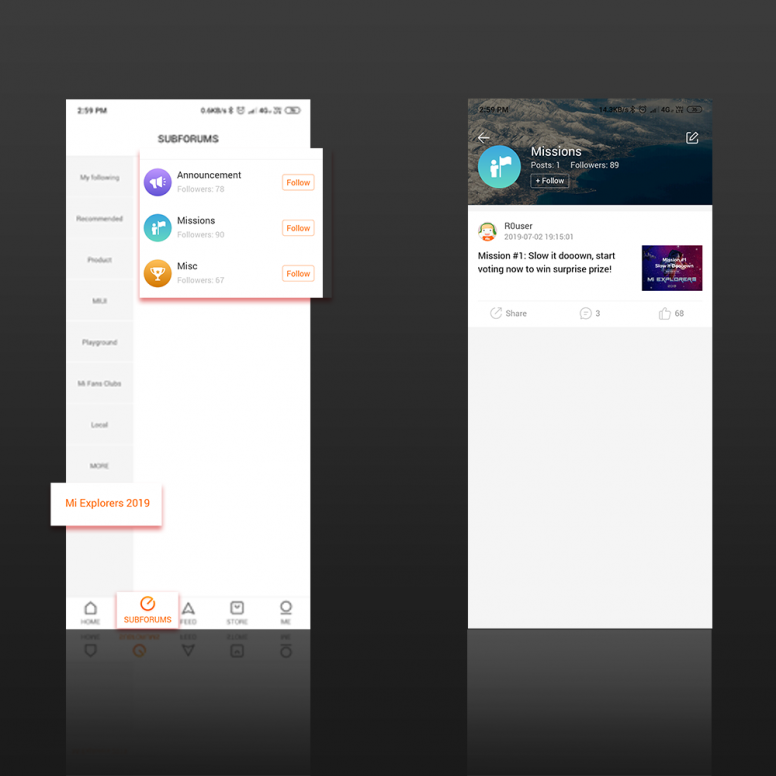 For Mi Explorers
Mission Types
| | |
| --- | --- |
| Mission Type | Number of Missions |
| Normal Mission | 12 |
| Star Mission | 3 |
Mission deadline
A new mission will be posted every day at 11 AM, star mission will be posted at any time.

Normal mission - Should be completed within 5 days of posting after which threads will be closed and entries will not be accepted.

Star missions - Should be completed within 48 hours of posting.



How to participate & win - Mi Explorers
Every day a new mission thread will be posted in Mi Community

'Missions'

forum as a challenge.

Mi Explorers are supposed to complete the missions and post it as a reply below each mission thread.

For each completed mission and acquired likes, Mi Explorer will get points as explained in the table below.



Note:
Mission-specific details will be shared in particular mission thread such as examples, rules, etc.

In the missions forum, only Mi Explorers can reply to submit the mission. Normal users can't reply but like their favorite reply to win exciting prizes.



Points acquirement & calculation for Mi Explorers
Mi Explorers will have two ways to earn points during the entire program.
By completing missions within the stipulated time

By getting likes on the missions



| | |
| --- | --- |
| Mission Completion | Points |
| Normal (deadline - 5 days) | 300 |
| Star (deadline - 48 Hrs) | 600 |
| | |
| --- | --- |
| Acquired Likes (by users) | Acquired Points |
| 10 Unique likes | 1 |
Prizes
Mi Explorers

Mission Category

1st winner

2nd winner

3rd winner

Winner

Redmi K20 Pro

Redmi K20 Pro

Redmi K20 Pro

Photography

Surprise!

Surprise!

Surprise!

Lifestyle

Surprise!

Surprise!

Surprise!

Creativity

Surprise!

Surprise!

Surprise!

Tech

Surprise!

Surprise!

Surprise!
For Normal Users (voters)
How to participate and win
Open each mission thread

Give likes to the completed mission replies posted by Mi Explorers in each mission thread

For each like you accumulate 1 point



How to like and earn points?
You can like the particular reply (mission) in Mi Community app and not on the website

As a normal user, you can only like the mission and cannot reply in the missions forum



Points acquirement for normal users
During the Mi Explorers 2019, normal users can only like Mi Explorers reply and earn points based on the acquired points.
| | |
| --- | --- |
| No. of likes | Points acquired |
| 1 | 1 |
Prizes
Voters

Winner

1st winner

2nd winner

3rd winner

Top 10

Prizes

Suprise!

Suprise!

Suprise!

Mi Polarised Pilot Sunglasses
Terms & Conditions
The final points for both the Mi Explorers and Normal users will be calculated after the closure of Mi Explorers 2019 program.

If any suspicious activity found to alter the points or anything as such then both the involved Explorer and the user will be terminated from the activity and can not be the winner.

Mi Community reserves all the right to judge the mission completion based on the content quality and task completion within the deadline.

Mi Community reserves right to make any changes to the program, at any point of time, without prior notice.



Read more
How to vote for Mi Explorers and win BIG Surprise Prize & more!
Excited for all the coming action?
Shout out loud below in the comments.
Rate