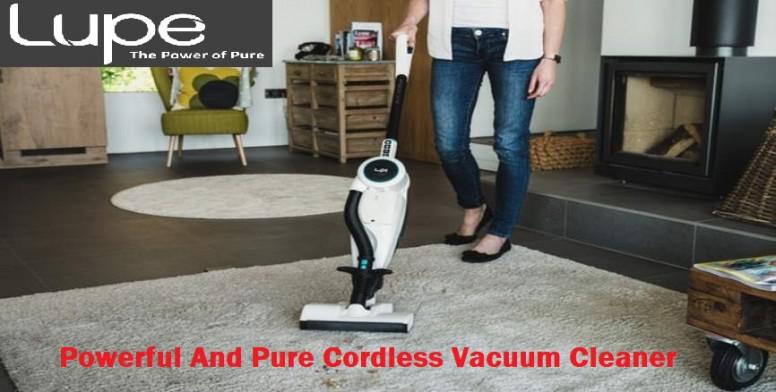 Hello Mi Fans!
Cordless vacuums were once considered useful for little beyond cleaning small messes, but in the past few years, they've come to replace many full-fledged vacuums altogether. But handheld cordless vacuums often can't hold a candle to their corded brethren, with lackluster cleaning performance middling battery life. It's also a pain to constantly need to run back and forth to grab various accessories. The other cordless vacuums still don't deliver on the purity of the original vacuums design function. To truly clean by delivering powerful suction for a sustained period. It has despite the popularity of these products many consumers were disappointed and we set to design both a technological solution and a bespoke vacuum cleaner product platform for it. This is the cordless vacuum fully realized. Lupe, a company founded by a pair of ex-Dyson researchers, thinks it can make a better cordless vacuum cleaner. Lupe Technology built its cordless wingding around three core concepts for vacuums: Suction power, battery life, and the ability to clean the whole house with one product instead of messing around with Swiffer, mops, and whatnot. So, without wasting your time let's talk about Lupe powerful and pure cordless vacuum cleaner now.
Technical Specification:
Configuration: 3 in 1 cordless upright / hose mode / handheld
Depth: 175mm / 6.9in
Length: 1145mm / 45in
Width: 260mm / 10.2in
Weight: 0.5kg/ 9.26lbs
Stand: Self standing
Duct cup capacity: 1L
Filtration: 4 stage filtration with H13 HEPA.
Voltage: 32.4V
Charge time: 3.5 hours
Motor Power: 400W / 108,000 RPM
Floor tool power: 50W
Run time: 60 min
Accessories: With on-board tool storage
Warranty: 7 years (2 years battery)
● Design:
The Pure Cordless has been designed and built with two principals at heart purity of purpose, and longevity of the design. We've designed and built the best possible product with the singular purpose of keeping your home clean, and we've designed it to last: no built-in obsolescence, no superseding product every year. Aside from its very stylish and modern design, what about the LupeOne makes it so special? One of the main claims is that the One will be able to remove 100% of dust, which is a massive increase from the 60% that leading competitors currently provide. It also features an interchangeable motor and battery packs, allowing for upgrades as the model evolves over time something that no one else has tried before.
● Features:
We wanted the Pure Cordless to be everything you'd expect of a modern vacuum cleaner, not just a cordless, and we have integrated every feature to the highest possible specification.
1. Pickup Head: The most energy-efficient dust pick-up technology available intensifies the suction for deep-down cleaning across all surfaces -no settings to change. Two motorized agitators deal with any debris type -large, fine and pet hair. Easy to remove both brush rollers simply using a coin.
2. Motor: Our Japanese brushless motor spins at 108,000rpm (twice as fast as a jet engine) and has exceptional energy efficiency. It's also exceptionally durable.
3. Cyclonic Bagless Separator: With two stages of cyclonic separation and two stages of filtration the Pure Cordless is at the cutting edge of dust separation technology. With a genuine 1000cc (1 liter) capacity the Lupe pure cordless has one of the largest bin capacities of any cordless. Less bin emptying to get the job done quicker. It is also really easy to empty
4. Battery: The Pure Cordless 32.4V 81Wh Li-Ion battery delivers60 minutes of powerful cleaning from one single charge. The LEDs on the front communicates accurate charge capacity remaining. The battery can be charged on the machine with no dock, or taken out and charged discretely while the machine is stowed away in a cupboard.
5. HEPA Anti-Allergy Filter: A genuine HEPA (H13) filter separating99.97% of fine dust and allergens down to 0.3 millionths of a meter. Easy to remove and wash for optimum performance. Other brands use lower grade filters that allow 100's of times more fine dust through.
Main Highlight:
● Power through patented technology:
Lupe's enduring suction comes from inner strength. Our patented SuctionIntensifier delivers the strongest and most efficient suction of any cordless out there, with no compromise in picking up any debris type. See for yourself how we compare to the competition on an exceptional challenge of 20mm (0.8inches) deep grooves filled with dust. How does it work? Unassuming on the outside, you have to look within to find the source of Lupe's enduring power
● Suction Intensifier technology:
Optimum pick up across different surfaces and debris types all the time, with no settings to change. Powerful motorized agitator for cleaning hair and deep-down dirt great for carpet. Airtight rotating seal conforms to all surfaces and debris, preventing unnecessary leaks and increasing suction great for hard floors. Velocity vane increases air velocity by reducing the opening on the floor surface. Increased velocity and eliminated leaks result in up tox10 the useful suction at the cleaner head compared to some conventional designs.
● Doing more with less:
Power is nothing without endurance. Unlike other models, the pure cordless offers outstanding dust cleaning performance for a full 60 minutes. Put simply, the Pure Cordless cleans significantly more than the competition between charges. More cleaning, less charging. That's the power of pure.
● Adapts to every cleaning task:
The Lupe Pure Cordless is a true 3-in-1 vacuum that offers the best of all worlds wrapped into one convenient package and have an outstanding reach to high places (2m/6.5ft). Conventional cordless stick vacuums put all the weight in your hand, Lupe's unique format makes cleaning high easy with significantly less weight to lift. Taking the cleaning head off to switch between configurations are really quick and easy.
● One cleaning head:
Rather than multiple cleaning heads, we focused on one head capable of cleaning all surfaces, one that seamlessly moves from one surface to another. There's no longer any need to have multiple vacuums (or multiple heads) for different tasks. Because sometimes, one head really is better than two.
● Social, Safety and Environmental impact:
Lupe is different. And the Pure Cordless is different. It is fully serviceable and almost every part can be replaced. It has been designed to be as long-lasting as possible: using the best components and materials. It's been designed to be as easy to maintain as possible. We will support long-term ownership through the open supply of spares and making upgrades available to battery packs and motors as technology moves on. The Pure Cordless will be built in a factory that pays workers fairly, has high standards of health and safety and is ISO14001 certified. It is committed to conducting business in a manner that delivers continuous improvement in environmental performance and protects the quality of communities where it operates.
Check out the Lupe powerful and pure cordless vacuum cleaner here
The built-in suction intensifier technology backed by two motorized agitators gives the device the ability to clean different types of dirt and debris. Some other cool features are the large-capacity dust container, universal pick-up head, H13HEPA filter, LEDs to show remaining battery power and that it can stand upright without any support. It works like any full vacuum cleaner that can be reconfigured to three forms according to different uses. Use it as a conventional upright vac for floor cleaning, stretch the hose for quick access to high corners and a lightweight carry mode for smaller spaces. Each device comes with multi-function crevice and upholstery accessory tools that can be mounted on the device.
Copyright Disclaimer: The data and imagery provided in this article belongs to their original creators!
Be the first to be informed: Follow us
Recommended Threads:
Big Thanks to
Thanks to Admin @R0user And Thanks to Our Beloved SMod @Furqaan Saikh And Our Mods @Harisankarg & @iamsohom For Continuous Inspiration and Guidance and Supervision.
Thanks for Reading
So, what do you think about this about Lupe powerful and pure cordless vacuum cleaner? Please share your thought in the comment section below.

Rate