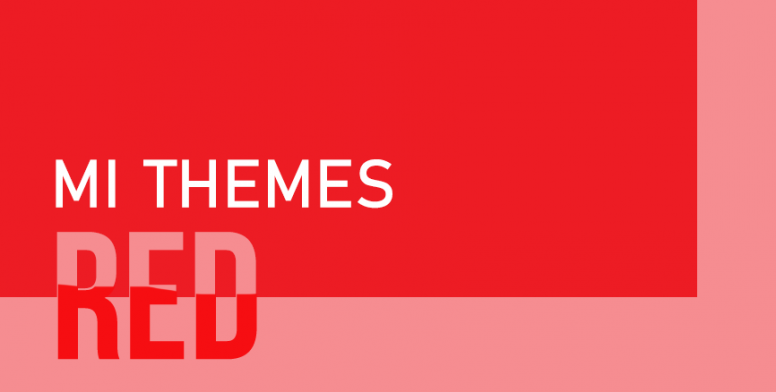 Hello Mi Fans! I know you all like to change themes every now and then. You might also wonder how can the headache of choosing themes can be reduced? Here, I do post theme reviews every week on Fridays. Follow this Column to get a Push Notification whenever I post the Theme of the Week threads.


What is "Theme of the Week"?

It is a series of threads posted by me every Friday for all the Mi fans who love a change. I personally try out a few new and trending themes from the theme store and feature them in my threads weekly so that you all don't have to worry about finding the right theme.


Keepin it aside, today we've another topic to discuss, the RED Color. It is the color of Good Fortune and Happiness as per some Indian and Chinese ancient books, and some western countries use it as the color of love. On the other hand, Red radiates a strong and powerful masculine energy.
What is "Colors"?
You might have noticed the special subsection for themes of different colors in the MIUI Themes App. All you've to do is head to the themes app and scroll down until you see this kind of section saying "Choose Your Color". So here are some themes you might like to use on your phones.


History related to the Color RED
The 19th century brought the introduction of the first synthetic red dyes, which replaced the traditional dyes. Red also became the color of revolution; Soviet Russia adopted a red flag following the Bolshevik Revolution in 1917, later followed by China, Vietnam, and other communist countries. It was also an important color in China, where it was used to color early pottery and later the gates and walls of palaces. The Ancient Egyptians and Mayans colored their faces red in ceremonies; Roman generals had their bodies colored red to celebrate victories.


How to Download?
You all saw the history of RED color and might be wondering to try out it as soon as possible, right? Some of you might leave the thread half-read and rush to the themes store in search of RED themes. So, to reduce the hassle I've listed the themes with their respective links below.

Red Zone - http://bit.ly/2IJgoCM
Red Snow v10 - http://bit.ly/2X4aiRc
Red Os V10 - http://bit.ly/2Ja1nJ9
ASBRED V10 - http://bit.ly/2XAWAti
Evil REDl[In Designs] - http://bit.ly/2Loz7p1
Black&Red - http://bit.ly/2NbwOIj
And many more in the section. If you face any issues navigating to these themes, please do let me know in the comment or private message.

✒️ Popular Columns across Mi Community:



Loving the Ravishing RED?

Want More Colors?

Stay Tuned!