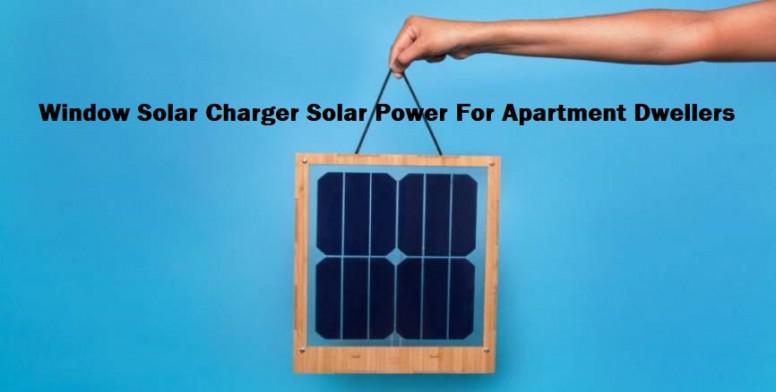 Hello Mi Fans!
There are lots of things that affect our lives in the long run. However, going solar is one of those things that you can do now and truly appreciate it later. Since humanity tends to have a bad influence on our Mother Earth, we should take advantage of all the possible options to save it. Earth Hour is great, but what else is out there? Nowadays going solar gets more and more popular. There are lots of companies that pop up and offer you to make your house more 'green' and energy efficient. Today we want to show you that going solar is possible even if you don't have your house and only rent one. TheWindow Solar Charger was conceived from the idea that everyone should be able to generate their own clean energy. While homeowners have much more control over their power sources, renters and people on the go often have very little options to live a truly sustainable lifestyle. A very practical Window SolarCharger designed to let apartment dwellers generate their own solar energy in order to power their devices. So, without wasting your time let's talk about window Solar Charger now.
Technical Specification:
Essentially, the charger is a 13-inch-by-10-inch bamboo frame with fourth in solar panels. The charger can be hung in any window to soak up direct sunlight into the battery that is built into the frame.
How Does Solar Power Work?
Solar power is the best solution to our climate crisis that knocks on our doors louder and louder, but how does it really work? Let's imagine that you've already installed solar panels on your roof or somewhere around the yard of your house. It means that once the sunlight will hit your panels, they will convert the received energy to DC current and then it will be transferred to the inverter. Basically, the inverter can be called 'the brain' of this operation. It converts the electricity from DC to AC and makes it possible for you to use it.
How Does Window Solar Charger Work?
● Hang in any sunny window. It takes 8-10 hrs. of direct sunlight to fully charge the built-in battery.
● Plug your phone or USB device into the included USB port. A full the internal battery can charge your electronic devices like smartphones, camera, power banks, and other electric items in 1-1.5 times.
● Charge all your favorite small USB devices from the charger's internal battery. A full battery can charge iPhones (2x), Android phones (1 - 1.5x),Tablets (0.5x), Air Pods (3x), Portable Speaker (1x), Donuts (1000x)
Features:
● Harvest solar energy:
The Window Solar Charger is a designer solar panel that charges your devices. Unlike most solar panels, it's designed to hang in any window. For those who rent or can't install solar panels on their roof, this is a small way to be more eco-friendly. After years of being frustrated with how hard it is to adopt solar energy in her own NYC apartment, Group hug's founder and lead product designer, Krystal Persuade, decided to invent a personal solar-powered charger geared toward those apartment dwellers who want to be more sustainable.
● Small Changes, Big Impact:
There is a world where renewable energy can be user-friendly, and ridiculously good looking. And most importantly, they'll reduce your reliance on fossil fuels. We're not going to be able to go off the grid overnight, but we can take steps to get there. Our patent pending Window Solar Charger is just the first of many Group hug products that will shift the way we think about consuming energy.
However, there's more to life than money. Solar also allows you to decrease your own emissions and reduce your carbon footprint. Maybe you just like of them. Maybe you want to be a bit more self-sufficient, or the power goes out at your apartment every time there's a strong breeze or a clap of thunder. All of these reasons for going solar are just as valid as saving money. No matter your reasoning or goals, installing solar panels and running your life even if just a tiny part of it off of the sun can be such a rewarding project. So get to work! (But be safe.)
Copyright Disclaimer: The data and imagery provided in this article belongs to their original creators!
Be the first to be informed: Follow us
RecommendedThreads:
Big Thanks to
Thanks to Admin @R0user And Thanks to Our Beloved SMod @Furqaan Saikh And Our Mods @Harisankarg & @iamsohom For Continuous Inspiration and Guidance and Supervision.
Thanks for Reading
So, what do you think about this about Window Solar Charger? Please share your thoughts in the comment section below.

Rate