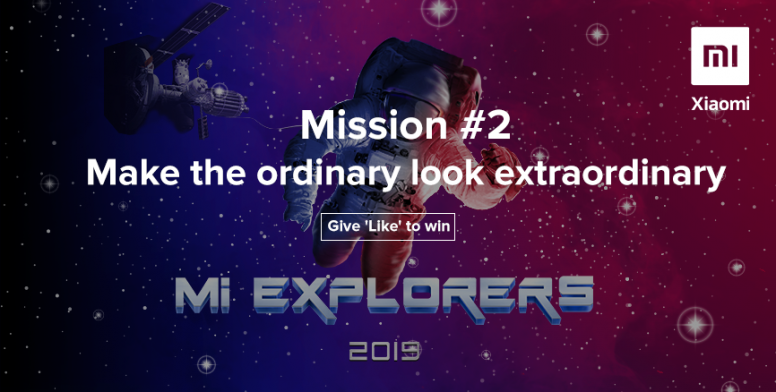 Mi Explorers,
What makes the ordinary look extraordinary? Creativity, imagination, an eye for detail, patience, and passion among others.
Mi Explorers here is Mission #2 for you. All you need to do is capture three (3) best 48MP shots showcasing your creativity and photography skills. In addition, you need to give a creative caption that narrates the picture in over 5 words. Note that caption is mandatory for all the images.
Mission: Make the ordinary look extraordinary
Mission Title: Surprise us with your three (3) best 48MP shots from Redmi K20 Pro
Mission type: Normal
Category: Photography
Points:
You earn 300 points by completing this task in a stipulated time + points from likes given by Mi Fans, as explained
here
Deadline to complete: 5 Days from the mission post date i.e. 7th July 23:59:59
How to complete this mission
An explorer's work is to explore the unexplored, it's time you surprise us with your amazing photography skills:
Take your time, explore 48MP feature, play around it, move out, wait for the perfect frame and bang, you have a perfect 48MP shot.

Take as many as you want and pick your best 3 three, zoom in to one area and take a screenshot each.

Upload all the three (3) images+ zoomed-in screenshots, as a reply in the thread along with photo caption, which is a must.

Share the pics before the deadline gets over.



Note: Strictly avoid duplicity of work.
What is expected
High-quality content, demonstrating the ultimate power of Redmi K20 Pro and your skills. Consider it as not just a mission, but the explore the best of you. Let the creativity reflect in your pics.
T&C
This is an individual task and you are expected to do it on your own.

Complete the mission within the time-frame, mission submission after deadline will not be accepted, as the thread will be closed on deadline.

Do not promote/share any content on social media channels or any other platforms until you are asked to.

Adhere to all the guidelines as mentioned on the agreement.



Read more
Rate