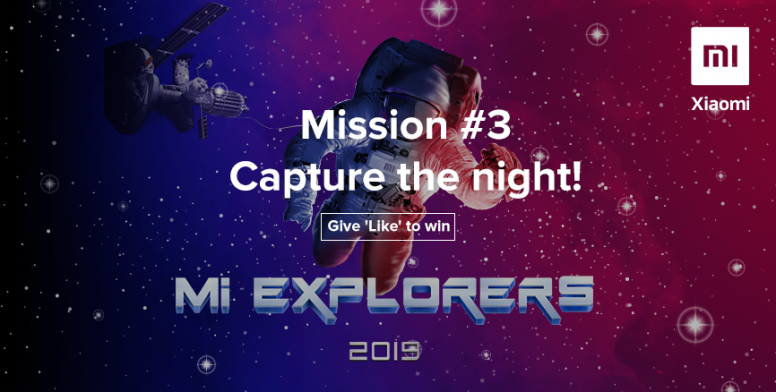 Mi Explorers,
It's time to capture the night! Low-light/night photographs are surprisingly beautiful through the lens. But how that you will tell us through your best shots. Here comes your Mission #3, all you need to do is share your best 3 low-light/night shots that are creative and captivating. For low-light photography inspiration, check
Xiaomi India
Instagram Page.
Mission Name: Capture the night!
Mission Title: Capture 3 creative low-light/night shots
Mission type: Normal
Category: Creativity
Points:
You earn 300 points by completing this task in a stipulated time + points from likes given by Mi Fans, as explained
here
Deadline to complete: 8th July 23:59:59
How to complete
Go out, spend some time experimenting with the Redmi K20 Pro Night mode, look for the perfect frame, point & take multiple shots. Share your 3 best shots with us.

Do not worry, you have 5 days to complete this mission from the day of the mission assigned.

We will suggest you use a mobile tripod as it will really help to improve the quality of shots.

Upload minimum of three (3) images as a reply in the thread along with photo caption, a must.

Share your best low-light/night shots before the deadline.



Note:
Strictly avoid duplicity of work.
What is expected
High-quality content, demonstrating the ultimate power of Redmi K20 Pro and your photography skills. Consider it as not just a mission, but the explore the best of you. Let your creativity reflect in your image.
T&C
This is an individual task and you are expected to do it on your own.

Complete the mission within the time-frame, mission submission after deadline will not be accepted, as the thread will be closed on deadline.

Do not promote/share any content on social media channels or any other platforms until you are asked to.

Adhere to all the guidelines as mentioned on the agreement.



Read more
How to vote for Mi Explorers and win BIG Surprise Prize & more!