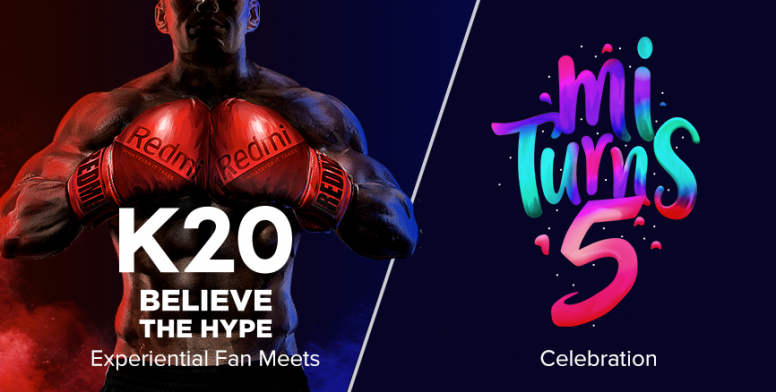 Hey Mi Fans, We heard you!
We're excited to announce that we're bringing Redmi k20 Pro Experiential Fan Meets to your city.
Are you equally excited & want to get your hands on the world's fastest phone? Then join your city Mi Fan Club this July to meet & interact with your fellow Mi Fans to experience the latest Redmi k20 Pro.
Registration Links :
City

Meet Date

Meetup Theme

Announcement Thread Link

Meetup Location

Meetup Time

Agra

21 July 2019


Hands-on for Redmi K20 Pro & Mi Turns 5 Anniversary


Shaheed Smarak, Sanjay Place,Agra

11:00 PM

Bengaluru

Mi Home, Indiranagar

11:00 AM

Bhubaneswar

Regional Science Centre

4:30 PM

Chennai

Mi Home, Forum Vijaya Mall, Vadapalani

5:00 PM

Jaipur

Mi Home, Mi road, Jaipur

11:00 AM

Kerala

Mi Store Tripunithara, Kochi

11:30 AM

Kolkata

Mi Home, Camac Street

3:30 PM

Lucknow

MI store (Shail Digi Zone), Matiyari, Lucknow

2:30 PM

Meerut

Mumbai

MI HOME BANDRA

1:00 PM

New Delhi

Mi Home Lajpat Nagar, New Delhi

10.30AM

Patna

Mi Exclusive Service Center, Patna


4.00 PM

Tripura

Illusion Sales, Mi Store

11:30 AM

Trivandrum

Mi Store, Balaramapuram

11.30 AM

Vadodara

Mi Home, Vasna

11:00 AM

Vizag

MI STUDIO, shankaramatam

4:00 PM
If you want to join any of the existing fan club of your city, please find the Telegram group links below :