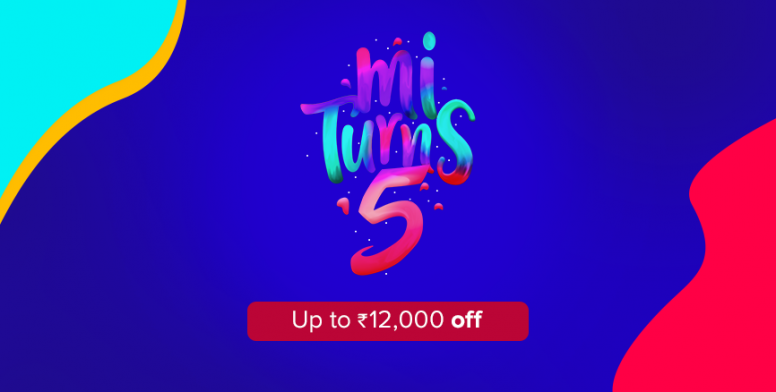 [Last update: 24 July]

Hey Mi fans,

Check out the list of ₹5 Flash sale winner. We have two more sale coming. Be ready to participate in 'Small=Big' sale on 23 July or 'Half-Price' sale on 24 July on mi.com at midnight and stand a chance to be one of the lucky winners. Check the list here: https://in.c.mi.com/thread-1914114-1-1.html

[End]

Hey Mi fans,
This is an exciting time for all of us. It's been almost a month since we announced that Xiaomi is about to turn 5 and the month was packed with exciting offers, discounts, and new arrivals. Guys, the day is finally here! Xiaomi has turned 5 - 'Wish Mi a Happy Birthday'. Wait, this is not all. We have a few more surprises for you. Check out the below highlights.

Note: The sale will start from today i.e. 22nd July midnight and end on 25th July midnight.

Major highlights

Mi Water TDS Tester is going on crowdfunding today at midnight. Participate now - mi.com
Three (3) different surprises on three (3) different days at 4 PM and 6 PM on mi.com.

a. ₹5 Flash sale – 22 July (midnight) - Check on mi.com
b. Small=Big – 23 July (midnight) - Check on mi.com
c. Half-Price sale – 24 July (midnight) - Check on mi.com

'Wish Mi a Happy Birthday' game will start tomorrow and will continue till 25 midnight. Play here


Well, we have something for everyone. Pick yours.
Smartphones

Product
MRP
(Rs.)
Special Price
(Rs.)
mi.com
Flipkart
Amazon
Redmi 6 Pro (3GB+32GB)
11,499
8,999
Buy Here
Buy Here
Buy Here
Redmi 6 Pro (4GB+6GB)
13,499
9,999
Buy Here
Buy Here
Buy Here
Mi A2 (4GB+64GB)
17,499
9,999
Buy Here
Buy Here
Buy Here
Mi A2 (6GB+128GB)
20,500
15,999
Buy Here
Buy Here
Buy Here
Poco F1 (6 GB+64GB)
21,999
17,999
Buy Here
Buy Here
Buy Here
Poco F1 (6GB+128GB)
24,999
18,999
Buy Here
Buy Here
Buy Here
Poco F1 (8GB+256GB)
30,999
22,999
Buy Here
Buy Here
Buy Here
Redmi Y2 (3GB+32GB)
10,499
8,999
Buy Here
Buy Here
Buy Here
Redmi Y2 (4GB+64GB)
13,999
8,999
Buy Here
Buy Here
Buy Here
Redmi Y3 (3GB+32GB)
11,999
8,999
Buy Here
Buy Here
Buy Here
Redmi Y3 (4GB+64GB)
13,999
10,999
Buy Here
Buy Here
Buy Here
Redmi Note 5 Pro (4GB+64GB)
15,999
12,999
Buy Here
Buy Here
Buy Here
Redmi Note 5 Pro (6GB+64GB)
17,999
11,999
Buy Here
Buy Here
Buy Here
Redmi 6A (2GB+16GB)
6,999
5,999
Buy Here
Buy Here
Buy Here
Redmi 6A (2GB+32GB)
7,999
6,199
Buy Here
Buy Here
Buy Here
Redmi 6 (3GB+32GB)

8,999
7,999
Buy Here
Buy Here
Buy Here
Redmi 6 (3GB+64GB)
10,499
6,499
Buy Here
Buy Here
Buy Here
Redmi 7 (2GB+32GB)
9,999
7,499
Buy Here
Buy Here
Buy Here
Redmi 7 (3GB+32GB)
10,999
8,999
Buy Here
Buy Here
Buy Here
Redmi Note 7S (3GB+32GB)
11,999
9,999
Buy Here
Buy Here
Buy Here
Redmi Note 7S (4GB+64GB)
13,999
11,999
Buy Here
Buy Here
Ecosystem
Mi TV's
Product
MRP
(Rs.)
Special Price
(Rs.)
mi.com
Flipkart
Amazon
Mi LED TV 4C PRO 80 cm (32)
14,999
12,499
Buy Here
N/A
Buy Here
Mi LED TV 4A PRO 108cm (43)
25,999
21,999
Buy Here
Buy Here
N/A
Mi LED TV 4A PRO 80 cm (32) LM
14,999
12,499
Buy Here
Buy Here
N/A
Mi LED TV 4X PRO 138.8cm (55)
49,999
37,999
Buy Here
Buy Here
N/A
Mi LED TV 4 PRO 138.8 cm (55)
54,999
44,999
Buy Here
N/A
Buy Here


Rate