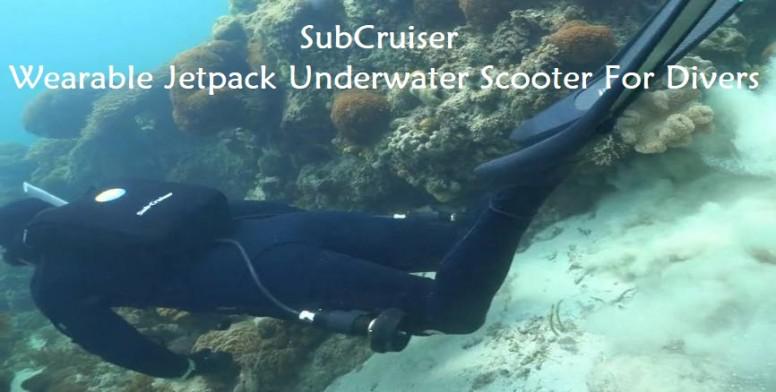 Hello Mi Fans!
Howdy friends, if you are going to vacation to beautiful seaside place. And if you do some underwater activity. So you are known how's amazing this experience. So now today I talk and take you to some helpful underwater suite like a scooter. Earlier, there are multiple tools or devices used to explore the underwater world. The world underwater always attracts many explorers. People and adventurers look for unseen destinations, some love to explore the unknown world on land and some goes underwater. The SubCruiser underwater scooter has been created by the Hong Kong-based company. It comes as a solution for passionate aquatic enthusiasts to keep them supported when spending extended periods of time in the water. The SubCruiser is intended to propel users through the underwater world, augmenting but not necessarily replacing their swim kicks. So, without wasting your time let's talk about SubCruiser wearable jetpack underwater scooter now.
➤ Technical Specification:
Backpack Size: 25cm * 13cm *40cm
Battery Range: 22V 4.5Ah 99Wh
Battery Uses: 40min (Max speed) 60min (Normal speed)
Applicable Depth: 100m
Total Weight: 5kg
Carrying Case: 67cm * 51cm * 25cm
Propulsion System Size: 11cm * 11cm * 22cm
Propulsion System Speed: Recommend 1.5 m/s
Propulsion System Force: 10KG
CPU: 26 MHz
Max Frequency: 302W
Control Box Input: 24V 2-Pin Power Positive and negative stage.
2-pin power for the main switch.
3-pin step-less speed change switch.
Control Box Output: 2-pin motor power output switch x2
3-pin PWM signal outputs
CVT Speed control: After the circuit-test for 10s.
Battery Indicator: Green (use normally) Red (power lover the 40%)
➤ How It Works:
Coming to its working or functionality, the system works by being worn on the body like a backpack. And it will go to work providing effective force under the surface at depths as low as 300 meters. The unit features two battery packs that will offer up to 40 minutes of use per charge. Thus provides a combined thrust of 22 pounds, which translates to about 5 mph of speed. The unit utilizes a step-less controller that will smoothly increase or decrease the speed to avoid abrupt propulsion changes.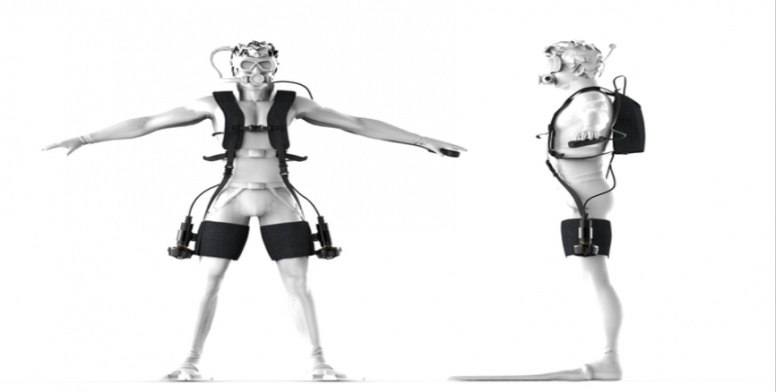 The diving unit claims to allow exploration down to 300 meters and is meant for amateurs, free divers or scuba divers. The novelty of the system is the backpack unit that holds the motors and battery and two propulsion units that either attach to the backpack or the user's legs. The propulsion system can move at 1.5 meters per second with 10 kilograms of the total force. The backpack is 25 x 13 x 40 centimeters and weighs 5 kilograms. The 22 Volt, 4.5Ampere hour battery is expected to give 40 minutes of ride time at maximum speed and 60 minutes at a nominal speed. The backpack has a battery indicator light that shines blue during testing, green during normal operation and red when the power is below forty percent. A control unit attaches to the user's wrist and allow for acceleration, deceleration, or hovering. Besides that, it consists of three main parts, all of which are hard-wired together. There's the backpack, which contains the two battery packs. Then the "brains," there are dual thrusters that can either be strapped to the thighs or mounted on the backpack. And there's a controller that gets strapped to one wrist.
➤ Features:
● Military level Waterproof
● Brushless motor, aluminum housing, and electric plug are all sealed to the highest degree
● Electric Shock Prevention
● Circuit switch prevents accidental shock, the minimal voltage in handheld control
● Propeller Protection
● The protective casing ensures safety
● Hands-free operation
● Wearable propulsion units attachable to backpack or legs
● Step-less Speed Change
● Accelerate with ease, cruise control, or hover
● Ergonomic Design
● Backpack and strap design ensures comfort
● Long Battery Life
● Up to 40min of underwater fun
● Wearable Design:
By integrating the most advanced wearable technology and the step-less speed change into one design, Sub-Cruiser frees up your hands and allows you to explore underwater with maximum freedom. It all starts with a wearable design, freeing up your hands and allowing you to explore the ocean autonomously.
● Powerful Propulsion System:
The propulsion units, with 2 powerful brushless motors, push you with up to 10kg of the total force, translating to up to 4 knots of cruising speed.
● Craftsmanship Robotics Design:
By fitting the smart battery system and control box into an aerodynamic backpack, sub-cruiser minimizes drag and maximizes your speed. By sealing the battery in an aluminum casing using the craftsmanship of underwater robotics design, you may dive to a depth of 300 meters without worrying about leakage.
● Hand-held Shifter:
Connected to the control box is a hand-held shifter, attachable to your wrist. Using the "Smooth Speed" technology, the wheel allows you to speed up, slow down or hover effortlessly.
● Ultra Safety: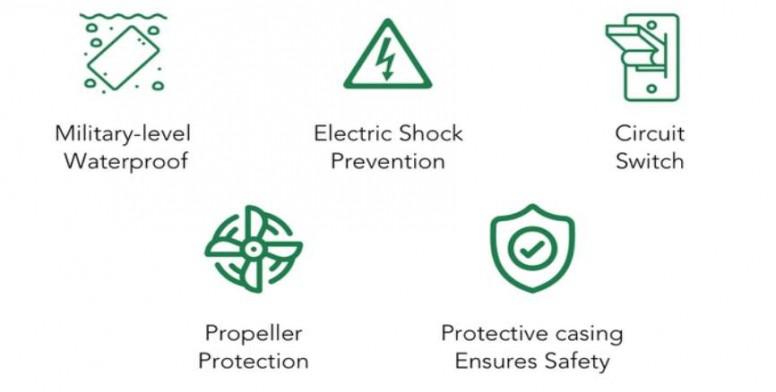 Check out the SubCruiserwearable jetpack underwater scooter here
Wearable design, Freeing up your hands, Experience the excitement of speed, Man oeuvre any way you want with ease like a fish SubCruiser is a revolutionary jet pack that offers an underwater experience you never could have imagined before. Underwater Exploration has never been more exciting Man oeuvre any way you want with ease like a fish Experience the excitement of speed as you cruise through water saving your energy, allowing you to go even further and explore more Ultra Safety Military level Waterproof Brushless motor, aluminum housing, and electric plug are all sealed to the highest degree Electric Shock Prevention Circuit switch prevents accidental shock, minimal voltage in handheld control Propeller Protection Protective casing ensures safety Wearable Design By integrating the most advanced wearable jetpack underwater scooter yet.
Copyright Disclaimer: The data and imagery provided in this article belongs to their original creators!
Be the first to be informed: Follow us
Recommended Threads:
Big Thanks to
Thanks to Admin @R0user And Thanks to Our Beloved SMod @Furqaan Saikh And Our Mods @Harisankarg For Continuous Inspiration and Guidance and Supervision.
Thanks for Reading
So, what do you think about this about SubCruiser wearable jetpack underwater scooter? Please share your thought in the comment section below.