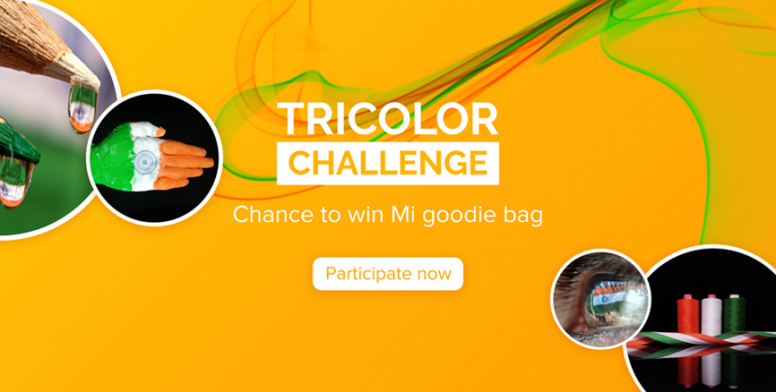 A flag is a necessity for all nations. Millions have died for it. It is no doubt a kind of idolatry which would be a sin to destroy. For, a flag represents an Ideal - Mahatma Gandhi

We are hours away from the celebration of 73rd Independence Day of India, we would like to invite you all Mi Fans to showcase your pride for your nation through the lens - shot on Xiaomi. Take up the Tricolor challenge to capture the Tricolor in a most creative way depicting saffron for strength & courage, White for peace & truth, Green for fertility, growth, and auspiciousness of the land! Share your best shot with us and the one to get the most likes, including admins, will win the Mi goodie bag from us.




Take up the TRICOLOR challenge!

(link will only open in Mi Community app)





Timeline

From 14th Aug to 18th August, 23:59:59 PM (IST)




How to participate
Post your chosen best shot with hashtag #TriColor and with an appropriate title.



You can also enter the activity from the 'Gallery' tab on Mi Community App's homepage, by clicking on the 'Contests' tab and click on the 'Tricolor Challenge' banner.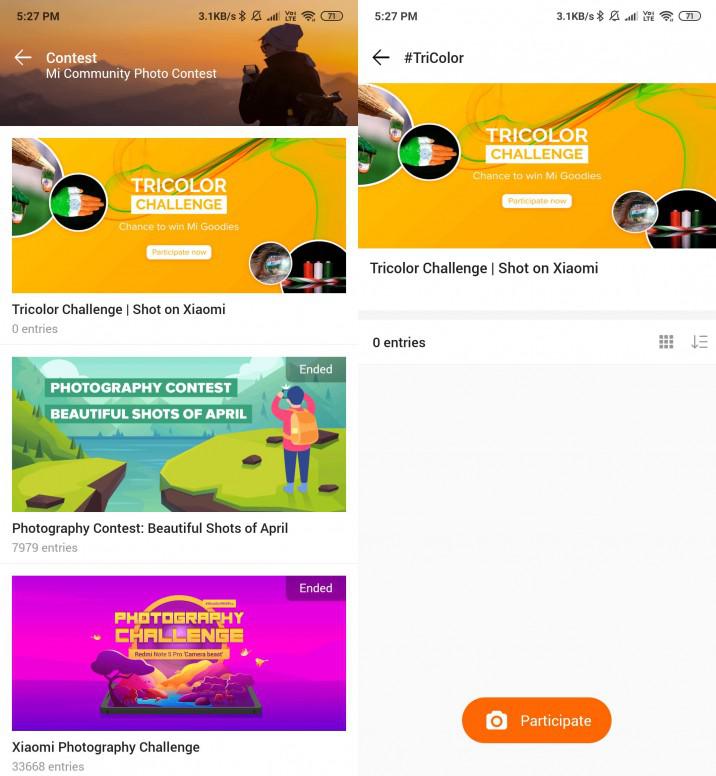 Step 1 | 2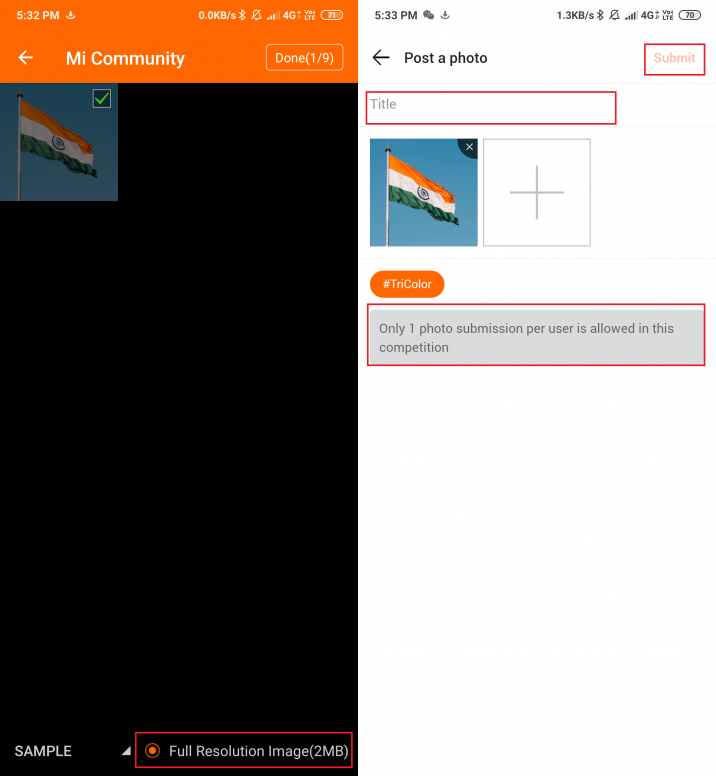 Step 3 | 4
Winning Prize
Winner will get special Mi goodie bag
Who will be the winner?
80% weightage will be given to the number of likes received.
20% weightage will be given to the admin's choice.

Terms & conditions
Participants need to be on the latest version of Mi Community app to participate and to vote.

Entries without the Hashtag #TriColor will not be counted

One user can only submit one entry and one entry can include a maximum 1 photos and need to put the one-liner describing the Image or the story behind it.

Uploaded photos need to be in original quality and should be shot on Xiaomi devices available in India (includes POCO F1)

The entries will be verified for the correct EXIF information.

Irrelevant images will be removed from the activity page.

Photos need to be posted under the 'contest' activity page, photos posted here below in the comments will not be considered as a valid entry.

If any discrepancies found to manipulate the likes on the entry, the entry will be disqualified.

Keep the community clean and spam-free and follow all the community guidelines.



Showcase your pride for your nation now!
Rate