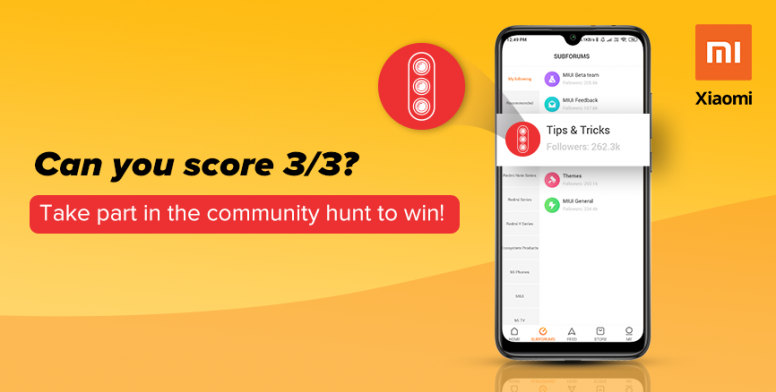 [Last update 11 Sept 2019, 10:00 AM (IST)]
Mi Fans!
We are all set to launch #48MPAndroidOne on 21 Aug at 12 noon with Triple Camera setup, and on the community, we have added a little delight for you! Before you grab your ONE to expand your creative vision, take up this challenge and win! The challenge requires you to be in your absolute Sherlock mode because you miss one and you are out of the game!
The three-fold surprise will unfold this way, one by one each day: we will hide the three distinct triple camera icons under community app's 'subforums' tab (the one you can see in the above image as an example). The challenge for you to hunt all the 3, collect in the form of the screenshot and score 3/3 to be the ultimate winner!
What you can win?
Mi Home Security Camera Basic 1080p (x1)
Mi Casual Backpack Blue (x1)

In simple terms, what you have to do to win is:
Download, open Mi Community app, and head over to 'Subforums' tab

Under subforums, check each tab carefully and find the hidden triple camera icon

Take a screenshot and post below in the comments

Come back the next day to collect another hidden icon, find and post screenshot below

Collect all 3 out 3 to stand a chance to win!



Hint: You might have to close and open the app to be ahead in the game!



How the winners will be decided?
We will choose the lucky reply numbers, 3%, 98% of the total replies, closing on 18th August, 23:59:59 PM (IST), refer T&C below for clarification.



Duration of the activity
16th Aug to 18th Aug 23:59:50 Hrs (IST)

Terms & Conditions
The lucky winner must have posted all three triple camera icons each day to win, in case the winner has not posted then the subsequent entry will be the winner.

Only the reply with a screenshot will be considered as a valid entry to the contest.

Each day a user can post up to 5 times, further replies will be considered void and the continuous spam will lead to disqualification from the activity and might lead to a ban.

Follow Mi Community's guideline and content policy or your reply will be removed.

Mi Community holds all the rights to make any changes to the contest, without prior notice.



Winner Annoucement
| | | |
| --- | --- | --- |
| Shubham | 1683714300 | Mi Home Security Camera Basic 1080p |
| Ankit Varshney | 1617039969 | Mi Casual Backpack Blue |

Congratulation to the winners! Winners will get the prizes as prize coupon added in their Mi Account in 15 working days. Please visit mi.com or download Mi Store app and login with same mi account, add the winning prize in cart and apply the prize coupon to get it for free.



Can you score 3/3?

Participate now!



Rate