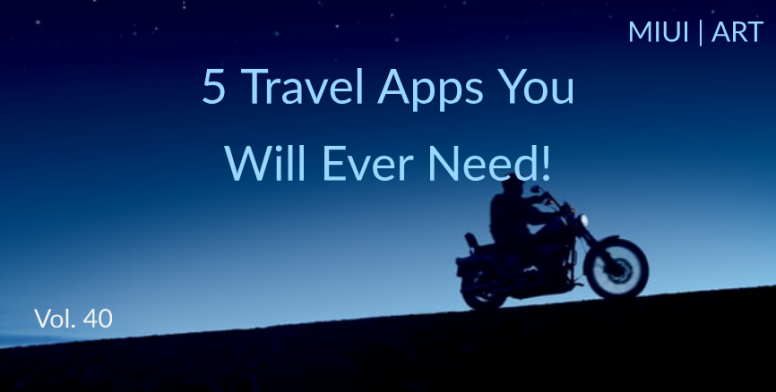 Hello, Mi Fans!
Greetings and wishes to you all from App Review Team. Welcome to our one more App Review weekly roundup. Now we can't imagine our phones without apps in it. There are millions of apps in the Play Sore but finding the app which is good is quite difficult and here comes the App Review Team. As we all love to travel but it is very hard to manage all the travel-related things on your own like finding the perfect destination to booking and traveling. So here we are with one another weekly roundup that can help you with all your travel-related problem. So let's get started.
[ART] TripFiles - Trip Advisor for Trusted Friends
TripFiles app is the most popular app for sharing travel experiences safely with friends and family. it is the app that lets you explore amazing destinations, treasure your own experiences. A trip advisor for trusted friends.
[ART] Airbnb - Find The Perfect Vacation Local Rentals
Our life has become very busy and to get rid off these loads we sometimes take a vacation. But the problem comes when we start planning for the vacation because there are so many things to do like finding the perfect vacation spot according to your budget and make arrangement for staying. Here comes Airbnb it makes all of these a piece of cake. It has 6 million vacation homes across 191+ countries. With this app you can book local rentals for a few hours to as many days you want. You get a chance to stay there as local people. And what makes this app even more unique is you can also be a host and start earning. Now let's dig into the app.
[ART] Polarsteps: Travel Tracker App
Polarstep App Automatically tracks your route and the places you've visited while you are traveling. Just carry your phone in your pocket and the app creates your own beautiful travel journal. Once connected to the internet, your travel routes, locations, and photos are seamlessly transferred to your personal traveler profile, where your route is plotted on a colorful world map that can easily be shared with friends and family.
[ART] sRide - One Stop Solution For Carpool, Bikepool, Rideshare
sRide is a ride-sharing app which helps you connect with co-rider who are also going towards the same direction. It has a one-stop solution for carpooling, bikepolling and ridesharing. It is also the Idia's only app with bikepoolling option. It helps you find your destination easily. It has an integrated chatting option to chat with co-riders. Now let's dig into the app.
[ART] Rapido - India's Largest Bike Taxi Booking App
Rapido is an application that helps you to book a taxi or bike in one tap. In this app, you can find a cab near you and pay easily through your bank, Net banking or cash payment also. You can also invite friends and if your friend joins through your referral link and book first ride you get an Rs.15 as a bonus in your account.
Previous Volumes:
So that's all for today from the App Review Team. We ill come back again with one another series next week. Don't forget to vote for your favorite review from the list and help us improve! Also, do share your feedback.
Rate