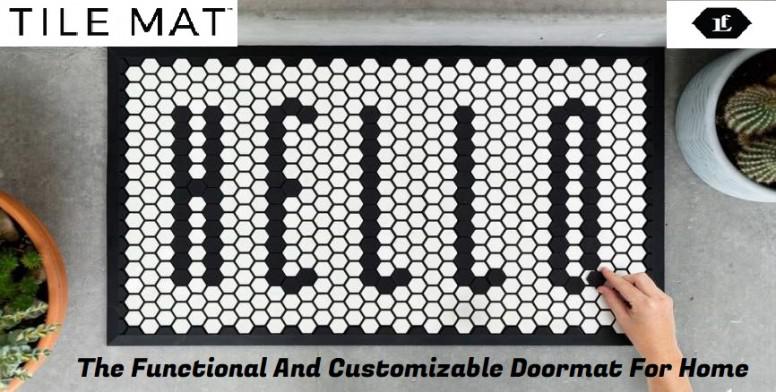 Hello Mi Fans!
How are you, friends. Hey, all you visit some friends and relatives home many times. Did you notice the doormat? I think some of or sometimes we notice doormat. But today I will talk to you about new technological doormat. Many people view a home's doormat as the item that shapes someone's first impression of the residents, And the company nameLettefolk's new Tile Mat, you can customize your doormat to reflect your specific style and create an amazing impression. Tile mat is passionate about creating meaningful home decor that's beautiful and uniquely personal. Products that can be customized and adapt. And that's not something you find in your typical doormat. We wanted to change that. So, without wasting your time let'stalk about Tile Mat: the functional and customizable doormat for home now.
➤ Technical Specification:
There are two types of Doormat:
● Standard Doormat:
Tiles: Includes 150black tiles
Color: Black and white mat
Weight: 5 lbs.
Size: 18" x30"
● Large Doormat:
Tiles: Includes 200black tiles
Color: Black and white mat
Weight: 9 lbs.
Size: 24" x36"
➤ How It Works:
Creating beautiful Tile Mat designs is as easy as placing a tile and applying pressure in a circular motion until each side has locked into place. The detachable hexagon tiles are made of a flexible material that allows them to easily pop on and off while staying in place when in use.
➤ Features:
● Beautiful:
Tile mat is carefully designed to many functions and form. The repeating hexagon tiles and stark black and white create a timeless aesthetic.
● Customizable:
Tile mate is fully customizable. It is included 150 soft, flexible tiles ready to be placed over and over again for endless custom design and massages.
● Simple To Clean:
Tile mat is very soft and a scrub brush and suds will do the trick. Tiles you wash can go into their included cotton-mesh bag and drop in the dishwashers too.
● Versatile:
Tile mat it can be used as a doormat or anywhere else feet may step at the Kitchen sink, bathroom sink, shower, Laundry room, or a Mudroom, etc....
● Weather and WearProof:
Tiles mat is made of a rubber-like material that's tough on shoes but soft on bare feet as well.
Check out the Tile Mat'sfunctional & customizable doormat here
Your doormat is one of the first things your visitors see, and our personalized welcome mats are designed to make a unique statement. Create a warm and welcoming environment year-round with a customized front door mat bearing your monogram or initial. When shopping our selection of customized door mats, choose from a variety of colors, styles, sizes, shapes and materials to highlight your sense of taste. Look for functional features to keep your mat looking and performing well for years. Tile Mat is an all-purpose mat that's functional, beautiful, and most importantly customizable. Its timeless, vintage-inspired hexagon tile design and removable caps can be used to create endless patterns, designs, and words.
copyright disclaimer: The data and imagery provided in this article belongs to their original creators!
Be the first to be informed: Follow us
Recommended Threads:
Big Thanks to
Thanks to Admin @R0user And Thanks to Our Beloved SMod @Furqaan Saikh And Our Mods @Harisankarg & @Snedn For Continuous Inspiration and Guidance and Supervision.
Thanks for Reading
So, what do you think about this about Tile Mat's functional & customizable doormat? Please share your thought in the comment section below.