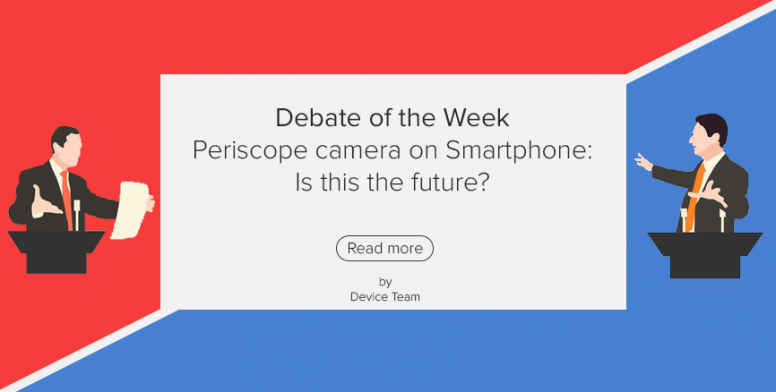 Hello MI Fans,
I hope you all are doing Good. In last week's debate, we saw a majority of people would prefer under-display cameras in their smartphones over Pop-up Cameras, though we still have wait to get Under Display Cameras. This week lets discuss a technology that is already available in some phones " Periscope Cameras on Smartphone- Is this the future? " So, let's get straight into it.
Smartphone cameras are evolving day by day, OEM's are coming up with innovations in Cameras like the Depth Sensors, Wide-Angle sensor's, etc.. to improve the picture quality they are coming up with the new and innovative Modules. This year at MWC, A new breed of the telephoto lens emerged "Periscope Type Cameras", named Periscope Cameras because they reflect the light at 90A'.
Wide-angle and Telephoto sensors are companions to the main camera in Flagships. However, adding the Telephoto sensor a little tricky since they end up adding to the thickness of a phone And users, in general, prefer slimmer devices. This can be rectified by the Technique "Folded-Optics" were turning the telephoto sensor sideways. Camera optics are aligned perpendicular to the back of the phone called "Peep-Up" Periscope that redirects the light so the camera points in the right direction.
Periscope camera allows the long focal lengths without making the phone too thick, and the prism in these cameras is responsible for OIS (Optical Image Stabilization). From some of the makers, the upcoming Periscope Cameras will have "10x zoom" measuring it against an ultra-wide-angle camera.
Recently, Patent application approved by the State Intellectual Property Office of China on July 2nd, reveals the key details of Xiaomi's upcoming telephoto implementation. It describes that the combination of the main camera with at least one periscope lens which is perpendicular to the main one. This will be able to achieve varying zoom magnifications without increasing the size of the main camera.
Currently, these camera features offered by very few OEMs though I hope we will be seeing a lot more of this awesome technology in flagships launching next year.
So guys, what are your views?
Do you like this camera setup or against this one?
Will you want Xiaomi to launch a device with Periscope Camera.
Share your views below..!
End Time: 2022-07-04 01:02:00
Rate