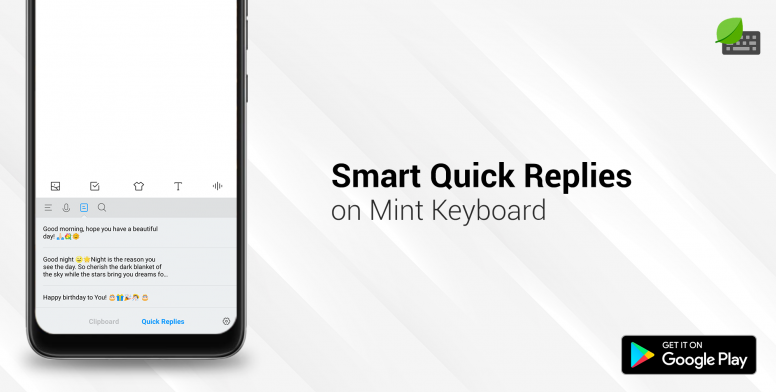 Hi Mi Fans!
How many times have you been wondering if you can reply to somebody's text with just a tap? We know you have always wanted something like this. Didn't you?

Well then, we have a good news for you. In fact, a very good news as we are here to make you experience something you have never done before. Technology offers us to experience the dynamic integration, making the effort smarter, the reflection of these features can be observed in Mint Keyboard with the smart quick reply feature. Yes! Mint Keyboard offers you quick replies built-in and no other 3rd party applications are required.

The keyboard can remember anything you would want it to and on just a few taps, it will be available at your fingertips. For example, if your delivery boy keeps on asking your exact address all the time and you're tired of typing it times and again, Mint Keyboard is here to save your day. Just save the address in the quick reply section and use it anytime you want. This is like having a vault of text right inside your keyboard with super snappy experience.

Now let us see how we can make use of this feature. Go to the quick reply section and you can see an ample amount of preloaded stuff which is worth it.

✒ Steps:

Tap on the plus icon to add a custom message.
Add your custom message and then tap on "Ok" to save.
The saved message gets reflected on the screen and can be used anytime you want to.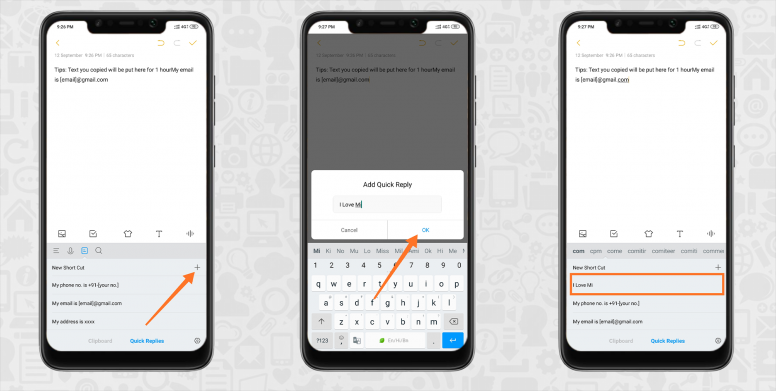 Have any question or feedback, do let us know in the comments below!


Regards,
Akash
MIUI Mod, Mi Community India

✒ Read also:
- Mint Keyboard - Smart typing experience across all Indic languages with GIF & Stickers!
- Mint Keyboard - Quick Setup Guide
- Mint Keyboard: AI-powered auto-correct modes, suggestions, predictions etc.

✒ Popular Columns across Mi Community:


Rate