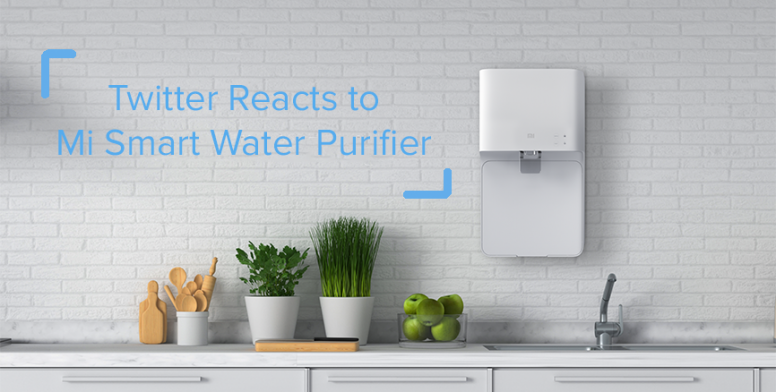 Hey Mi Fans,

With the launch of Smarter Living 2020, our ambiance has turned out to be smart. Xiaomi India recently launched a range of IoT products that wowed us and were quite mesmerizing. During the launch, we witnessed 4 new Mi TVs, Mi Smart Water Purifier(R0+UV), Mi Smart Band 4, and Mi Motion Activated Night Light 2. Indeed, all the newly launched products got major traction and praised Xiaomi for bringing smart household products to India. Mi Smart Water (R0+UV), which is specially designed for India, made for India, seemed like a favorite for all. Twitter had some of the best reactions. Let's take a look.

Note: Mi Smart Water Purifier will go on sale on 29th September at 12 noon.


| | | | |
| --- | --- | --- | --- |
| Product | Price (₹) | Mi.com | Flipkart |
| Mi Smart Water Purifier (RO+UV) | 11,999 | | To be updated |
Jaipal Singh (@jaipal_idc)
tweeted
, "Design of water purifiers always ponder me that why we need such ugly looking devices. However, Xiaomi made it much simpler, easy to manage and a design which will not scare my refrigerator. #SmarterLiving @XiaomiIndia #MiSmartWaterPurifier"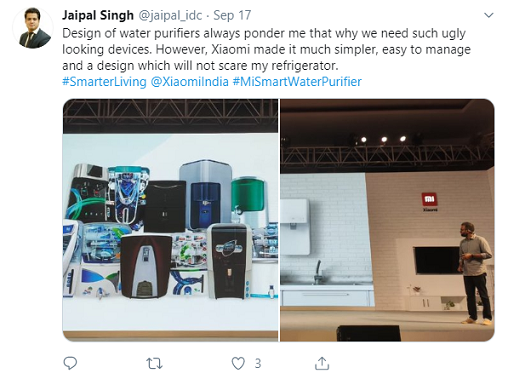 So turns out nobody likes to pay unnecessary costs for maintenance. With Mi Smart Water Purifier you get DIY filters which even a kid can change under a minute. Giridhar (@cgiridhar)
tweeted
, "RIP water purifiers #SmarterLiving Good bye AMC Good bye uncertainty"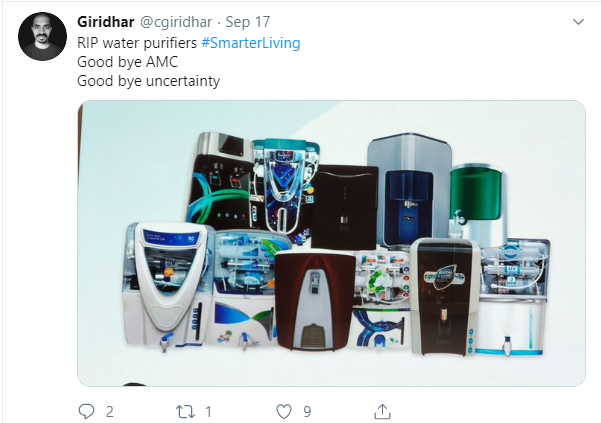 Twitter was happy with the features that Mi Smart Water Purifier offers over the competition such as DIY technology, Minimalist Design and Real-Time Monitoring using Mi Home APP. "Traditional water purifier companies has to reason to be anxious now with Xiaomi getting into water purifier segment in India with innovative user friendly features #SmarterLiving,"
tweets
Lakshmi Rajan (@lakshmirajan).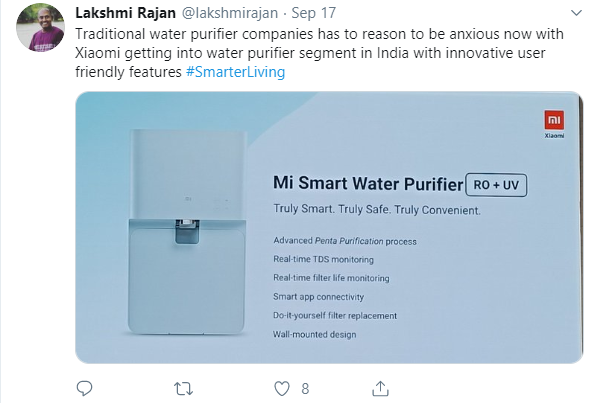 Appreciation for the Minimalist Design and Advanced Penta Purification Process was all around. And yes, the Smart App connectivity. Indeed, it took a while but our water purifier is becoming smart eventually. TECHnyfication (@technyfication)
tweeted
, "#MiSmartWaterPurifier looks just smart and outstanding. Minimalistic design, advanced purification process, Smart app connectivity & hassle-free DIY features."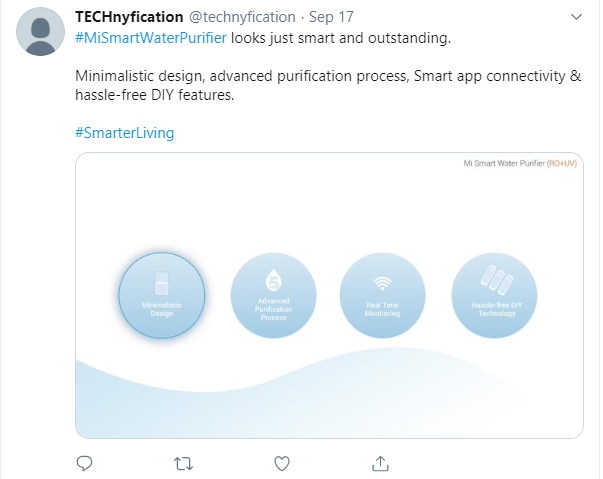 Do you know TDS levels of drinking water is supposed to be under 300? The reason why Mi Smart Water Purifier stands out is its minimalistic design, advanced purification process, smart app connectivity, and hassle-free DIY technology. In addition, this has a 7-liter tank that stores the purified water available for you when the power is out. Another Twitterati Komal Nandi
says
, "This is by far the greatest invention...it was much needed for our safety drinking #SmarterLiving #MiSmartWaterPurifier".

Changing filters in a water purifier is a pain. The Mi Water Purifier is India's first Smart Water Purifier with DIY filter replacement. This makes it quite easy to replace the old filter with the new ones within seconds. "My favorite product from today's #SmarterLiving launch has to be the #MiSmartWaterPurifier! It looks so minimalistic, yet is smart & convenient! I totally love the DIY filter replacement part! Great job fixing the biggest pain point that's been in this category @RaghuReddy505 !,"
tweets
Sudeep P Nambiar (@SudeepNbr)

Well, well, well, there are a lot of awesome tweets but summarizing all is quite difficult and make the thread too long. So, what do you think of Mi Smart Water Purifier and when are you planning to get one? Reply in comments below.
Still, want to read more check out on Twitter using #MiSmartWaterPurifier and #SmarterLiving hashtags.