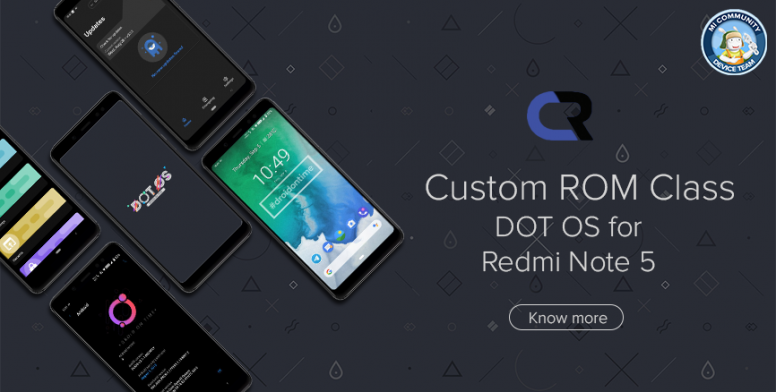 Hello Mi Fans…!!!
Welcome to another session of the Custom ROM series. To the ones who don't know how it works, Custom ROM series is a series in which we the device team members will try out different Custom ROMs and try to give a complete review on it. This would help you to select your favourite custom ROM.
This time we are reviewing a Stock Android-based ROM which is pretty stable and also offers sufficient customizations. We are reviewing the DOT OS ROM based on Android Pie. The initial impression on the ROM is very good as it offers great stability and battery backup. So without any further ado, let's start the review.
Disclaimer: Have a complete backup before flashing. I am not responsible for bricked devices, dead SD cards, etc. Do this at your own risk.
Prerequisites:
Note: As the ROM does not contain GApps within, you need to flash it separately.
To know the process for Unlocking the Bootloader, Installing Custom Recovery and flash ROM, you can refer the threads given below:
ROM Description:
As I have explained earlier, the ROM is purely stock-based with great resemblance to pixel experience ROM. This would be a good pick for the ones who wish to have a stock android experience but still prefers some customizations.
ROM Review:
Homescreen:
The home screen is very much Stock Android-like. It has rounded icons with default time and weather widget. It has an app dock at the bottom and a google search bar at the bottom which cannot be moved. The search bar can still be disabled though. It also has the navigation gesture button at the bottom. In the notification bar, there are symbols for VoLTE, and so on which can also be customized.
App drawer:
The ROM has the option to switch between dark and light mode. The app drawer looks stylish in the dark mode as the background is completely black and the rounded icons stand up in it. It has a google search bar on top for easy searching.
Notification and quick settings bar:
Very much similar to stock android, it has rounded buttons with blue and black combinations which looks stunning. The quick settings toggle can be easily customized within the quick settings and there is also a shortcut button for system settings.
Settings Menu:
The settings look gorgeous with bright rounded icons in different colours. It has recommendations at the top and a search bar at the far top. The volume bar has a neon blue effect and it looks cool in the dark mode than in bright mode. But it still is a personal preference.
Google Tray:
Similar to what MIUI has as an app vault, this ROM has a google tray when we swipe from left to right on the homepage. It gives news feeds of your google account so that you won't miss any news updates. In some custom ROMs, the google tray is also impacted by the dark mode theme, but in this ROM, it is still a bright theme. Maybe it will be changed in further updates as the ROM is very active in the development.
Storage:
The ROM is stock android and does not have any junk apps or apps pre-installed other than some useful apps. The ROM also doesn't contain Google apps, so it needs to be flashed separately. Due to this, the ROM is very clean and consumes very little storage and will be very handy is if you are using the 3,32GB variant.
DotExtras settings:
This is the part in which this ROM completely differs from other apps. The unique set of customization it provides is mind-blowing. Still, I'm disappointed in one thing, that it does not support full-screen display navigation. We need to use third-party apps for that which is not much preferred.
It has all other customization which enhances the user experience.
Digital well-being:
This is a new feature in the Pie update which uses AI technology to measure the user's behaviour. It senses our usage and we can know more about smartphone usage and its kind by referring to this.
System Updates:
One of the best features of this ROM is the support for OTA updates. If you are using supported recoveries like orange fox recovery, you can update directly by downloading OTA updates like many advanced custom ROMs.And the updates are rolled out very frequently as the development activity is very good.
Software version:
The ROM is now running on Android Pie with most of the Pie features included. Currently, I'm testing The DOT OS -v3.1.1- Nightly version. The ROM usually gets updates very often with very fast debugging. The ROM is now running on Android Pie with a security patch of last month.
A quick comparison between MIUI and DOT OS ROM for Redmi Note 5.
In this comparison, we will show you the features of DOT OS ROM which MIUI doesn't have and the features of MIUI which DOT OS ROM t doesn't have.
Let's have a look at interesting features of both the ROMS:
MIUI Features
AI Portrait mode
Quick Ball
App vault
One-handed mode
Second space
Dual app
App Locker
Inbuilt call recorder
Emergency SOS
Inbuilt Compass App
Mi Message
QR code scanner in the Camera App
Hidden apps
One-tap courier tracking in Mi Message
Smart IRCTC SMS
Private Notifications
Full-screen Gestures
Picture in Picture mode
DOT OS for Redmi Note 5 ROM Features:
Stock Android experience with round icon support
Custom Animation
Android Pie
Optimum customization
The picture in Picture or PIP feature
Background limits
Autofill UI
Camera2api enabled
Google cameras inbuilt without night mode
Lots of gesture features
Both dark and light mode
Google tray
ROM OS Version: 9.x Pie
ROM Kernel: Linux 4.x
Based On: AOSP
That's all for today friends...!!!
See you again in another thread.