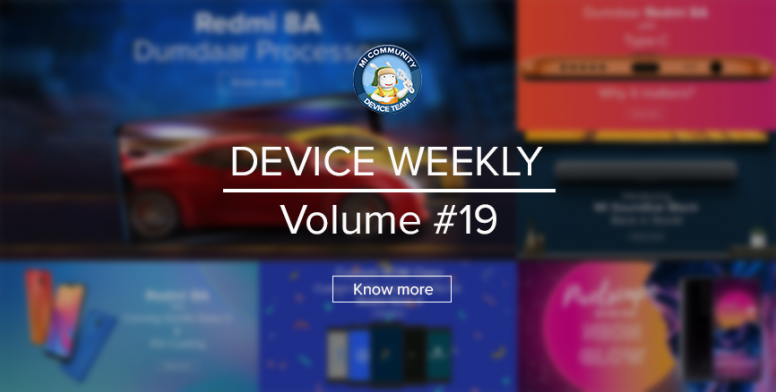 Hello Mi Fans,
I hope you all are doing great! Welcome to our Device Weekly Series. Here we share all the latest happenings and new device launches, be it smartphones, accessories, and ecosystem products. So here is the 19th volume of the device weekly where we will talk about all the threads posted by Device Team during the last week. We would love to hear from you guys which threads you like the most and what we can do to improve it.
Redmi 8A with Qualcomm Snapdragon 439: An SoC for the super-smooth experience!
Hello Mi Fans,

Xiaomi India launched Redmi 8A, a Dumdaar successor of Redmi 7A. Redmi 8A is a perfect successor in every field whether it is Screen, Battery, Camera and many more. But what makes its Process Dumdaar?

The Redmi 8A is powered by the Qualcomm Snapdragon 439 processor which makes multitasking smooth.



Pixelscape Setup #45: Neon Glow
Hi Mi Fans!

Welcome back to PixelScape! I hope you all are doing well. Let's get to know about the PixelScape first. It is a platform for all the Community Users to learn how to use Custom Launchers like a Pro from our Community Device Team. We will introduce different cool setups using different Custom Launchers, Icon Packs, and Custom Widgets too but don't worry we will use only those apps which are available in the Play Store free of cost.Today, we will be dealing with a classy Neon Glow Setup.



Redmi Ka Bharosa in Redmi 8A: Corning Gorilla Glass 5 & Splash-proof by P2i!
Hello Mi Fans…!!!

I hope you all are doing fine. Welcome to another thread from the device team. As you all are aware, Redmi has recently released its new budget beast Redmi 8A-Smart Desh Ka Dumdaar Smartphone. The device is truly a budget champion since it has many champion specifications that other devices in the segment don't offer.




The device has some great features including an enormous 5000mAh battery, first of its kind from Redmi at this price range. Redmi 8A is powered by the powerful Qualcomm Snapdragon 439 chipset which will allow you to flow through the day to day activities fluently. It also packs a 12MP AI primary camera with a Sony IMX363 Sensor for clicking mind-blowing shots. The Dot notch Design with Aurawave grip design is also very eye-catching. Today we will discuss some features of Redmi 8A which makes it stronger than all other devices in the segment. So without any further preface, let's get straight into it...



Why type-C USB in Redmi 8A matters to you as a user?
Hello Mi fans,

Xiaomi India has launched the successor of the bestselling "A" series which is the #DumdaarRedmi8A. The Dumdaar display is having a massive 6.22" screen with Dot Notch Display protected by gorilla glass 5. The Redmi 8A splash-proof P2i coating which is resistant to dust and accidental water spills. The device is powered by a whopping 5000Mah battery. You might be thinking it might take longer for it to charge. But Redmi 8A has got the type C port along with fast charging support for up to 18W. Surprisingly, a budget segment Device has type C port, which no other smartphone brands offer in this price range or even higher price range. Today let's see why Type C-USB matters to users with the Redmi 8A.



[Custom ROM] Android Pie ROMs Collection for Redmi Note 4
Hello Mi Fans,

Welcome back to Custom ROM Class! As you know that Android 10 is introduced officially last month and there are many developers who started working on Custom ROMs based on Android 10. In the last few months, I have reviewed many Custom ROMs based on Android Pie for Redmi Note 4 and all the Custom ROM are amazing in different fields like customization, battery backup, overall performance and many more. Let's go to the flashback and see how many Custom ROM for Redmi Note 4 we have reviewed and how many threads you liked the most.



Mi Soundbar Black is Back in Stock!
Hello Mi Fans,

Aside from the new Mi TV models, Mi India at its event unveiled a bigger surprise, The Black variant of its Mi Soundbar on the same price tag of Rs. 4,999. The new variant offers the same eight-speaker cinematic sound experience with Bluetooth, Aux, S/PDIF, and optical cable connectivity that we saw on the white variant of Mi Soundbar, which was launched last year. We have awesome news for you the Mi soundbar Black is now back in stock!



All the credit goes to the respective authors and thanks for your hard work Which thread did you like the most? Please Vote and share your valuable feedback in reply so that we can improve
Check out our previous weekly threads:
Subscribe to our columns to Stay updated with interesting Debates, Polls, Tutorial and more from Device Team: