Hello MIUI'ers,
Say hello to the mighty MIUI 11, the most powerful and intuitive iteration of MIUI to date! MIUI, the much loved Android based OS, is constantly improving over the years by understanding the concerns of active users and by introducing innovative additions to fulfill their daily phone needs. With this in mind, MIUI 11 has been launched with an evolved design philosophy and key improvements over functional features to ease your life better than ever!

Meet the new MIUI
The eleventh edition of MIUI brings many under-the-hood and over-the-hood changes, which includes:
Introduction of a new Minimalist Design
Focused entirely on Content
System-wide Dark Mode
Revamped Always On Display
Dynamic Natural Sound Effects
Wallpaper Carousel and Dynamic Video Wallpapers
Mi Work - View, Edit and Preview Docs, Tasks, Floating Calculator
Mi Life - Steps Tracker, Menstruation Cycles in Calendar, Quick Replies
Integration of Mint Keyboard,
Casting etc.


Let's get to know about some of them in detail.

New Minimalist Design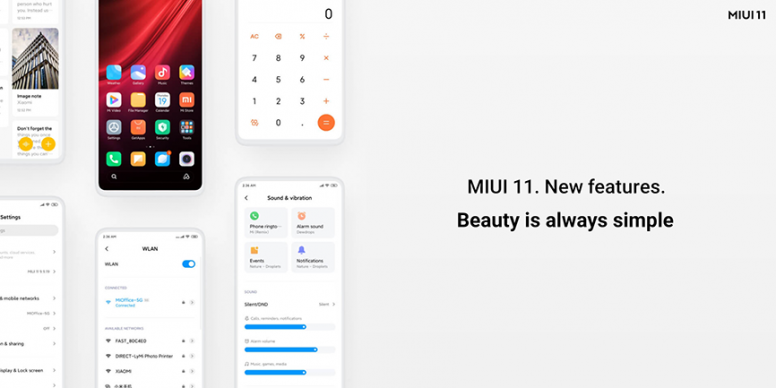 With MIUI 11, a brand new design perspective has been introduced which is focused entirely on content viewing. This removed all unwanted visual clutters from the UI which will be resulted in a fluid and rich user experience. New enhanced gesture controls, use of simple but appealing colours and clutter-free UI elements stop anything to stands between you and the actual content. Many lines and boxes are also removed to keep the UI as clean as possible. It is our goal to keep you focus on your content rather than silly distractions!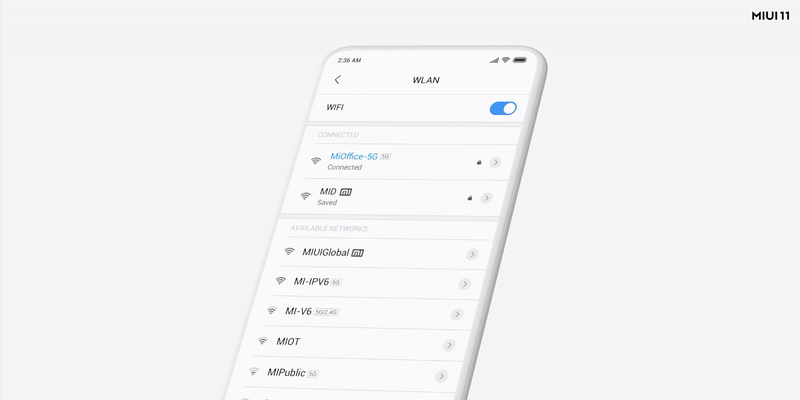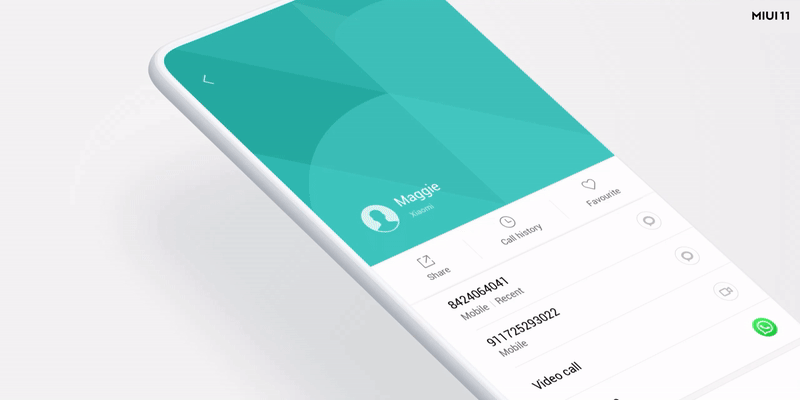 Dynamic Natural Sound Effects


Nature and ambient sounds were introduced last year with MIUI 10. MIUI 11 upgraded it with Dynamic Natural Sound Effects to bring soothing and ever-changing sound effects to your phone to make you feel refreshed each time you receive a notification. Sounds from nature will never make you bored. Chirps of birds or water falling from a height, MIUI understands what you need and it is smart enough to bring the best sound according to your environment throughout the day.

Hide Sensitive Content while Casting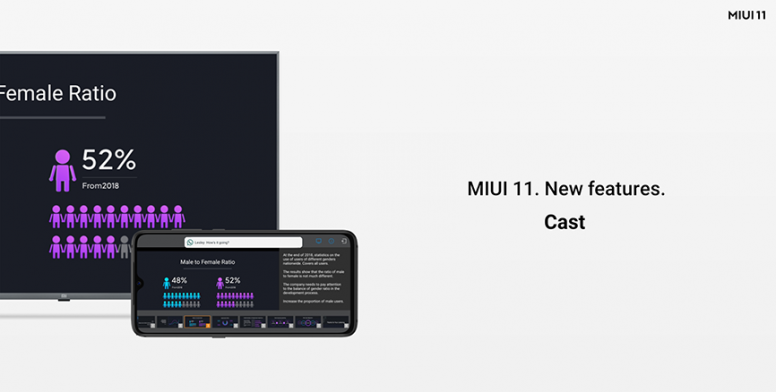 Are you the person who constantly mirror your phone display to your TV? Well, I'm one of them! It was always a problem that all my private WhatsApp and Telegram notifications do appear on the big screen which anyone can see on the TV display. With MIUI 11, I don't have to worry about it anymore. MIUI 11 hides all the sensitive data while casting. It'll prevent notifications, incoming calls, and other private items from being mirrored. You'll still be able to see and access them on your phone screen, but not on the bigger screen.

View, Edit and Preview Documents with Mi Doc Viewer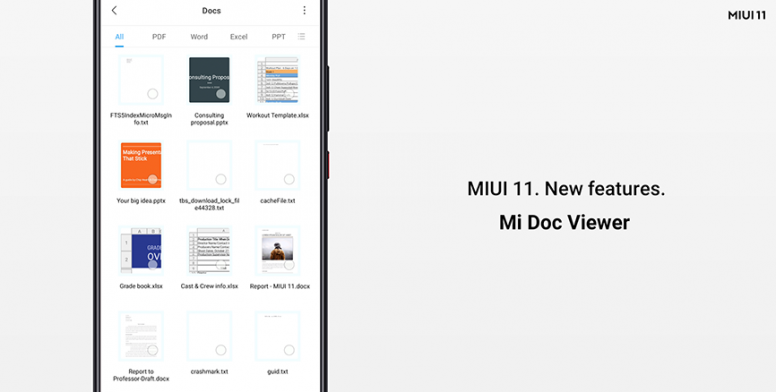 Handling documents is easier than ever with MIUI 11. With the in-built Mi Doc Viewer, you can view, edit and preview documents stored on your device anytime on-the-go. With this professional document viewer upgrade, all the documents can be stored and managed at the same place in your device. Just like PC's or laptops, users are now able to see thumbnails of each document and also possible to open them without any 3rd party app support.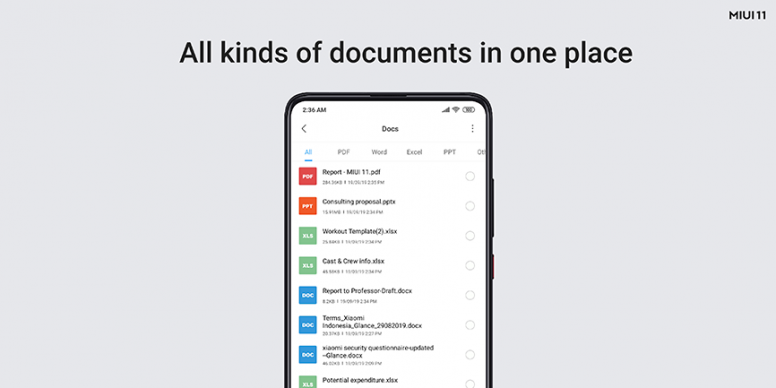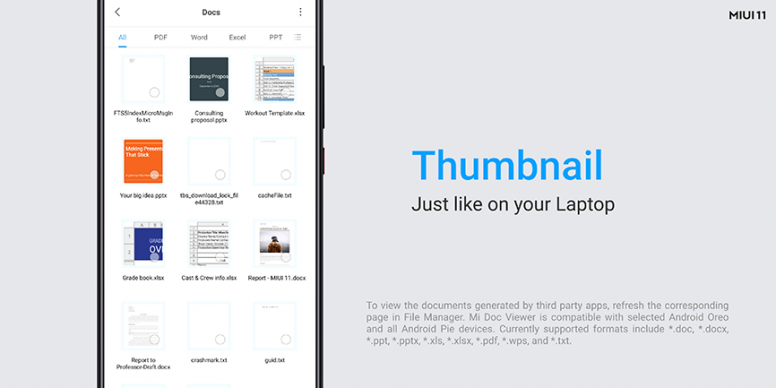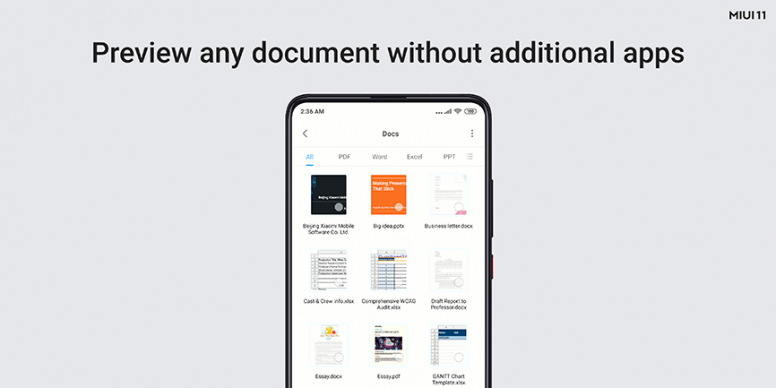 To view the documents generated by 3rd party apps, refresh the corresponding page in File Manager. Mi Doc Viewer is compatible with selected Android Oreo and all Android Pie devices. Currently supported formats include *.doc, *.docx, *.ppt, *pptx, *xls, *xlsx, *.pdf, *wps and *.txt
Tools and Shortcuts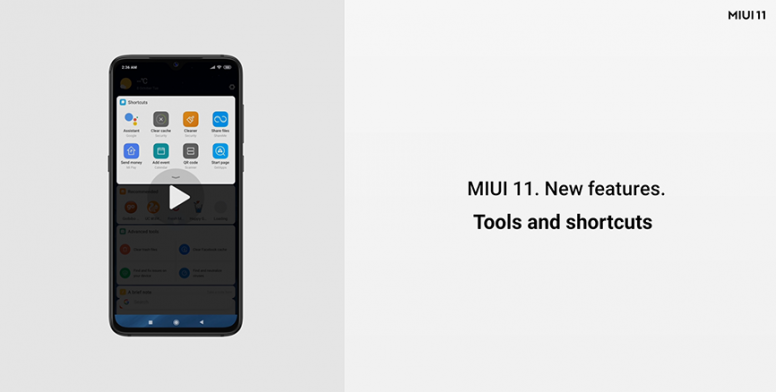 MIUI 11 neatly organizes all the frequently used tools and shortcuts in one place, together! So there is no need to access them from different locations as you did before, which makes your life simpler and easier than ever!

Banner Credits: Nikunj Rabadiya



Fell in love with MIUI 11?

Do let us know your valuable feedback in the comments below!


Related threads