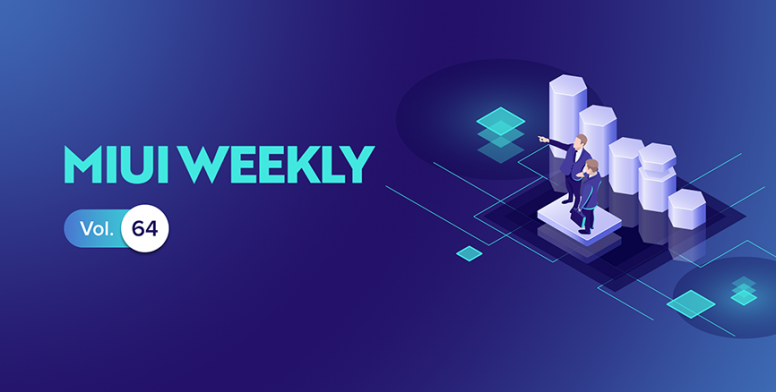 Mi Fans,
If you've been busy last week and couldn't keep up with the updates from our MIUI crew, then MIUI Weekly is the right place for you. This is indeed where we compile the best of MIUI threads you might have missed. Keep reading!




MIUI 11 Update Tracker: Up to date information on MIUI 11 Global Stable ROM roll-out! by Apiyush265

We are overwhelmed to announce that many devices have already started receiving updates of MIUI 11. There are many other devices ready to join the queue to receive MIUI 11 Global Stable update. To keep the users updated, we decided to update this thread frequently with the latest information possible about the rollout. There are lots of exciting new features waiting for you all in MIUI 11, "Making Life Easier".

Read more: https://in.c.mi.com/thread-2025452-1-0.html
MIUI 11 - Privacy at its best: Show Notification content after face verification!
by
MiAkash

MIUI 11 has been a massive upgrade from the previous MIUI 10 and brings in a lot of features. One of such is the ability to hide your notification contents on the lock screen until the device recognizes your face. We have tested the following and honestly, this feature has impressed a lot. So, you might be wondering how to use the same on your device running MIUI 11 as well? That is why we are here with a quick setup guide. Don't worry, it takes less than a minute.

Read more: https://in.c.mi.com/thread-2030609-1-0.html
Introducing Mi Share: Share your files to the nearby Android devices
by
MiAkash

We decided to change the game completely and with MIUI 11 bring a sharing platform directly implemented into the system. No more 3rd party applications to ruin your file sharing experience. The latest sharing platform Mi Share integrated with MIUI is so easy to use that you will fall in love with it. The following required no tiring setups, no advertisements, no 3rd party applications, no interruptions and most importantly faster transfer speed without affecting your WiFi connection.

Read more: https://in.c.mi.com/thread-2030637-1-0.html
[MIUI 11] Re-Designed MIUI Themes Application - With Video Wallpapers and Many More | Download Now
by
Manvesh Kajale

Marking the launch of MIUI 11, the new and stunning customizations to the Xiaomi's very own operating system. With these, all the Themes Application has also been re-designed with an easy and user-friendly interface for resources in themes store. Designers across the globe have already started working on MIUI 11 themes and other resources like wallpapers. With the addition of a very new option Video Wallpapers, a lot of resources had to be provided.

Read more: https://in.c.mi.com/thread-1998281-1-0.html
Mi Video V2019110400 Released: Full Changelog and Download Links.
by
lungkhim7

With neat and easy to use interface , inclusion of more interesting addition and services. Mi Video app stands quite fluid and pleasant adding the entertainment flavour as per the situation. Along with the varying genres, it offers news snippets too. To make the usage in a more convenient way here's the super cool integration of new features and changelogs in new version.

Read more: https://in.c.mi.com/thread-2031626-1-0.html

That's a wrap up for this week. I hope to see you all with another new compilation next week. But for now, I would like to thank all my fellow MIUI Mods for contributing their time and efforts to share these amazing threads for our Mi Fans. Special thanks to our Admin R0user and Super Moderator ATHUL P for their continuous support and guidance. I also thank my co-mod MiAkash for the impressive banner. Don't forget to vote for your favorite threads and share your thoughts about this volume in the comments section below!

Previous volumes

What's hot on Mi Community
New user? - Start Here!

Popular Columns across Mi Community



Vote for the best thread below and help us improve!