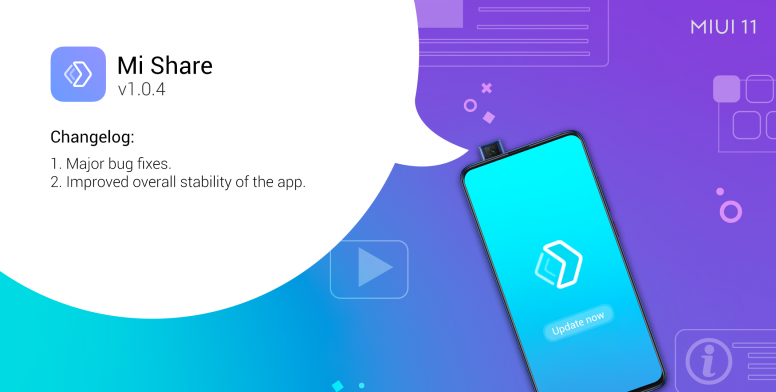 Greetings Mi Fans
We have recently witnessed one of the most awaited MIUI update, that is the MIUI 11 and the update brings in a mind-blowing feature named "Mi Share". Mi Share has changed the entire file-sharing scenario among Xiaomi devices and some others as well. Although the feature is very exciting, it is still new and needs some bug fixes over time.

Well, you then know us. Mi Share just got an update with major bug fixes and more stability of the overall program for you to have a seamless experience.

✒ Mi Share 1.0.4 - Changelog:

Major bug fixes
Improved overall stability of the app


If you're new to this feature and have never heard of it, please consider checking out our previous thread.




Update it now:



1. Go to "Settings".
2. Go to "System App Updater" and Update it.


Update Mi Share v1.0.4 from Mi App Store.




Direct download APK file from here.






Have any question or feedback, do let us know in the comments below


✒ Follow us on:


✒ About Mi Community:
Mi Community is Xiaomi Community's official Android app and a home for Mi fans in India. It helps you share your ideas and interact with other Mi fans on-the-move. It offers a fast and intuitive interface to post threads, reply, read the news and interact with others.

✒ Mi Community App on Google Play Store:


✒ What's hot on Mi Community:
✒ Popular Columns across Mi Community:
Rate