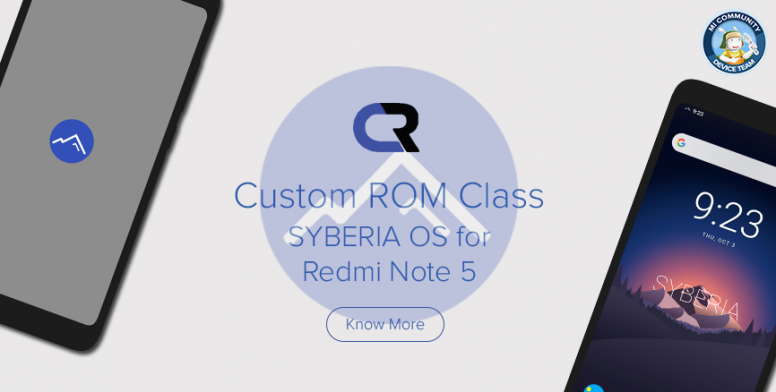 Hello Mi Fans,
Welcome to yet another thread of Custom ROM series! To the ones who are new here, Custom ROM series is series where we try out different device-specific custom ROMs and give out a detailed review so that you will get a clear cut idea about a ROM. Today we are reviewing a ROM which is very similar to the last ROM we reviewed, Bootleggers OS, We are reviewing Syberia OS ROM for Redmi Note 5. The ROM is based on Android Pie as of now and is under development for Android 10. So let's get started.
Disclaimer: Have a complete backup before flashing. I am not responsible for bricked devices, dead SD cards, etc. Do this at your own risk.
Prerequisites:
Note: As the ROM does not contain GApps within, you need to flash it separately.
To know the process for Unlocking the Bootloader, Installing Custom Recovery and flash ROM, you can refer the threads given below:
ROM Description:
The ROM, in its first, looks very similar to Bootlegger OS which we reviewed earlier. But has some unique features to claim that was missing in the Bootleggers OS. It has most of the Pie features like digital well being and so and is very stable and battery efficient. Now, let's dig deeper into the ROM.
ROM Review:
Homescreen:
The homepage resembles stock android with some minor differences in fonts and notification bar icon differences. It has a beautiful voLTE symbol and clock with a customizable format. It has by default a widget that gives date and day information and a welcoming message depending upon the time of the day.
App drawer:
The app drawer, especially in dark mode and red accent, is a treat to use. The colour stands up precisely with beautiful icons and smooth swiping experience. It has an accented swipe bar and a google search bar at the top.
Notification and quick settings bar:
Here you won't find much difference with other Pie-based ROMs. It has a normal rounded quick settings button with an accent colour like yellow in my samples. The quick settings are customized and also includes a sliding brightness bar.
Settings Menu:
The settings look gorgeous with bright rounded icons in different colours. It has a search button at the top. You have a whole lot of features from these settings as usual plus the unique Bootleg Dumpster settings where you can get your ultimate customization.
Google Tray:
Similar to what MIUI has as an app vault, this ROM has a google tray when we swipe from left to right on the homepage. It gives news feeds of your google account so that you won't miss any news updates. In this ROMs, the google tray is also impacted by the dark mode theme and looks gorgeous.
Storage:
The ROM is stock android and does not have any junk apps or apps pre-installed other than some useful apps. The ROM also doesn't contain Google apps, so it needs to be flashed separately. Due to this, the ROM is very clean and consumes very little storage and will be very handy is if you are using the 3,32GB variant.
Battery :
The battery performance of this ROM is very impressive with around a full day battery life and around 7 hours of screen on time which is very impressive. It also provides a battery manager by default and a battery saver option when you are running low.
Digital Well-being:
This new feature in Android Pie based ROMs which uses AI technology to measure the user's behaviour. It smartly senses our usage and we can know more about our usage and its kind by referring to this.
Display Settings:
The display settings in this ROM provides a lot of customization. It offers Ambient display toggle and tap to wake feature. It also has some UI settings like Font manager, Themes, accent colour and much more.
Syberia Settings:
These are some unique set of customization which this ROM can claim. It has customizations at its peak from the navigation bar to the status bar, battery, lock screen and lot more. There is also an option for full-screen gesture navigation which enhances our day to day usage.
System Updates:
The ROM is very software development responsive with very fast feature updates and a regular security patch update. If you are using a compatible recovery, OTA updates are also supported.
Software version:
The version of OS which I tried was v2.9 with the September security patch. It is running on Android Pie which many of its features included.
That's it for today friends.
See you again with another custom ROM Review.
Let us know your feedback in the comments section below.
Subscribe to our columns to Stay updated with interesting Debates, Polls, Tutorial and more from Device Team: