In this post, you will find the download links of the first MIUI 11 Global Stable ROM for Redmi Note 5 Pro. Yes finally after a long time MIUI 11.0.3.0 Global Stable Update is now rolled out for the Redmi Note 5 Pro users. The latest MIUI 11 Updates is based on Android Pie and comes with the October Security Patch.HOW TO INSTALL THE UPDATE-1.GO TO THE SETTINGS2.ABOUT PHONE3.SYSTEM UPDATE4.CLICK ON THE TOP RIGHT CORNER THREE DOTS5.CHOOSE UPDATE PACKAGE(If there,The option is missing,Dont worry,just tap on 10 logo for ten times!!then u can able to access the CHOOSE UPDATE PACKAGE Option!!)6.SELECT THE FILE WHAT YOU HAVE TO DOWNLOADAfter the release of MIUI 11 Update for Redmi Note 7 Pro, Redmi K20 Pro and POCO F1, now xiaomi rolled the out the MIUI 11 Update for Redmi Note 5 pro users, If you are the Rerdmi Notre 5 Pro use and want Download MIUI 11.0.2.0 Global Stable ROM for Redmi Note 5 Pro, then read the full guide and follow all the instruction on your phoneThe OTA update of the MIUI 11.0.3.0 Global Stable ROM is rolled out for some random user and many of them are still waiting for it. If you are still waiting for the Update, then you can flash it manually with Custom TWRP recovery of form the Choose Update package form your System Update settings.MIUI 11.0.3.0 Global Stable ROM ChangelogComprehensive design optimized for full-screen display devices
– Removing visual clutter, improving touch controls, and refining the use of color allowed us to create a system where nothing stands between you and the contentSounds of nature
– Notification sounds won't make you tired. Now, they keep changing dynamically, just like nature does.Mi Share
– Transfer files from phone to phone at breakneck speedsDocuments
– Preview your documents before you open them
– Stay productive and efficient with our all-new Mi Doc ViewerPrinting
– Print photos and files directly from your phone without installing any additional appsSystem
– New: Editing, sharing, and customizing your screenshots is now much easierGame speed booster
– New: Continuous swiping opens an additional menu in Game Turbo nowHow to Check for MIUI 11 Update (OTA)If you have not received the update on your Redmi Note 5 Pro (whyred) smartphone in India then, you need to follow the below steps in order to manually check for the official OTA:1. Go to Settings of your phone.2. Tap on About Phone option settings panel.3. After that tap on Software Updates.If there is a new OTA update for you then, tap on it to begin the installation of the latest MIUI 11 on your Redmi Note 5 Pro smartphone. Now the MIUI 11 Installation process will start on your phone.Download Link of MIUI 11.0.3.0 Global Stable ROM for Redmi Note 5 ProHere is the link of the Full ROM of MIUI 11.0.3.0 Global Stable ROM for Redmi Note 5 Pro. Download the same on your phone and follow the installation process to get this update on your device.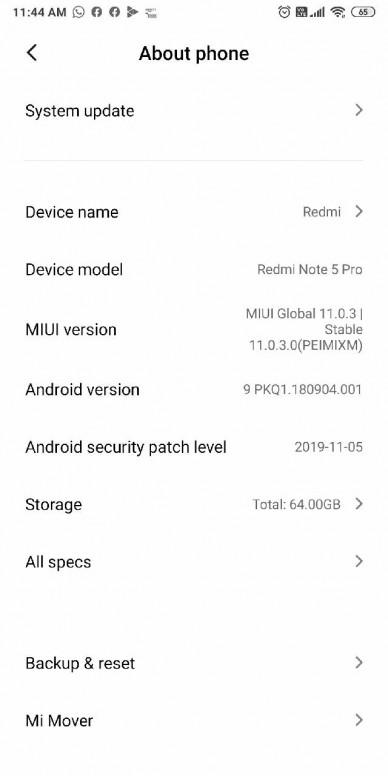 DOWNLOAD LINK- https://www.youtube.com/redirect?v=0RVYlKcrtyE&event=video_description&html_redirect=1&q=https%3A%2F%2Fbigota.d.miui.com%2FV11.0.3.0.PEIMIXM%2Fmiui_HMNote5Global_V11.0.3.0.PEIMIXM_ff4c5a6b1a_9.0.zip&redir_token=J4M-vBEq2i1jgHe1FkP-b6TMEgh8MTU3NDIzMDI5M0AxNTc0MTQzODkz