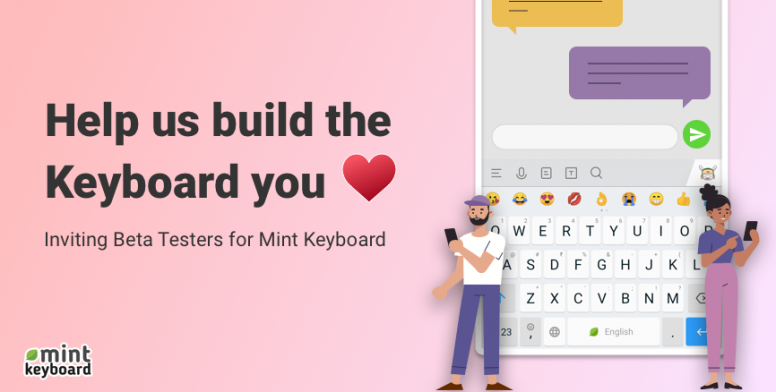 Mi Fans!
We are stoked to invite you to help us build the keyboard that you love! Today, we are kicking off the official Beta Program for the Mint Keyboard - Xiaomi's official input method, offering swift and smart typing experience.
Why join a beta program?
As a beta tester of Mint Keyboard, you'll get the early access to all the experimental features and let your feedback be heard.
Also, you'll have a unique opportunity to co-create interesting features with the team behind by sharing your suggestions with us.


How to leave a feedback?
Leave us a message on Google Play or write to us at mintkeyboard.customer@gmail.com



About Mint Keyboard

Mint Keyboard elevates your conversation experience by helping you say more with fewer words with popular stickers and gifs curated specially for you. Mint Keyboard is designed for Indian users with cutting edge AI to enrich the expressions and conversations. Your keyboard's AI engine learns continuously and personalizes to match your unique way of typing - including your local language words, shortcuts, slang and personal emoji preferences. You can create your personalized themes using your photos, chat with multiple font styles, speak in regional languages and much more.





Join Mint Keyboard Official Beta Program




Highlights of Mint Keyboard
Accurate prediction, suggestion, and auto-correction for English and 23 Indic languages

Get translation suggestion for regional languages using transliteration typing

Support for super-fast typing with Swiping

Save time with speech-to-text typing

Unlimited real-time emoji suggestion during chats

Choose your font style to stand out

Funny stickers and GIF packs created by real artists

Make your custom keyboard theme from your photo

Sticker/GIF packs, new themes updated before every festivals and event



Limited beta slots available, apply today!
Rate