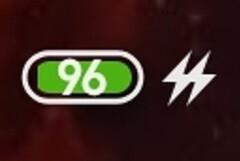 The MIUI 11 charging symbol resembles the SS insignia.



Xiaomi has been busy rolling out its MIUI 11 firmware on devices from its lineup, delivering many welcome changes to the previous iteration. However, one potential hiccup has been spotted in regard to the updated fast charging symbol. The new icon, which consists of two lightning bolts placed together, looks somewhat reminiscent to the insignia of one of history's most reviled organizations.

The latest updates brought by MIUI 11 from Xiaomi include new ambient display themes, natural alarm sounds, persistent notification icons, and many more upgrades and fixes. Unfortunately, one rather seemingly innocuous update has the potential to offend many Xiaomi smartphone owners. The charging symbol has been altered, and now it resembles the runic insignia utilized by the SS, notoriously better known as the SS - Adolf Hitler's "Protection Squadron".

Previously, the charging icon was conveniently placed over the icon for the battery. However, it appears Xiaomi wants to stress that the most modern smartphones in its range, such as the Xiaomi Mi 9 series, enjoy fast-charging technology – so one lightning bolt symbol simply won't suffice. Users will now notice two lightning strike symbols joined together, which for many will evoke memory of the SS logo used by the paramilitary organization that was mainly responsible for the murder of millions of civilians during the Second World War.

Arguably, what's even more unfortunate is that the SS insignia was inspired by two "sig" runes that symbolized victory, which were deliberately redesigned to also look like lightning bolts. At the moment, it seems there is an even split between those that see the resemblance and those that don't. However, it is very noticeable once seen (in the writer's case, with a Xiaomi Mi 9 SE), and it may warrant a quick software update being issued by Xiaomi to avoid offense.




MIUI 11 charging symbol/SS insignia.