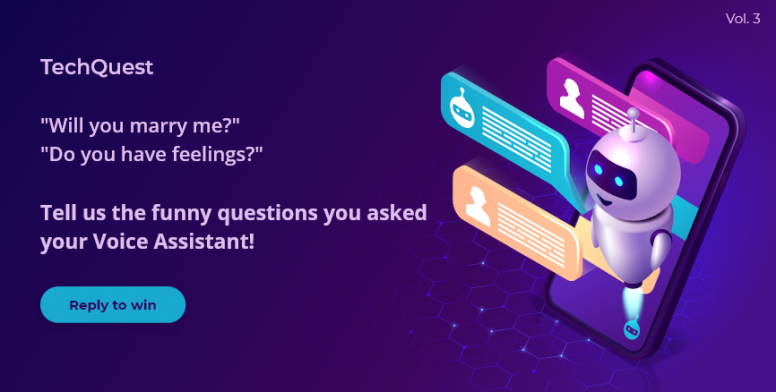 Hello Mi Fans,
Yes, you have read it right! We, the Techie Team Members of Mi Community, are back with another amazing episode of TechQuest series! So, hold your seats as we disclose another addition to this rewarding series. In this thread, we are going to discuss the Voice Assistants. I hope every one of you is aware of the voice assistants. If anyone of you doesn't have knowledge about voice assistant, keep on reading.

What are Voice Assistants?
A voice assistant is a personal helper that lives in your phone, tablet, speaker, streaming box or another internet-connected device. These have exploded in popularity in recent years and now come pre-installed on most smart devices. The most common are Amazon's Alexa, Microsoft's Cortana and of course, Android's own Google Assistant. In general voice, assistants react to voice commands and give the user relevant information about his inquiry. Presently voice assistants are already able to process orders of products, answer questions, perform actions like playing music or start a simple phone call with a friend.



Voice assistants are so easy to use that many people forget to stop and WONDER how they work. How do voice assistants understand us? Is it magic? A complex system of codes? An actual person listening on the other end? The answer is less complicated than you might think. It all starts with a signal word. Have you ever called a friend's name to get their attention? Users say the names of their voice assistants for the same reason. They might say, "Hey Siri!" or simply, "Alexa!" Whatever the signal word is, it wakes up the device. It signals to the voice assistant that it should begin paying attention.

What your voice assistant can do?
A single voice assistant is capable of performing lots of different works that cannot be said in numbers as different voice assistants have their own different number of skills. For instance, Alexa has more than 70,000 skills, Google Assistant has more than 80,000 skills which includes:

Listening to an audiobook.
Requesting information, similarly to inputting a search query.
Making reservations.
Adding items to a shopping list.
Performing mathematical calculations.
Playing music.

Winding up, have a look at today's TechQuest:
What is the funniest question you asked your voice assistant?
Basically, tell us when you tried trolling your voice assistant!
(Screenshots will be more fun, just saying! We don't mind text either)


Some funny questions that we know:
Can you do my homework?
How do I look?
Will you be my girlfriend?
Are you married?
Do you know any other voice assistant?
How do you look?
Do you have any girlfriend?
Who was your first crush?
Do you like giving exams?
Who is your love?



You may even try these questions and share the answers you got! P.S. These are just sample questions, you may ask your assistant any question you want and share the funniest one here.

Prizes
Every valid reply will get 50 credits and the top 3 interesting replies will get 500 credits.



Want more threads? Follow us: