Its been a few years since the release of the Windows 10 Operating system. When it comes to pc market Windows rules the market and destroys every competition. Probably Windows 10 is the final operating system from Mircosoft. Microsoft offering a free upgrade to Windows 7 and Windows 8 users to Windows 10 as the support and regular updates for Windows 7 will be discontinued from this year.


Best Windows 10 Tips and Tricks
1. Virtual Desktop

To create virtual tabs, click on the Task view button in the taskbar which is beside the Cortana button or you can do the same by pressing Windows + tab key. You can drag the task into any desktops from task view options.
Some of the useful shortcuts are-
Win + Tab to open task view
Win + Ctrl + D to create new Desktop
Win + Ctrl + F4 to close current desktop

2. New Clipboard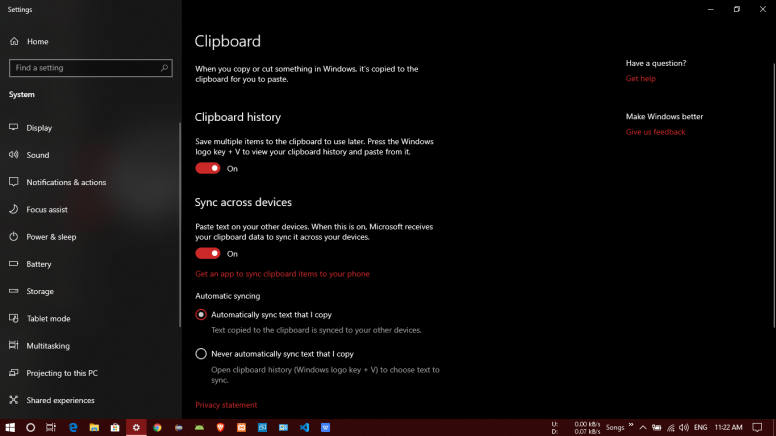 In the latest update of Windows, they have implemented a clipboard feature that you can use to store the latest copied items from your keyboard. You can save up to 26 most recent items in your clipboard. To access these items you need to press WIN + V it will open Clipboard and you can choose what to copy. The best part is now you can sync your copied items through various PC's over the cloud if you have the same Microsoft account in all the PCs. To enable this feature just go to settings - System - Clipboard and enable clipboard.
3. Make Calls From Computer
Microsoft's your phone app is great it lets you access your photos your texts your notifications and a lot more from your phone on your PC. Now it's great but the most interesting feature has to be the ability to make phone calls, yes you can make phone calls from your PC. First, of all, you obviously need to link your phone with the PC to your phone app and pair them via Bluetooth for the calls feature. To enable now once you do all of that you'll see the recent calls you made and the dialer in your phone app on your PC. Now it's pretty simple you can make calls or receive calls from your PC and that's not all you can even transfer calls between the phone and PC.