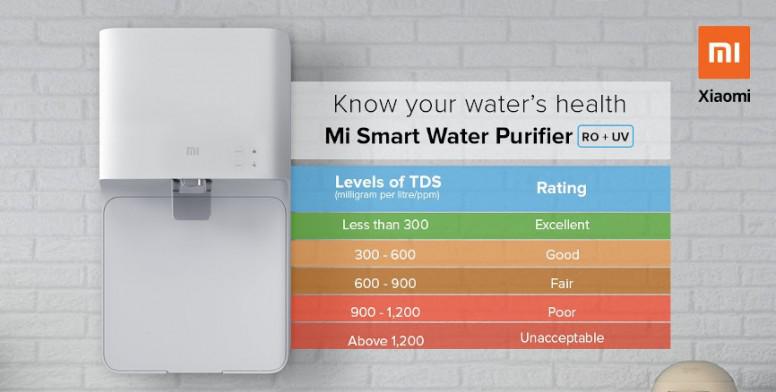 Are you unsure the water you are consuming is healthy or not or its too hard to consume? The water quality entirely depends on the geographical location and the minerals available in the soil. Tested and passed as per Indian Standards, Mi Smart Water purifier (RO+UV) is a one-stop solution to keep your family healthy and waterborne disease.
Mi Smart Water Purifier comes with a revolutionary RO filtration that turns hard undrinkable water into safe consumable water. The RO membrane available in the water purifier, effectively filters out heavy metals, bacteria, viruses, scales, organic matter, and other impurities with precision up to 0.0001 microns. It has a highly efficient TDS reduction capacity of up to 90% and a bacteria-killing efficiency of 99.99%. So what is TDS and why it is so important? Let's explore.
What is TDS?
Water is blended with a lot of organic and inorganic substances, including minerals like sodium, calcium, chlorine, etc. So, TDS is nothing but Total Dissolved Solids and a measure of the combined content of all organic and inorganic substances present in water. This is measured in milligrams/ltr or PPM.
Key Cause for TDS is:
Soil Contamination

Water Pollution

Pesticides arising from surface runoff

Agricultural and Residential runoff

Common chemical compositions



What happens if TDS is High or Low?
If TDS is high:
Water will have bitter/salty or brackish taste.

Corrosive elements are accumulated in the water.

Harmful to your health.



If TDS is low or moderate :
Water will have a flat/pleasant taste.

The best water to consume.

It will have equal minerals that are essential for our body needs.



Why We Need Mi Water Purifier?
The Mi Water Purifier (RO+UV) is specially designed for Indian water conditions. After using the water purifier for a while I can surely say the product by Xiaomi is truly smart, safe and convenient when compared to the competition out there in the market.
Penta Purification Process:
Mi water purifier has a "Penta Purification" feature where the water passes through 5 stages of purification to provide quality drinking water. With the RO purification accuracy of 0.0001 microns, it effectively gets rid of chemicals, residual chlorine, visible particular, bacteria, and other compounds that could harm your health.
Read more
Real-Time TDS Monitoring:
I would say this is the special attraction of the "Mi Smart Water Purifier" where you can monitor the TDS level of the water right from your mobile along with you can able to know the lifetime of the filter too. Isn't it cool?
Know more
UV Sterilization:
Unlike most water purifiers in the market, the Mi Smart Water Purifier (RO+UV) features a UV light inside the water tank. This assures that all the water gets treated by the UV light, making sure the water is disinfected of any micro-organisms, which can cause water-borne diseases.
Further Readings:
Did you bought the Mi Water Purifier?
Let us know in the comment section.