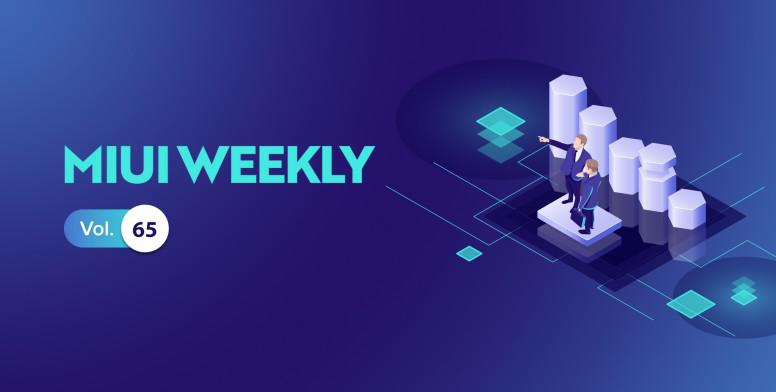 Hello Mi Fans,

First of all, I would like to wish you all a very Happy New Year, hope you all guys here have a great year ahead filled with more opportunities to achieve. Sometimes catching up things seems a bit difficult due to our busy schedules. If you've been busy last week and couldn't keep up with the updates from our MIUI team, then MIUI Weekly is the right place for you. This is indeed where we bring you the best of MIUI threads you might have missed. Keep reading!



MIUI 11 Update Tracker: Full status on Incremental MIUI 11 Update and Download Links
We are overwhelmed to announce that all announced devices have already received the

MIUI 11

Global Stable update. Since the past few days, incremental MIUI 11 updates have also started for a few devices. To keep the users updated about their devices update status, we will update this thread frequently with the latest information possible about the rollout. There are lots of exciting new features waiting for you all in MIUI 11.....

Read more
[TOTW #90] BLOSSOM DWM4 - Let us start the new year with full bloom!
by
Manvesh
Finally, we have entered into the new year, its time to cheer and get the things right again. Why don't we start the year with a new hope welcoming the blossom for a new beginning, making the outset of the new year more colorful? Here's a theme for you where surely you gonna love using it. Let's try out! What do you say?......

Read more
[MIUI Acquirement] Select channels in Mi Browser you prefer! - Lesson #24



Welcome to the 24th Episode of

MIUI Acquirement,

the series aims to focus on interactive session where we all can come concurrently, discovering something new every time. In the vast ocean of MIUI it's really difficult to observe every helpful feature, with MIUI Acquirements we believe that the searching MIUI feature will lessen and can occupy the farthest possibilities to use this wonderful Operating System.....

Read more
[MIUI Weekly Poll] [Vol 14] My favorite notification style is MIUI. What's yours?



Technological advancements have taken a lead step in people's lives like nothing before and this has pushed us constantly to seek better solutions to everyday user experience flaws with design and functional aspects. Smartphones are one of the major gadgets to consider and this is where Xiaomi shines bright. No doubt the smartphones from Xiaomi are feature-packed with premium quality hardware at honest price......

Read more
Mi Calculator Vs Google Calculator: Battle for the best performer!



For good concepts and true innovation, we need some interaction, it's obviously through debate to explore the possibility. Today's debate is gonna be more interesting but before that I would like to wish you all a

Happy and prosperous new year.

Do you ever need to perform some heavy calculations like BMI, Age, Speed, Numeral System.....

Read more



That's a wrap up for this week. I hope to see you all with another new compilation next week. But for now, I would like to thank all my fellow MIUI Mods for contributing their time and efforts to share these amazing threads for our Mi Fans. Don't forget to vote for your favorite threads and share your thoughts about this volume in the comments section below!


About MIUI Weekly:-
MIUI Weekly poll is an initiative taken by team MIUI to connect with Mi Fan's even better. Through this weekly series, we bring out different features of MIUI and ask your opinion on how things are and how they should be. This helps us gather information about user preferences and make MIUI even better from a user's perspective



New user? - Start Here!



Vote for the best thread below and help us improve!