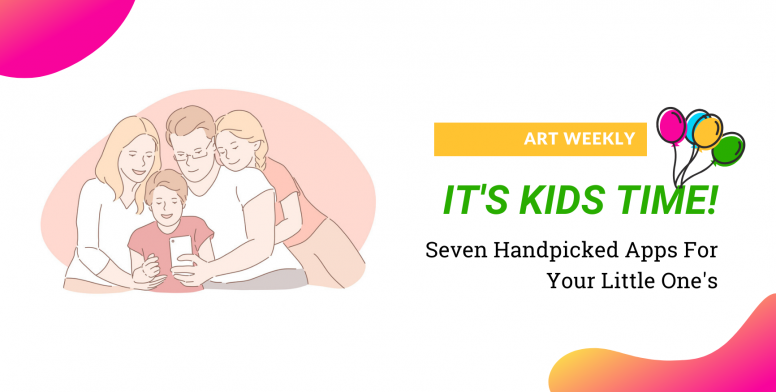 Hi Mi Fans!
Everyone these days is addicted to smartphones, even your little kids. An age of 5 to 10 years, where your child continues to grow both physically and mentally; when your child gradually devolves and learn new exciting abilities and skills daily. Finding him or her engaged in mobile phones would surely turn you down. You would think this will constraints his or her growth but what if we tell you, mobile phones could actually help them be smarter, sharper and healthier. Seriously, there are some best apps for kids that are willing to offer much more.
Piano Kids - Music & Songs




Piano Kids – Music & Songs is a great fun music box created especially for kids and parents to learn to play musical instruments, wonderful songs, exploring different sounds and develop musical skills. Use your fingers to play colorful instruments such as kids xylophone, drum kit, piano, saxophone, trumpet, flute and electric guitar. Let your child make music on your phone or tablet. It is great fun for toddlers and kids to sit down and learn how to play musical instruments with authentic sounds. The interface of the app is colourful and bright. It will interest you and please your child as he will learn music while playing exciting games.




With this app, your child will learn to draw cute characters in a fun and playful manner. The intricate combination of animations and drawings makes this app simply unique. Kids drawing games is an app which gives your kids an opportunity to explore their creativity.
Learn Shapes for Kids, Toddlers - Educational Game




Shapes is one of our educational games for toddlers in which your child can learn shapes and play shape games. Invite your baby to a fabulous world of shapes for kids to acquire new knowledge and skills. The game teaches to distinguish different geometric shapes and compare shapes for babies with the surrounding objects in real life.
Mega craft - Pocket Edition




Minecraft is an amazing creative sandbox as much as a game. In this app, children can build anything they like and share the experience with their friends. An empty house remained at your disposal, your task is to create furniture and decor, build a backyard, a swimming pool, your own farm and find a treasure chest buried nearby. A crash course in anything-goes architecture, its only limit is their imagination




If your child is a bit geeky one just offer him Khan Academy app. This app helps you to learn almost anything for free. Over 10,000 videos and explanations at your fingertips in math, science, economics, history, and much, much more.
Smarter - Brain training & Mind games




Smarter is an application game for kids. It enhances the brain of your child by daily practice. Daily train your brain. Get ready for a happy young age through daily measurements. Games for the brain with many memory exercises. Give your memory and mind a boost and get smarter by improving your abilities with this fun logical memory game. You can improve your skills with multiple brain training games.




Abacus is a wonderful mathematical instrument used for calculation. This app will help your children learn about Abacus, Numbers, Counting, Addition, and Subtraction. This is the first step to tap the unexploited potential in their brain and unleash their mathematical capability. Suitable for children age 5 and up, who know about numbers and some basic addition and subtraction.
A big thanks to all my App Review Teammates and my fellow Team Leader JayUser. I would also like to thank our Mod Wrony1119, SMod MiAkash, lungkhim7, and Admin R0user without your constant support this amazing journey wouldn't have been possible.
Don't forget to subscribe our Official App Review Team Telegram Channel
Popular Columns Across Mi Community
SUBSCRIBE NOW
Don't forget to cast your vote!